This Thursday LowCountry Habitat for Humanity partnered with Lowcountry Real Estate for the downtown Trick-or-Treat event. We had a blast handing out candy and making new friends. Look for us at the Port Royal Trunk-or-Treat on Sunday October 29, from 3-5 pm, on Paris Avenue, between 9th and 12th Streets.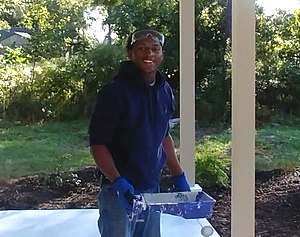 Above: Michael Busby, Son of Family Partner Natiema Fuller-Busby, painting




at The Brays Island House Build last Saturday. Photo by Michael Perry.
Construction Update


every hand makes a difference
Thanks so much to all our Family Partners and Volunteers for your dedication!
At the warehouse this week we have been working on the sheds for our two Greene Street house builds.

This Saturday we are doing yard work and working on the final punch list items at The Brays Island House Build at 2216 Trask Parkway, from 8 am until noon.

Next Tuesday, between 8 am and noon, we will continue to work on the sheds at the warehouse, located at 24 Burton Hill Road.

If you have completed volunteer orientation and want to join in the fun, simply check your schedule and email Michael Perry, Construction Manager, at michael@lowcountryhabitat.org , to allow him to plan accordingly. (If you are interested in volunteering on Wednesday and Thursday, please email Michael for information.)

Next Saturday, November 4th, Michael will be away on vacation. All Family Partners and interested Volunteers are encouraged to volunteer at the Kid2Kid Toy Sale, see details below. If you plan to volunteer, please contact Lee in the office by calling 843-522-3500, or email: info@lowcountryhabitat.org.

Thank You!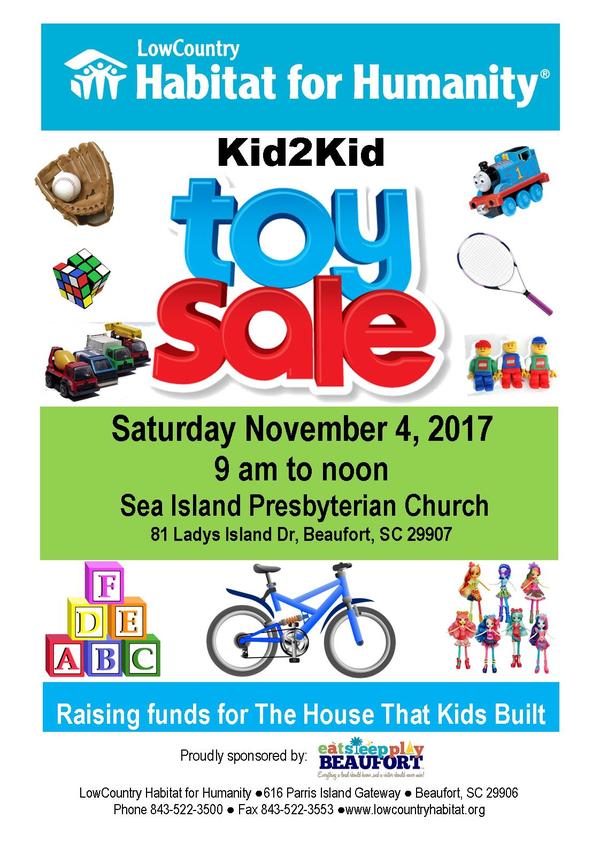 LowCountry Habitat is celebrating World Habitat Day 2017 with Habitat's Kid2Kid Toy Sale. Neighboring schools and churches are partnering with us to collect donations of new and gently used toys which will be for sale at Habitat's Kid2Kid Toy Sale held on Saturday November 4th, 2017 from 9 am until noon at Sea Island Presbyterian Church on Lady's Island Drive in Beaufort.

LowCountry Habitat knows that our future lies in the hands of our children and future generations. For this reason, we are committed to empowering children to make a difference in our society. To Read the full article, click here.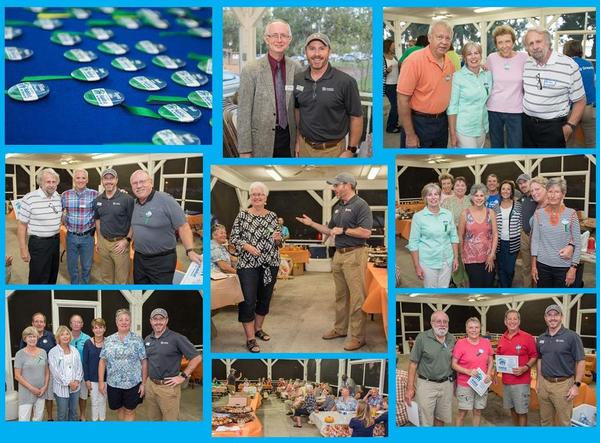 Volunteer Honor Role Appreciation Party pictures by Charlotte Berkeley
(Click
here
for more)
Habitat for Humanity Volunteers build Lowcountry hope


By LowCountry Habitat Volunteer, Nikki Finkelstein-Blair
Along with cooler days and longer nights, October brings the celebration of World Habitat Day to our LowCountry Habitat for Humanity affiliate. LowCountry Habitat operates "by locals, for locals," relying on area volunteers alongside future Habitat homeowners to impact families and the Beaufort community. The backbone of LowCountry Habitat is the individuals and community groups who regularly participate in the many and varied volunteer opportunities Habitat offers.

LowCountry Habitat marked World Habitat Day by honoring our wonderful volunteers who not only hammer nails and paint walls, but also build handmade outdoor furniture, collect donations, stock and staff the ReStore, organize and sell books through ReStore ReReads, answer office phones, raise funds and awareness at community events, serve on committees and the executive board, and partner to support future homeowners.

Special thanks to our event sponsor, Rudy Bishop of Thrivent Financial. The Volunteer Committee, Family Partners and friends helped Habitat Staff set up the festive Fall Carnival-themed party at the Dataw Pavillion on October 5th.

Master Finisher Volunteer Barbara Dittmer received a special gift in recognition of her 1361 volunteer hours during fiscal 2017: To read the full article click here.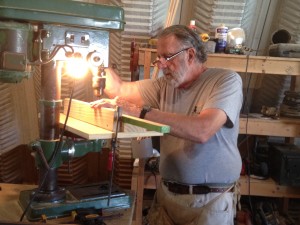 Milton Lawrence at work on The Beaufort Collection
Volunteer Spotlight on Milton Lawrence
By LowCountry Habitat Volunteer, Nikki Finkelstein-Blair
Milton Lawrence served the Beaufort community with LowCountry Habitat for 28 years before recently retiring and moving to Virginia. Milt began "making sawdust" with Habitat when he responded to a general call for volunteers by the United Way; though not a builder by trade, he gained experience working on Beaufort-area Habitat homes, and eventually came to work for LowCountry Habitat as Construction Supervisor. When he relocated to Dataw Island, Milt donated his woodworking tools to LowCountry Habitat and founded the Beaufort Collection of porch furniture, built by volunteers from donated materials. He managed the production of this line of locally-made deck chairs, rockers, dining sets, and porch swings until his retirement in August 2017. To read the full article, click here.

Are you ready to join the Habitat Volunteer Team? LowCountry Habitat hosts volunteer orientation the second Saturday of every month at their office located at 616 Parris Island Gateway. It takes just an hour to sign up to help make a difference in our community. For additional questions or to donate to LowCountry Habitat for Humanity, please contact the office at 843-522-3500 or visit www.lowcountryhabitat.org.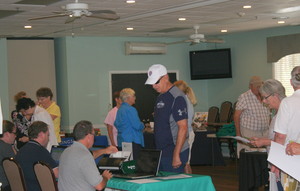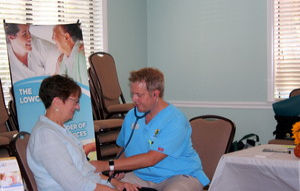 Fripp Island Community Health Fair
On October 4, LowCountry Habitat partnered with the Fripp Womens Club to host the Bonnie Combes Health Fair and Flu Shot Clinic at the Fripp Island Community Centre.

The event was a huge success with the distribution of a record number of flu shots.

Are you on Facebook?
Did you know that we have two Facebook pages?
LowCountry Habitat ReStore
LowCountry Habitat for Humanity
Help us grow our network and spread the word by Liking us, Following us and Share with your friends!
Love it, Like it, Share it! It all starts with you!
#lowcountryhabitatrestore #thestorethatbuildshouses


Save-the-Dates:
November 4, 2017 ♦ Habitat's Kid2Kid Toy Sale
November 7, 2017 ♦ Educational Series: Getting through the Holidays without breaking your budget
November 11, 2017♦ Volunteer Orientation
January 12, 2018 ♦ Dataw Health Fair
January 13, 2018 ♦ Resolution Run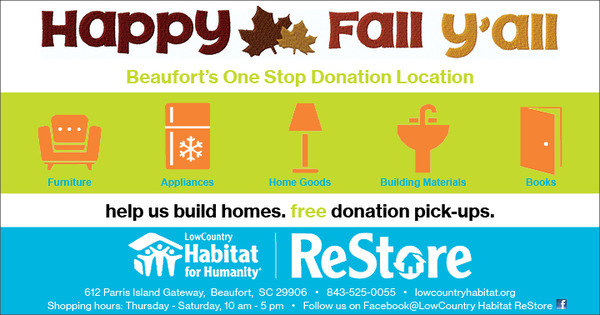 Online shopping?




Click on the amazonsmile banner to see how you can help support LowCountry Habitat for Humanity by shopping on amazonsmile!