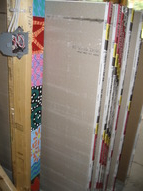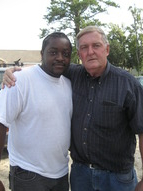 The Dry Wall has arrived! It's heavy, and so it's a great time to have Tim Garvin on board to help move things around. (Tim's mother will be the owner of the Stud House.)
Also new this week is the wall dividing the kitchen and family room, being installed here, in the Stud House, by Bill Weber and Peter Parks.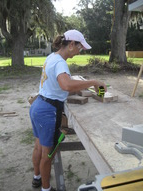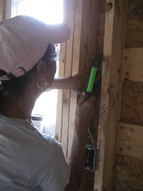 Another job to be completed is to cut and put in place the horizontal braces between the joists, attended to here by Bobbi Weber, in the Tribute House. Bobbi and husband Bill are two of Low Country Habitat's very dedicated volunteers. Since relocating here from Ohio, 6 years ago, they have consistently volunteered in the construction of several homes. Bobbi says, "We have so much, it is only right that we do this."
Is it time for YOU to make a difference? We need a few more volunteers, skilled or unskilled, on the construction sites at 19 and 20 Mint Farm Drive, located in Burton. Turn
onto Jennings Road, (posted to Battery Creek High School,) from Broad River Blvd. Mint Farm Drive is the next left, and you will see the two homes undergoing construction ahead on the right and left.
Dan McLaughlin, our Saturday Construction Supervisor, and team will gladly welcome volunteers, old and new this Saturday morning beginning at 8 a.m. And next Tuesday, Wednesday, and Thursday starting at 8 a.m. work will continue, under the direction of Jerry Hammond, Construction Manager. Please prepare for the heat and stay well hydrated.
A little advance notice: there will be no construction the week of August 9-14.
THANKS again for all our wonderful and dedicated volunteers do to help LowCountry Habitat for Humanity.