Here's our Construction Manager, Jerry Hammond, preparing to drill holes in the slab of the front porch of #19 Mint Farm Drive, for the attachment of cables, or straps, to the roof. The straps are also required throughout the interior of the house. In the pictures below, they're what look like thin silver lines between the studs.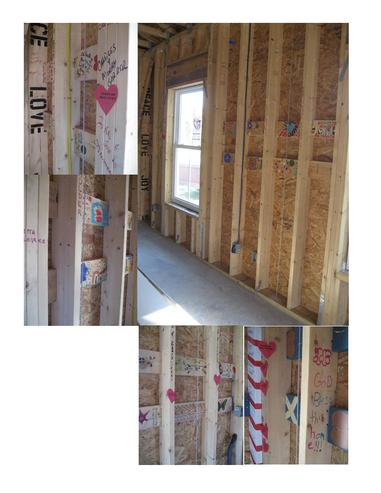 Thanks to our fabulous and dedicated volunteers who have helped with this difficult task this week. Following inspection we will be installing insulation and dry wall, hiding these beautiful studs from sight!

Dan McLaughlin, our Saturday Construction Supervisor, and team at Mint Farm will gladly welcome volunteers, old and new this Saturday.
Work will continue, under the direction of Jerry Hammond, next Tuesday, Wednesday, and Thursday morning starting at 8 a.m. There's lots to do and new volunteers are always welcome. Please prepare for the heat and stay well hydrated.
If you have not yet volunteered on the construction sites, Mint Farm is located in Burton--turn onto Jennings Road, (posted to Battery Creek High School,) from Broad River Blvd. Mint Farm Drive is the next left, and you will see the two homes undergoing construction ahead on the right and left.
THANKS again for all you do to help LowCountry Habitat for Humanity.