The Hammer, December 2017
Dedication of House Number 48!
On December 16th, we dedicated the Brays Island House to the Tucker Family. Congratulations to Sheryl and her son Keyvon. Their smiles speak for themselves! Read more here.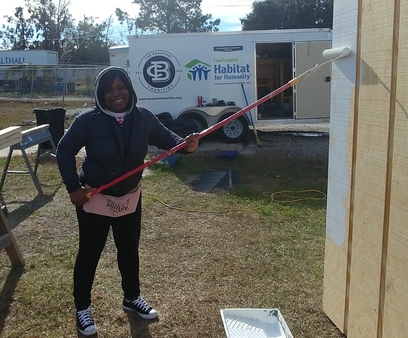 Construction Update
Pictured above, Wells Fargo Volunteer, Delicia Dilbert joined our shed building task force last Thursday. While we wait on final permitting for our Greene Street builds, we are building sheds at our warehouse located at 24 Burton Hill Road. The shed building process will teach new volunteers some of the skills needed for building houses. We have also generated a new income stream as the sheds will be available for sale at the ReStore!

If you have completed volunteer orientation and want to help with shed building, check the schedule below and email Michael@lowcountryhabitat.org, so that he will know to expect you and be able to plan accordingly:
Thursday December 21, 8 am until noon
Saturday December 23, 8 am until 2 pm
Wednesday December 27 and Thursday December 28, 8 am until noon
Saturday December 30, 8 am until 2 pm.
No construction the first week of January as Michael will be on vacation.
Our next Construction Update will be emailed on Thursday January 4th.
Thanks to all of our volunteers who help LowCountry Habitat for Humanity bring people together to build homes, communities and hope in northern Beaufort County.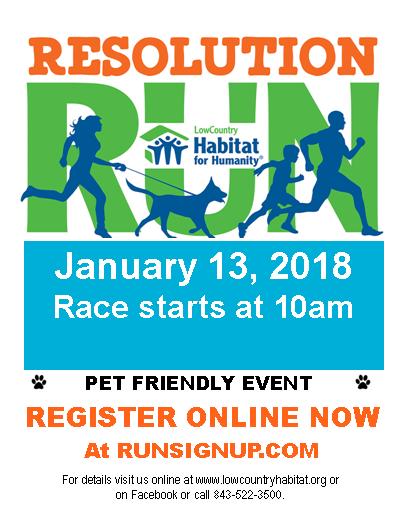 To register for the 2018 Resolution Run at Dataw Island, simply click on the image.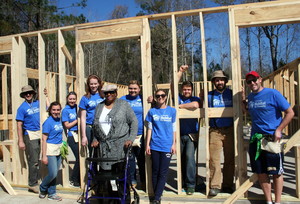 Collegiate Challenge 2017 Team Neumann, raised the walls on The Brays Island House Build, now home to Sheryl Tucker and her Son, Keyvon. LowCountry Habitat for Humanity is excited to welcome them back in February.
2018 Collegiate Challenge: Help Wanted!
Habitat for Humanity's Collegiate Challenge is a year round alternative break program. Groups of around 10 participants, 18 years of age and older, spend one week working with a local affiliate, community and Family Partners to help eliminate poverty housing in the area. LowCountry Habitat for Humanity will be hosting two groups: one returning from Neumann University on February 25th to March 2nd and the other from University of Virginia on March 18th to 23rd.

Here's where we can use your help.We are in need of meals for the upcoming groups.We are pleased to accept any in-kind donation you, your business, faith organization or community group are able to provide, big or small. Read more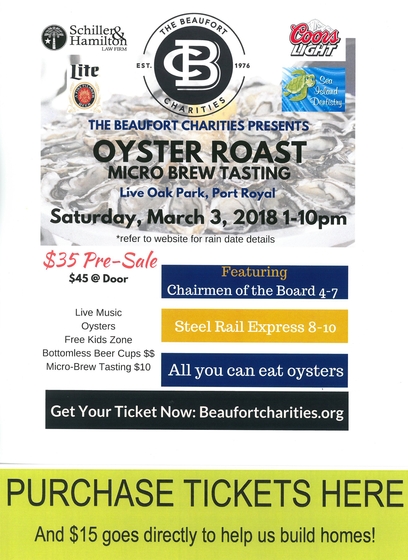 Beaufort Charities Oyster Roast
On sale NOW at LowCountry Habitat for Humanity and the ReStore. We receive $15 for each ticket we sell at the office or ReStore and you get a $10 pre-sale discount!
Holiday shopping online?
Have you registered with amazonsmile yet?

Click on the
amazon

smile
banner to see how you can help support LowCountry Habitat for Humanity by shopping on
amazon

smile
!

amazon

smile

is a simple and automatic way for you to support your favorite charitable organization every time you shop, at no cost to you. When you shop at smile.amazon.com you'll find the exact same low prices, vast selection and convenient shopping experience as Amazon.com, with the added bonus that Amazon will donate a portion of the purchase price to your favorite charitable organization. Read more here


Using a personalized greeting for your emails is another great way to continue building a relationship with your recipients. Depending on your industry, you may even want to use your recipients' first names.
Are you on Facebook?
Did you know that we have two Facebook pages?
LowCountry Habitat ReStore
LowCountry Habitat for Humanity
Help us grow our network and spread the word by Liking us, Following us and Share with your friends!
Love it, Like it, Share it! It all starts with you!
#lowcountryhabitatrestore #thestorethatbuildshouses

Save-the-Dates:

January 12, 2018 ♦ Dataw Health Fair

January 13, 2018 ♦ Resolution Run Sign up here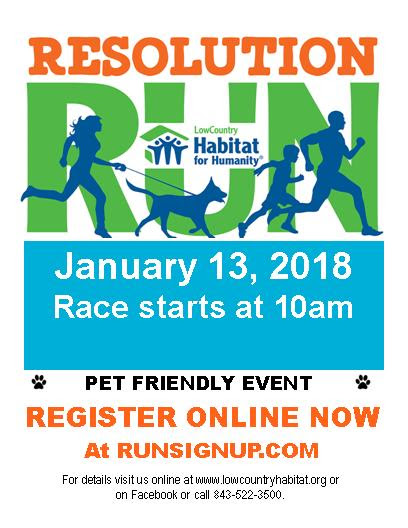 January 13, 2018 ♦ Volunteer Orientation

January 16, 2018 ♦ Homeowner Education Class: Mortgage 101

March 3, 2018 ♦ Beaufort Charities Oyster Roast