25th Anniversary Garden & Home Show, September 17-19
Celebrating 25 Years of providing hope, homes & community to Northern Beaufort County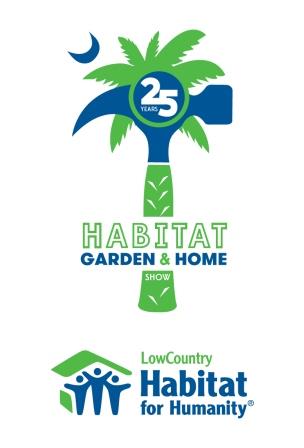 LowCountry Habitat for Humanity's 25th Anniversary celebration
will feature a series of events to raise funds to build a


25th Anniversary Home




____________________





Garden & Home Show



Featuring:



Gala Opening Reception


September 17, 2015 from 6-9 pm



Garden & Home Show


September 18 & 19, 2015 10 am until 4:30 pm

Beer Tasting
Honey Do Auction Event
September 18, 2015 from 6-9 pm
Tickets available for purchase online

here


or from our office, call 843-522-3500

Want more information?
call our office, or click on the blue links below



Currently Seeking

Sponsors


Presenting Sponsor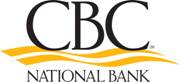 Honorary Chair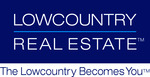 Register as an
Exhibitor
- Exhibitor Booth
Layout
Make a Donation to the
Silent Auction
Make a Donation to the
Honey Do Auction
Volunteer Opportunities Galore!
Please call the office on 522-3500 or info@lowcountryhabitat.org
____________________________________________________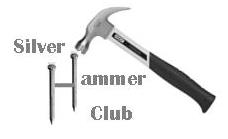 Support LowCountry Habitat for Humanity's 25th Anniversary with a
contribution of $250 or more and join our Silver Hammer Club.

Silver Hammer Club Member Benefits include:
· 2 Tickets to each of our Silver Anniversary Events -
Gala Opening Reception on September 17, 2015 &
Beer Tasting & Honey Do Auction Event on September 18, 2015
· Invitations to Habitat site blessings, house dedications & special events.
· Recognition on our website
· 10% Discount Card for ReStore Purchases valid for one year

To join the Silver Hammer Club simply click

here!

Seeking Treasures

For our Silent Auction at the Habitat Garden & Home Show Gala Reception on Thursday, September 17th, 2015.

How many walls do you have in your home? Is there artwork of value stored in your attic or under a bed, because you simply don't have room for it?
Is there a hidden treasure of value, perhaps still sitting in the box from your wedding, in your closet or storage unit?

Consider donating these valuable items for LowCountry Habitat for Humanity to offer in our Silent Auction to help support our 25th Anniversary Home. We will get an official appraisal on the item and send you a receipt for your tax deductible donation.

Interested in more information, contact Martha Harvey at
843-476-7147 or by email at treasures@lowcountryhabitat.org.


THANK YOU FOR YOUR GENEROUS SUPPORT!
________________________________
Volunteer Opportunities at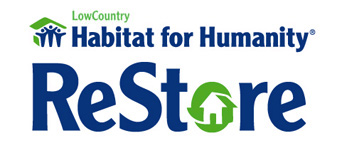 Donation Coordinators/Receiving Merchandising


Needed for 4 hour shifts on Thursday, Friday &/or Saturday. If you enjoy workingwith people, this is the job for you! You must also love to clean and prepare the received merchandise for the sales floor.



Sales Floor Assistants


Friendly personality and willingness to help are the required skills. 4 hour shifts available Thursday, Friday, &/or Saturday.

Donations Ambassadors
Help us make our donors happy! Needed Tuesdays and Wednesdays, starting at 8 a.m. to accompany staff on pick-ups in the trucks. Ability to help lift and load donations onto truck is required.



Cashiers


To operate the cash register are needed Fridays & Saturdays for 4 hour shifts, or more. Must enjoy working with people and possess a fun and
friendly personality.



Everyone of us has the power to make a difference!
New Weekly Volunteer Opportunity Office Cleaner Needed
The LowCountry Habitat for Humanity office is in urgent need of a special volunteer who would enjoy the responsibility of keeping the office spic and span, through a weekly light housekeeping routine.
Scheduled day and time can be flexible, to suit this important volunteer.
If you are interested in this volunteer vacancy
please call Lee in the office, 525-0055.
August Volunteer Orientation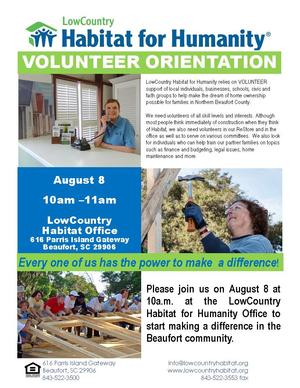 Our next volunteer orientation meeting is Saturday, August 8 at 10 a.m. at the Habitat Office and takes just under an hour. Join us to learn more about what Habitat does and how you can help!

---
Keep Up with LowCountry Habitat on our 3 Facebook pages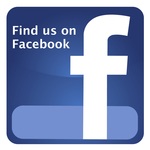 click on the logos to visit each of our pages: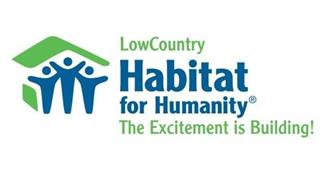 Low Country Habitat for Humanity ReStore
Helps Build Homes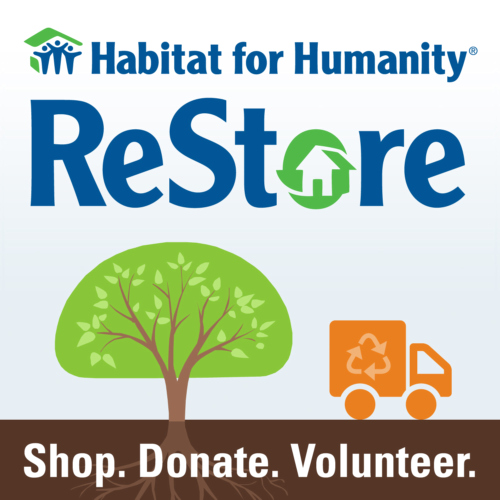 612 Parris Island Gateway, Beaufort
Phone: (843) 525-0055
The Restore as a sustainable funding source for LowCountry Habitat for Humanity has been partnering with families to build homes since 2004.

This is how we do it…
DONATE: We sell donated new and salvaged building supplies, cabinets, appliances, furniture, light fixtures, plumbing supplies and many other household items.
This process helps us to divert thousands of tons of materials from the waste stream every year. Donors get the benefit of a tax write-off.

FREE Donations Pick-Up Tuesday & Wednesday
To schedule, call 525-0055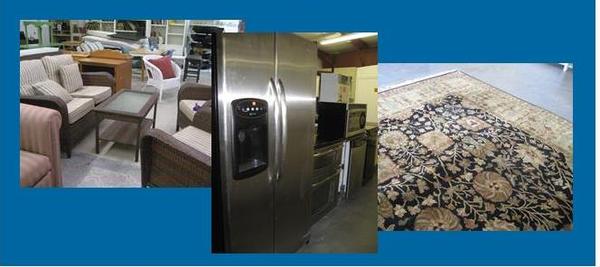 SHOP: Doing home improvement projects yourself to save money? Maybe you are concerned for the environment or maybe you are just one of those very savvy shoppers that can relate to the chic factor associated with the ReStore. Whatever the reason, shop the ReStore where all the proceeds support the mission of LowCountry Habitat for Humanity.

Shop Thursday through Saturday 10 am to 5 pm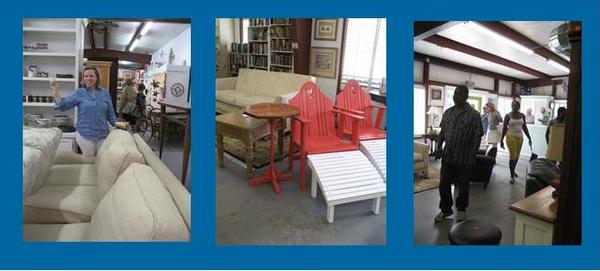 VOLUNTEER: Habitat ReStore is always looking for volunteers. Duties range from stocking shelves, assisting customers, cashiering, answering the phone, making repairs and maintaining the facility to testing appliances and small engine repair. Other opportunities exist in deconstruction, woodworking, marketing and donation procurement.
All new volunteers are welcome to attend a brief orientation session on the second Saturday of each month at 10:00 at the affiliate office. If you are lucky coffee and donuts will be provided! See you there.

4 hour Volunteer shifts available Tuesday through Saturday
Call 525-0055 or 522 3500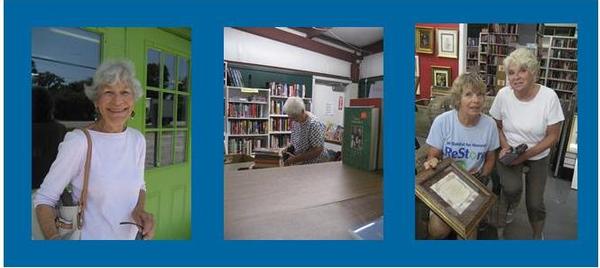 For more information on Donating, Shopping or Volunteering
visit our website, facebook page, or call 525-0055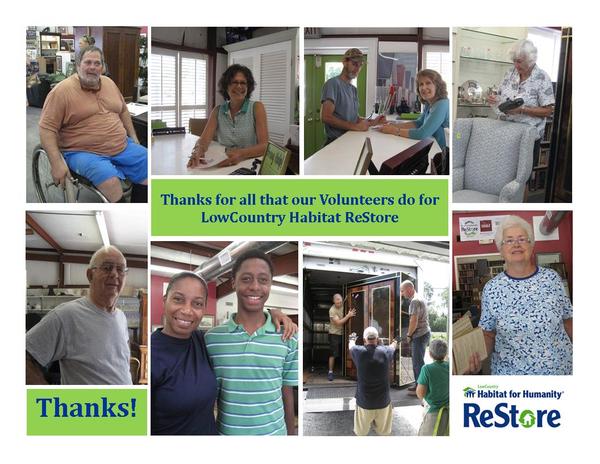 ---
Car Donations can help a Beaufort, SC family build a house and receive the hope of a better life!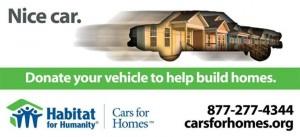 By donating a car to Habitat's Cars for Homes™ car donation program, you help LowCountry Habitat for Humanity build and rehabilitate houses in Beaufort, South Carolina, in partnership with families in need of decent, affordable shelter.
It is quick and easy to donate cars, trucks, boats, RVs, motorcycles, construction equipment or other vehicles–running or not! Plus, you may be eligible for a tax deduction if you itemize. (Consult the IRS or your tax advisor for details.)
To donate a car, truck, boat or RV to Cars for Homes™ ~ Habitat for Humanity's official car donation program ~ call 877-277-4344 toll free or donate

online.


The Cars for Homes™ program is managed by Habitat for Humanity International and the net proceeds from your vehicle donation will benefit LowCountry Habitat for Humanity.
_________________________________________________________
Introducing our Interim Executive Director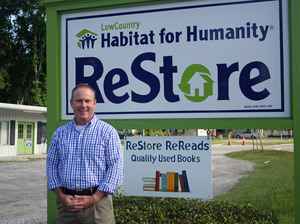 LowCountry Habitat for Humanity is proud to announce the addition of Chet Houston as our Interim Executive Director. After a 26 year career in the military, Chet is looking forward to settling into his new position at Habitat.

Chet shared the following regarding joining Habitat, "Working with Lowcountry Habitat for Humanity is an exciting opportunity. I look forward to developing new partnerships with the Beaufort community and spreading the mission of Habitat." Please join us in welcoming Chet to the Habitat Team.
---
Three More Fresh Faces!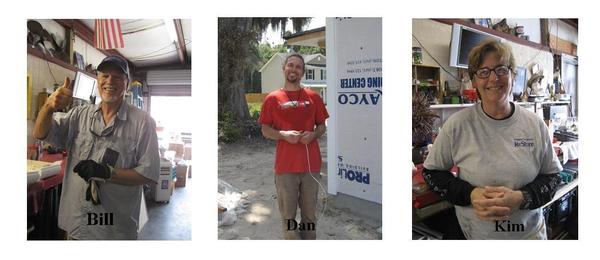 Saturday Construction Volunteers will have already met Dan McLaughlin, our new Saturday Construction Supervisor. Dan will also be assessing the feasibility of Deconstruction projects.

Two new faces at the ReStore are Kim Worrell, Truck Driver and Warehouse Coordinator, and Bill Chandler, Truck Driver for Donation Pick Ups.

Welcome to the LowCountry Habitat Team!


---

A world where everyone has a decent place to live.




Seeking to put God's Love into action,
Habitat for Humanity brings people together
to build homes, communities and hope.