The Hammer, May 2016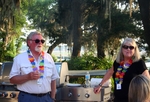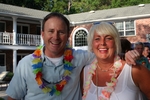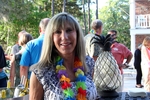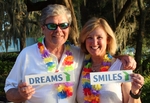 2016 Cheeseburgers in Paradise
Volunteer Appreciation Party
We were blessed with a beautiful Lowcountry Spring evening
on April 28, at the home of Jack and Sharon Dwyer. Quentin and Barbara Tedder grilled burgers and hot dogs to perfection. Dell Villemaire served beverages, including fabulous Margaritas, donated by The Carolina Tavern. Thanks also to Palm Key Catering & Events, Joe Loves Lobster Rolls, Picklejuice Productions, and Eat Sleep Play Beaufort for their support of this event.
Volunteers contributing the top 10% of volunteer hours were presented with recognition certificates. Arthur Morrow was the honored recipient of
The Golden Helmet
award, in recognition of his many years of volunteering with LowCountry Habitat. Arthur has now moved from his Dataw home to The Seabrook of Hilton Head and is enjoying life there. What a great evening of fun and
fellowship!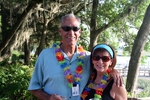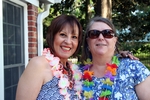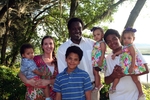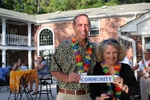 Photos top left to right: Quentin & Barbara Tedder, Chet Houston & Ginger Wareham of Picklejuice Productions, Dell Villemaire, Jack & Sharon Dwyer. Bottom left to right: Richard & Patty Bayer, Marta Rodriguez & Debbie Mitchell, LowCountry Habitat Partners, the Johnson Family, Steve Andrews & Anice Ervin
Save-The-Date



Saturday September 17, 2016
6-9 pm at The Shed in Port Royal

In the Fall of 2014, the ReStore celebrated its 10th Anniversary by hosting an UpCycled Art Auction Event that raised half of the monies needed for the ReStore home. An UpCycled Art Auction is a celebration of local and regional craftsmen who have repurposed, recycled, reclaimed or reimagined materials to create art. This year, we are hosting a second UpCycled Art Auction on September 17, 2016 at The Shed in Port Royal to raise $30,000 to complete the sponsorship for this house. It will truly be a wonderful celebration featuring food, fun and fellowship for all.
TICKETS WILL BE AVAILABLE SOON!


Volunteer Orientation
June 11, 2016


Help us spread the word that our next volunteer orientation meeting is on Saturday June 11, 10 am at the office. We have many open volunteer opportunities to suit all types and talents...and we have fun!

Marines from Parris Island Recruit Training Depot volunteered at the ReStore recently. Drill Instructor Jennifer Duke (kneeling), headed the group from left to right: Brianna Lally, Diana Obregon, Jewel Harris & Mary Iwarat. Photo by Kim Worrell.

Featured on our Help Wanted Ad are Brandon Pratt & Peter Brown hard at work loading donations for the ReStore. Photo by Kim Worrell.

Correction

In last month's The Hammer we congratulated Bobbi Weber on

being awarded

2015 Woman of the Year

at the

Power of the Purse

event on March 19 at Oldfield Golf Clubhouse.

Bobbi is, in fact,

2016 Woman of the Year

and the event was held March 10 at

The Soiree

.

LowCountry Habitat wishes all our supporters and friends
a Safe and Blessed
Memorial Day Weekend





Our office will be closed on Monday May 30, in observation of the Memorial Day Holiday.

More To Celebrate
Two Homesite Dedications

On April 28, Pastor Norman Jenkins, pictured above with

LowCountry Habitat Partner

Sheryl Tucker, provided the homesite blessing of the Brays House located at 2216 Trask Parkway. The Brays House will become home to Sheryl and her 3 children.

Pastor Jack Miller provided the homesite blessing for the ReStore House located at 1603 Ivy Lane on May 22. The ReStore House will become home for LowCountry Habitat Partners the Johnson Family, pictured above.


Johnson Family photo by Eat Sleep Play Beaufort.

2016 Family Selection

Welcome To Our New Family Partners

Pictured left to right: Anne Helm, Family Support Partner to the Sawyer Family, Roderick & Tymeca Sawyer, Jasmine, Jacala & Jamarion James, Aaron & Shakinna Murray.

Please join us in congratulating our newest Family Partners:

Roderick and Tymeca Sawyer and their children Neriah,

Malchiel, Jadon &

Grace,

Jasmine James and her children Jamarion & Jacala,

Aaron and Shakinna Murray.

Our Partner Families will soon begin volunteering to earn their Sweat Equity hours so be sure to give them a warm welcome to our LowCountry Habitat Family.

Jasmine, Jacala & Jamarion James


Aaron & Shakinna Murray



Sign-up to shop on AmazonSmile!

AmazonSmile is a simple and automatic way for you to support your favorite charitable organization every time you shop, at no cost to you.

When you shop at

smile.amazon.com

you'll find the exact same low prices, vast selection and convenient shopping experience as Amazon.com, with the added bonus that Amazon will donate a portion of your purchase to your favorite charitable organization.

You can choose from nearly one million organizations to support, including LowCountry Habitat for Humanity!