The Hammer, July 2016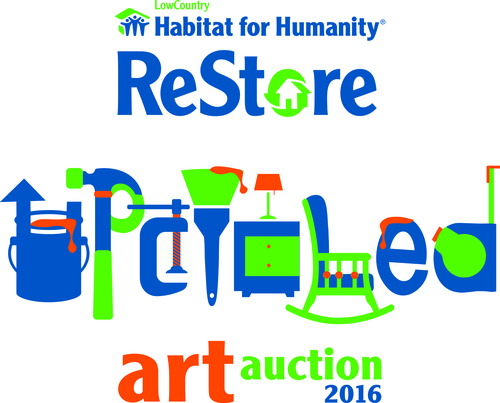 Saturday September 17, 2016
6-9 pm at The Shed in Port Royal
In the Fall of 2014, the ReStore celebrated its 10th Anniversary by hosting an UpCycled Art Auction Event that raised half the monies needed for the ReStore House.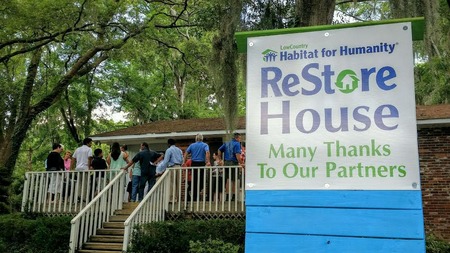 An UpCycled Art Auction is a celebration of local and regional craftsmen who have repurposed, recycled, reclaimed or reimagined materials to create art. This year we are hosting a second UpCycled Art Auction on September 17, 2016 at The Shed in Port Royal to raise $30,000.00 to complete the sponsorship for the ReStore House, which will become the Johnson Family Home.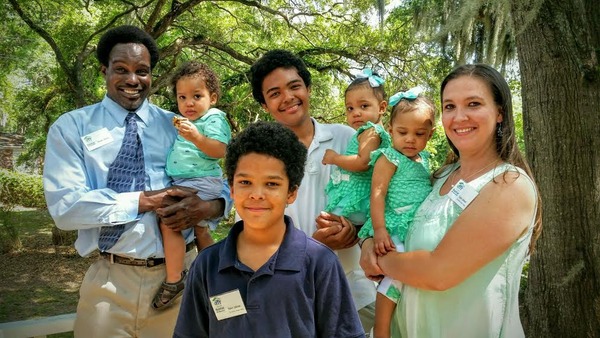 The Johnson Family, left to right: Orlando, Landin, Robert, Orlando Jr. Lanonyah, Soniyah, & Crystal
It will truly be a wonderful celebration featuring food, fun and fellowship for all!

TICKETS ARE $35.00 AND WILL BE AVAILABLE SOON!
Two Awards to Celebrate!




LowCountry Habitat for Humanity is so honored to have been chosen as the Outstanding Non Profit at the Beaufort Regional Chamber's Civitas Awards and also to be named Best Non Profit for the 2nd year in a row by Eat Sleep Play Beaufort.

Thank you to everyone that voted for us! We appreciate your support!

Photo top left to right: Ginger Wareham, of Picklejuice Productions, Chet Houston, Executive Director, LowCountry Habitat for Humanity & Janie Lackman, LowCountry Habitat Director of Marketing and Resource Development


Volunteer Orientation
July 9, 2016


Help us spread the word that our next volunteer orientation meeting is at 10 am on Saturday July 9, at the office. We have many open volunteer opportunities to suit all types and talents...and we have fun!

Jenny Drake, ReStore Manager with two of our terrific Thursday volunteers: Nancy DePalo and Shayne Gelbard.

Our fabulous Friday morning cashiers: Jim Shapiro and Alison Barton.

Featured on our Help Wanted Ad are Brandon Pratt & Peter Brown hard at work loading donations for the ReStore. Photo by Kim Worrell

.

LowCountry Habitat for Humanity wishes our volunteers and supporters a Happy 4th!


Please note that in observance of the Independence day Holiday, the ReStore will be closed from 5 pm Friday July 1 until 9am Tuesday July 5, when the regular schedule will resume:


Open to receive donations:
Tuesday and Wednesday 10 am - 3pm

Shopping Hours:
Thursday through Saturday 10 am- 5 pm.

Closed Sunday and Monday.


The office will be closed on Monday July 4. Normal office hours are:


Monday through Friday 9 am - 5 pm.

Construction News



Many Thanks to brand new LowCountry Habitat volunteer Cpl. Diamond Peden, Public Affairs, 6th Marine Corps District, for this marvellous photo of LowCountry Habitat Board Chair and long time construction volunteer, Jim Daniels.

In addition to helping with painting at 8 Paulik Place last Saturday, Diamond took her camera along and captured these two great pictures of Jim Daniels and Buddy Coleman.

Diamond remarked that she never realized how much just 5 volunteers were able to achieve in 4 hours.


The refurbishment of

8 Paulik Place

is almost complete. Next week we will continue with the last of the painting, flooring installation and work on the punch list items. If you have completed volunteer orientation and can help Tuesday, Wednesday or Thursday, 8 am until noon, please email michael@lowcountryhabitat.org so that he will know to expect you.

LowCountry Habitat thanks all our faithful volunteers for their contributions of time and talent. Volunteers like you help to make dreams of homeownership a reality for our Family Partners.

New signage at the Warehouse


Calling all volunteers who have an interest in helping to craft or

paint our

Beaufort Collection

of custom built furniture at the warehouse on Tuesday through Thursday mornings. The warehouse on

Burton Hill Road

can be quite tricky to find, as several of our new volunteers found just recently. From Hwy 170, take Burton Hill Road at the stop light near Lowes. Look for the fire station on your left and take the next left which is a driveway, marked for The Greenery, located behind the warehouse.The quansett hut, which serves as our warehouse, is straight ahead. In the street view picture below, you can see the semi-circular shaped quansett hut at the end of the drive.

If you want to find out where you can help and work with this wonderful group of talented volunteers, led by Milton Lawrence, just go along and visit. Be on the look out for our new sign above the entrance and you wont end up at The Greenery!

7 of our wonderfully talented Warehouse Volunteers, left to right: Ray Shankweiler, Milton Lawrence, Ilene Hull, Roger Talmage, Bob Cummins, Dan Bialis & Robb Alexander.

Habitat for Humanity Global Village Team to Brazil:
November 5 to 13, 2016

Experience an immersive and meaningful volunteer trip to renovate and repair family partners' homes in Brazil. Explore the vibrant community and experience local culture while improving an urgent housing issue for a
family partner. Click here

to read more about this exciting trip.

Since retiring in 2006, former LowCountry Habitat for Humanity Executive Director Barbara Thomas has been leading teams around the world through Habitat's Global Village program.

Barbara would love to tell you more about the team!

Email Barbara

To learn more about the Global Village Program, click

here

Sign-up to shop on AmazonSmile!

AmazonSmile is a simple and automatic way for you to support your favorite charitable organization every time you shop, at no cost to you.

When you shop at

smile.amazon.com

you'll find the exact same low prices, vast selection and convenient shopping experience as Amazon.com, with the added bonus that Amazon will donate a portion of your purchase to your favorite charitable organization.

You can choose from nearly one million organizations to support, including LowCountry Habitat for Humanity!