At the warehouse this week, we have been working on the construction of sheds for our two Greene Street house builds: The Beaufort Bank Build and the 25th Anniversary Home Build.

This Saturday we are painting the exterior of the office building from 8 am until noon. Next Tuesday through Thursday between 8 am and noon, we will continue to work on the sheds at the warehouse, located at
24 Burton Hill Road
.
If you have completed volunteer orientation and want to join in the fun, simply check your schedule and email Michael Perry, construction manager at michael@lowcountryhabitat.org, to allow him to plan accordingly.
Thanks to all our family partners and volunteers for your dedication and hard work. Every one of us can make a difference!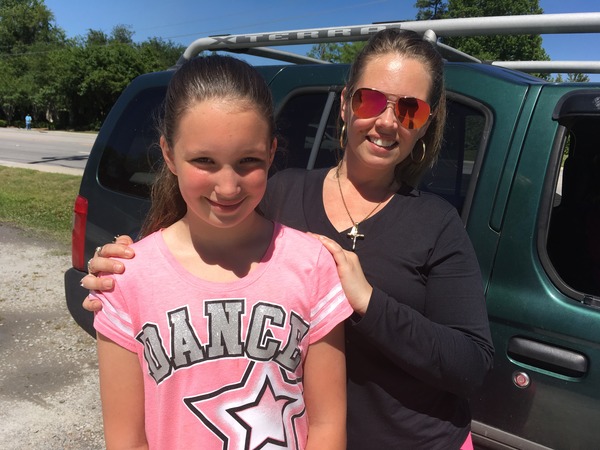 LowCountry Habitat for Humanity home owner, Anne Marie Ray and her daughter Victoria.
It's a small world
Habitat Homes and Community Connections Change Lives

Volunteer Sally Mayse was leaving the Lowcountry Habitat office when she heard a female voice calling out from a black SUV parked outside: "I know you!" At first, Sally didn't recognize the young woman in the huge sunglasses, but as Sally approached the car, she heard the woman say "You were one of my favorite teachers!" With that, she recognized the voice of Anne Marie Ray, a Habitat homeowner and Sally's former student. Sally and Anne Marie discovered they shared another connection as well: Sally regularly purchased supplies through the Purchasing Dept. at TCL, which was headed up by Anne Marie's grandmother.

As they caught up with one another in the parking lot, Anne Marie shared with Sally that her Habitat house had "changed her life." Anne Marie was so impressed with her home that she encouraged her sister to apply for a Habitat House in Florida; her sister is now also a Habitat homeowner!

Anne Marie continues to share her enthusiasm for Habitat. One of our newer homowners, Jasmine James, was a high-school friend of Anne Marie's. As a Family Partner, Jasmine reached out to Anne Marie for some advice regarding home location. Anne Marie replied out of her own extraordinary experience: "Take it Jasmine! It will change your life!"

Current Family Partner, Denise Simmons also has a connection with Sally Mayse. Sally worked with two of Denise's sisters and she is now Denise's Family Support Partner.
It really is a small world!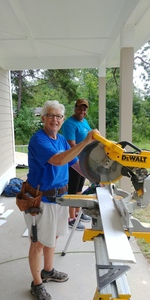 Sally and Denise working together at the Brays Island House Build.
Two events coming next week:

Fripp Island Community Health Fair
October 4, 2017
♦
12pm to 4 pm
♦ FI Community Centre
Volunteer Honor Role Appreciation Party
October 5, 2017 ♦ 6pm to 8 pm ♦ Evite RSVP's due Monday October 2nd, World Habitat Day!
Save-the-Dates:
October 14, 2017 ♦ Volunteer Orientation
November 4, 2017 ♦ Habitat's Kid2Kid Toy Sale
November 7, 2017 ♦ Educational Series: Getting through the Holidays without breaking your budget
January 12, 2018 ♦ Dataw Health Fair
January 13, 2018 ♦ Resolution Run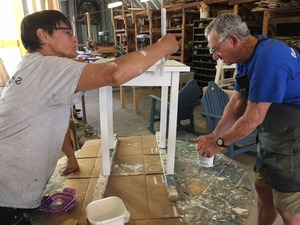 Warehouse volunteers Charlotte Cook and Robb Alexander.
ReStore Volunteer Opportunities
Do you have the talent to make "The Ask"? If so, please consider joining the ReStore Donation Procurement Team.

In an

effort to give greater customer/donor service at the store, we are looking for volunteers to work the sales floor and greet our donors in receiving.

W

e are asking for volunteers to take ownership of specific areas of the store: Lighting, Doors/Windows etc. to keep us orderly and merchandised efficiently.

W

e are in desperate need of those that have great organizational skills and love to clean. Processing is the name of the game! We know that you are out there and would love to do this! You can truly make a difference!

At the warehouse, we build and paint the Beaufort Collection of porch furniture between 7:30 am and 1 pm Tuesday through Thursday.
If you are interested in any of these opportunities, please email Lee McSavaney, volunteer coordinator at info@lowcountryhabitat.org or call 843-522-3500.
Online shopping?



Click on the amazon

smile

banner to see how you can help support LowCountry Habitat for Humanity by shopping on amazon

smile

!