More to Celebrate!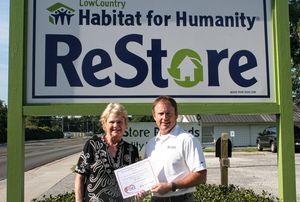 Pictured above: Kathy Jones, President, Friends of Callawassie and Chet Houston, Executive Director, LowCountry Habitat for Humanity. Below: Check presentation from Bank of America and Merrill Lynch. Photos by Janie Lackman.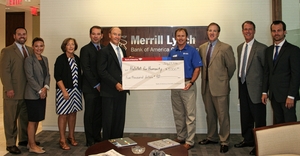 LowCountry Habitat for Humanity is excited to announce that LowCountry Habitat for Humanity is the recipient of generous grants from
Bank of America
Friends of Callawassie Island,
Junior Service League of Beaufort
and Merrill Lynch.

We thank each of these organizations for their fantastic support!

In Appreciation of our wonderful volunteers
Save-the-Date!



LowCountry Habitat for Humanity appreciates all the volunteers who contribute their time and talent to help bring people together to build homes, communities and hope in northern Beaufort County.
A newly formed Volunteer Committee is working to improve our volunteer recognition and appreciation process. A Volunteer Appreciation Breakfast is planned for World Habitat Day on Monday October 3rd, from 8:30 am to 10:30 am, at the ReStore.

In tribute to World Habitat Day, we request that volunteers bring a clean and gently used toy to donate to the first annual ReStore Toy Sale, which will be held on Saturday October 15th.

Volunteers may also donate canned foods which we will take to stock Help of Beaufort's food pantry.
Invitations will be emailed soon.

Volunteer Role of Honor
July is the beginning of a new fiscal year at LowCountry Habitat for Humanity and a great time to begin a new monthly recognition of our wonderful volunteers, based on the number of volunteer hours served. Hours will accrue through the fiscal year, so that by June 2017 this spot should fill the entire column!
Volunteer Role of Honor
as at July 31, 2016

A Very Special Thank you to our Ground Breaker Volunteers
for accumulating 24 volunteer hours
Bob Cummins, Warehouse
Austin Diemont, ReStore & Construction
Suzanne Green, ReStore
Dwayne Pingston, ReStore
Ray Shankweiler, Warehouse

Hammer Volunteers
for accumulating 50 volunteer hours
Robb Alexander, Warehouse
Kevin Conroy, Warehouse
Charlotte Cook, Warehouse
Jennifer Duke, ReStore
Milton Lawrence, Warehouse
Beth Patterson, ReStore
Roger Talmage, Warehouse

Hard Hat Volunteers
for accumulating 100 volunteer hours
Barbara Dittmer, ReStore
LowCountry Habitat for Humanity thanks all our volunteers for everything they do to help us in our mission to end poverty housing in northern Beaufort County.

Help us spread the word about volunteering with LowCountry Habitat