Our Five Year Anniversary! Can You Believe It?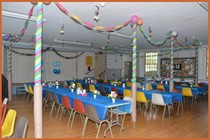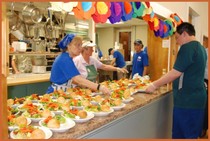 In May of 2010, Table of Plenty served its first meal to seven guests. Fast forward five years later to the dining room at the Unitarian Universalist Church on Chelmsford Common, and you'll find sixty to eighty friends each Tuesday evening enjoying a delicious meal, great conversation, entertaining music, raffles, and special events.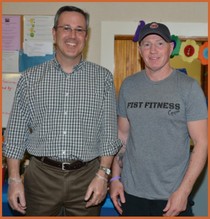 To celebrate our Five Year Anniversary, the chefs prepared a special meal of Roast Pork Loin with an array of sides. Other touches included cheesecake for dessert, tablecloths, streamers and balloons, centerpieces provided by The Power of Flowers Project, and a special visit from the President of the Chelmsford Business Association, Rick Romano, and our loyal supporter, Micky Ward. Guests didn't go home empty handed - board members had baked and decorated cookies in the shape of the number 5 for everyone to take home.
Happy 5 Year Anniversary!
---
The Power of Flowers Project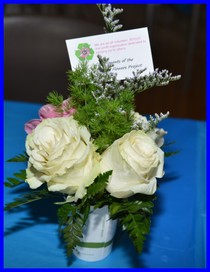 The
Power of Flowers Project
renews and refreshes flowers to bring smiles, joy, and happiness to others. Sources for donated flowers include funerals, weddings, banquets, church services and other events where the flowers would most likely be discarded after the event. Volunteers pick up the flowers, more volunteers renew and refresh, and still more volunteers deliver the flowers to community outreach programs, elder services, senior centers, and cancer clinics among others. These beautiful arrangements have graced our tables here at TOPIC on many occasions.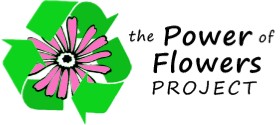 ---
Our 15,000th Meal!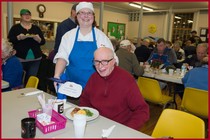 TOPIC Cook Adelle Stavis served Table of Plenty's 15, 000th meal to John — one of our most loyal Table of Plenty guests.
---
Welcome to Our Newest Board Members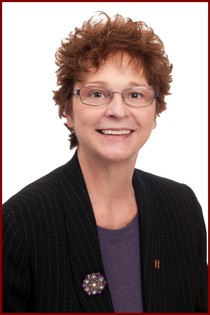 Mary Fedele grew up in Waltham and graduated from Boston College with a degree in psychology. Now a longtime resident of Chelmsford, she has spent the majority of her career in real estate sales and mortgage banking. She is an enthusiastic employee of Enterprise Bank in Lowell where she reviews residential appraisals to ensure that the collateral offered supports a mortgage loan. Mary and her late husband, Jim, have enjoyed volunteering at several nonprofits over the years, particularly Table of Plenty, Alternative House, Paul Center, Easter Seals, and the annual Lowell Folk Festival. She is also on the Board of Directors and the Finance Committee of the New England Quilt Museum in Lowell. Her hobbies include reading, attending concerts and traveling whenever the opportunity arises.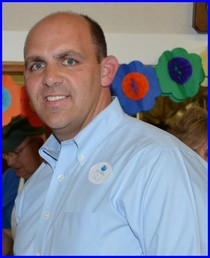 Paul Hardy is the owner of Blake Funeral Home, where he strives to provide each family with individual dignity and personal care. He grew up in Lowell, and is a 1993 graduate of Lowell Catholic High School. He graduated from the Funeral Institute of the Northeast in 2007 and received his Funeral Directors License that same year. He is involved with numerous organizations including being a Corporator for the Lowell Five Cent Savings Bank and for Lowell General Hospital, a member of the Chelmsford Police Foundation, the Greater Lowell Chamber of Commerce, and the Chelmsford Parade Committee. He serves on the Board of Directors for the Chelmsford Business Association.


Paul lives in Chelmsford with his wife Jennifer, and their two daughters, Briana and Katherine. In his spare time, he enjoys traveling with his family.
---
Sponsoring a Meal
If you or your business are interested in sponsoring a meal, contact Table of Plenty at 978-710-8EAT(8328).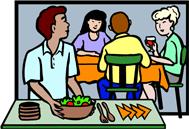 ---
Thank You to Our Meal Sponsors
Phil and Pat Burton:

In memory of Bonnie Christensen

David L'Hussier

Kevin and Patsy Sullivan

Carolyn Clancy - In Honor of Ellie

Barbara and Bill Morrill

Susan Mathews and Diane Rega:

In Honor of Priscilla Rega

The family of Doris Grout, in her memory

Bernice Goldman:

In Memory of Wanda Ostrowski

Bill Polakowski

Paul and Ann Gleason

Peg Kemper

Herman Dean

Tim and Heather Clark

Dr. Mark Gilchrist

The Benevolent Beaders
---
Meet Another of Our Volunteer Teams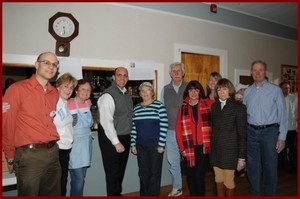 Jerry and Merri Serra's Team: Jerry and Merri Serra are two of our Board Members who have been involved with Table of Plenty from the beginning. They say that their team is "always ready to greet guests and serve them with a smile." They and their team love Table of Plenty and all that it embodies.
Pictured: Craig Bonaceto, Merri Serra, Mary Lou Jarasitis, Paul Hardy, Donna Robillard, Gerry Jarasitis, Denice Gormley, Kristen Flynn, Lynda Hague, Mike Gormely. Missing: John Caron, Ron Martin, Allan King, Terry Terranova, Claire Frassica, Rick Miguel, Julianne O'Keefe, Charlene Caron, Betty Chaput, Pat Burton, Meg Geary, Sue MacDonald
Note: In our last few newsletters, and in this and the next edition of our newsletter, we introduce you to our nine wonderful volunteer serving teams at Table of Plenty.
---
Enterprise Bank Fundraiser: Duncan's Dunk Tank
Enterprise Bank put the FUN back in FUNDRAISER! They kicked off the summer by hosting "Duncan's Dunk Tank". They set up a dunk tank in the parking lot of their downtown Lowell office and community members could pay to dunk one of the Enterprise Bankers. Music, raffles, and a hot dog lunch all added to the excitement. All the proceeds were donated to Table of Plenty. Thank you Enterprise Bank for over $4,000 raised...so far!


Enterprise Bank wants to keep the momentum going, so they will donate $1, up to $5,000 total, to Table of Plenty until July 30, for every social media share of their #DuncansDunkTank videos on YouTube. Please visit the videos page for more information, and be sure to click the Share button to share a link to the videos on your Facebook, Twitter, or other social media page!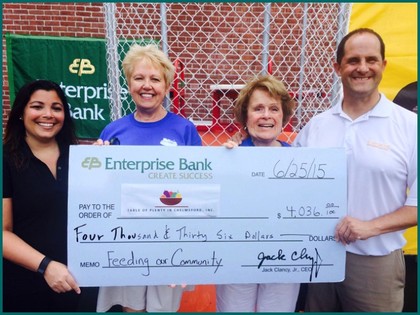 Enterprise Bank presents their donation to Table of Plenty. L-R: Kathryn Ferguson, Assistant to the CEO of Enterprise Bank; Debbie Kendrick, TOPIC Treasurer; Maureen McKeown, TOPIC President; Rob Lawlor, Enterprise Bank SVP Sales and Relationship Manager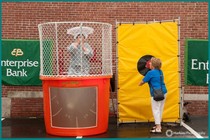 TOPIC President, Maureen McKeown, dunks Alison Burns, Enterprise Bank's Community Relations Officer
---
President's Message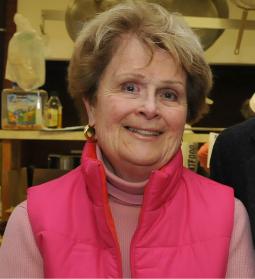 Sometimes it has been a challenge to write a President's Message twice a year for five years. What could be new or interesting? As I pondered this, I thought of all the generous people and businesses that have joined Table of Plenty in the past year (coming on board with our longtime faithful volunteers and benefactors). It is humbling to receive a note—or have a guest come to us—telling us how important our weekly meal has been for them. We could not continue our mission without the generosity of residents of Chelmsford and the surrounding communities. Our most recent and unexpected donation came from Enterprise Bank. Their Duncan's Dunk Tank fundraiser was held in June and all funds were for the benefit of our organization. Thank you. As we approach the second half of our 5th year, we continually strive to explore new avenues to serve our community.
-Maureen McKeown, President
---
Contact Us
---

---
---
Board of Directors
President: Maureen McKeown
Vice President: Jerry Serra
Treasurer: Deborah Kendrick
Clerk: Mary Moriarty

Craig Bonaceto
Kathy Clark
Jim Comeau
Mary Fedele
Paul Hardy
Joe Hehn
Marianne Hutchins
Mike Kendrick
Caithlin O'Brien
Merri Serra
Rev. Ellen Rowse Spero
Diane Taylor
---
Committe Members

Accountant
Gerry Paolilli
Attorney
Kevin S. Sullivan

Cooks Committee
Jim Comeau, Coordinator
Fran Geurard
Adelle Stavis
Paul Windt

First Parish Representative
David Blackburn

Inventory Coordinator
Sharon Hehn

Publicity Director
Diane Taylor

Technical Communications
Craig Bonaceto
Caithlin O'Brien

Volunteer Coordinator
Marianne Hutchins