Table of Plenty Celebrates 1 Year Anniversary with Micky Ward!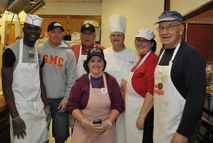 On May 18th, guests were pleasantly surprised when their meals were served by none other than Lowell's "Fighter", Micky Ward. Not only did he serve dinner, but he also sponsored the meal. His foundation, Team Micky Ward Charities, is a non-profit charitable organization that provides financial assistance to families and children in need to help improve their everyday quality of life.
His presence added to the festivities, the celebration of Table of Plenty's one year anniversary. In May of 2010, we opened our doors to seven wonderful guests. Since that time, word has spread of the delicious meals and warm, inviting atmosphere so that we now enjoy the company of sixty to seventy friends at dinner each week. It has been an exciting and gratifying twelve months!
---
TOPIC in the News
In June, Board members Maureen McKeown, Mary Moriarty and Craig Bonaceto represented TOPIC on Kevin Willett's Dracut Cable TV show "Business As Usual". Thanks to Kevin for the invitation and for promoting TOPIC on his

website

as well.

Chelmsford Patch, an online news service, wrote an

article

about a fundraiser for TOPIC co-sponsored by the

Tango Gril

l in Chelmsford and the Chelmsford Patch.

On July 10th, The Lowell Sun wrote a wonderful

article

on Table of Plenty.
Visit the news section of our website for these and other news stories about Table of Plenty.
---
Willis Foundation Grant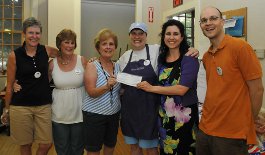 Thank you to The Willis Foundation, a 501(c)(3) non-profit corporation affiliated with Willis Group Holdings plc, for their generous donation. The Foundation encourages Willis Associates and Willis North America's key business partners to participate in charitable activities across North America. They make contributions to U.S.-based charities recommended by Willis Associates. TOPIC was recommended by Ami Hughes, a parishioner at First Parish UU Church. Thanks Ami!
---
Many Thanks go out to...
Jan Domey of Open House Nursery School for clearing the church hall each Tuesday evening.

Ed Ciampa for his entertaining accordion music.

The Tervo Family for a wonderful concert and fundraiser.

Clarissa Samuels for the meat donation for the June 7th meal.

Sal and Kati Lupoli and family for donating pizzas for our July 5th meal.

The First Parish Unitarian Universalist Church members and TOPIC members for cleaning and organizing the kitchen.

Pat Burton for the donation in memory of her mother, Kathleen Beaumont.

The family and friends of Olive Looney for donations in her memory.

St. Mary Vacation Bible Fest for selecting TOP as their choice for stewardship at this year's camp.

Charles Dahlgren of Evergreen Signs for donating a sign to recognize our meal sponsors.
---
Tango Grill/Chelmsford Patch Fundraiser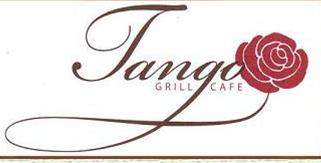 The Tango Grill Café in Chelmsford, along with the help of Chelmsford Patch, an online news service, hosted guests at their restaurant for a food and wine tasting. The June event was complimentary, with a suggested donation, 100% of which was given to Table of Plenty. The Tango Grill Café has recently come under the ownership of Aric Becker, and has a new chef and dinner menu as well.
Many thanks to Tango Grill and Chelmsford Patch for choosing Table of Plenty in Chelmsford as the recipient of their generosity.
---
Our Meal Sponsors
At the beginning of 2011, we began to offer businesses and individuals the opportunity to sponsor meals. Since that time, we have received an amazing response. We would like to thank all of the following for their generous sponsorship:
Blake Funeral Home

Bowser Law Office

Bill Dalton

Chelmsford Elks

Chelmsford Telemedia Corporation

Clancy Family: In Honor of Ellie Clancy

2010 Cooperstown Baseball Team

David and Kathleen Falco

Dolan Funeral Home

Enterprise Bank & Trust Company

Friends of Dawn Sihpol and Iris Serge

J.P. Rivard Trailer Sales

Jeanne D'Arc Credit Union

L'Hussier Tax Services

Millenium Pharmaceuticals Matching Gift Program

Ministry at Large

Moriarty Children

Stonegate Realty

Taylor Family: In Memory of Dorothy and Redd Taylor

Team Micky Foundation

Trinity Emergency Medical Services

Trinity Lutheran Church

Village Electric
---
Sponsoring a Meal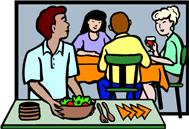 Is your business interested in sponsoring a meal? The cost of each meal is $200, and we will advertise your support at the dinner you sponsor as well as in our literature that is distributed throughout the Chelmsford area. We would also welcome employees of your business to come and help our volunteer team serve the meal. The reward is special, and the need is great.
Call Joe Hehn at 978-250-5954 for more information or to reserve a date to sponsor.
---
President's Message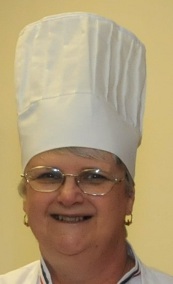 Since March, Table of Plenty has had much to celebrate. We have had many meal sponsorships from businesses and individuals to honor a family member, new volunteers who offer various talents to our Tuesday nights, and occasional fun raffles. The meals served are a source of good nutrition as well as a time to give and receive kindness.
So it is with a very heavy heart that I note the death of our chief chef, Pat Schroeder, on July 19th. Without doubt, the person who was instrumental to the kitchen's success is Pat . Her culinary knowledge, skill, willingness to mentor others and attention to detail were invaluable to the success of this endeavor. Everyone who knew Pat - board members, volunteers and guests - are shocked and saddened by her untimely death.
All of us at the Table of Plenty extend our heartfelt sympathy and prayers to her mother, Millie, her sister Donna, brother Len, and her extended family.
We will miss Pat forever. We will be privileged to continue our mission dedicated to her memory.
Peace,
Maureen McKeown
President
---
Contact Us