Serving at the Chelmsford Senior Center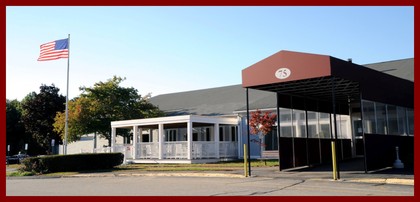 The First Parish Unitarian Universalist Church, where Table of Plenty usually serves its dinner, has begun a renovation project which is anticipated to last through the summer and into the fall, necessitating TOPIC's move. The Town of Chelmsford graciously offered the use of the kitchen and dining hall at the Chelmsford Senior Center for our use during this time. Under the able direction of Chef Jim Comeau, a group of volunteers moved the contents of Table of Plenty's kitchen from First Parish to the Senior Center to have everything ready to go for our first meal in our new space on June 5th. Located at 75 Groton Road in North Chelmsford, the space offers plenty of parking, as well as air conditioning during the summer months.
Many thanks to all the staff at the Chelmsford Senior Center for making us feel so welcome, in particular to Human Services Director Debi Siriani.
---
Some Thank-Yous...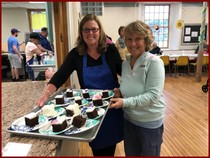 Kelly Boshar and Nancy Aronian — for each month donating the delicious birthday cake for dessert.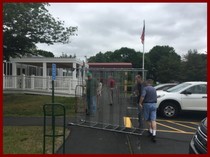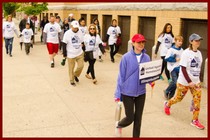 To all those who helped with the move from First Parish to the Senior Center — Jim Comeau, Paul Windt, Doug Drake, Annie Pelley, Sue MacDonald, Merri and Jerry Serra, Marianne and Bill Hutchins, Frans Janssen, and Debbie and Mike Kendrick
To Table of Plenty Members who did the Lowell Transitional Living Center's "Steps To Home Walk"
To the Chelmsford Water Department —
who have given us space to locate our temporary storage trailer.
---
Chefs' Update From Jim Comeau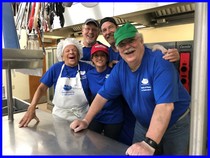 There is always change in our list of volunteer helpers. Some relocate or move on to other projects, some go south for the colder months, others step forward to take their place, and the kitchen continues its goal of tasty and nutritious meals for all the guests who visit us.
The average weekly attendance continues to climb, and our menus continue to be well accepted. Although we tend to stay with tried and true meals, we have expanded our menus and look forward to adding new items. We continue to serve special occasion meals for St. Patrick's Day, Easter, Thanksgiving, and Christmas.
We also continue to provide meals to My Father's House and to any shut-ins and veterans who might need some support on an as needed basis. We generally pack up to 15 to 20 meals a week for this well received outreach program.
In addition to our generous Table of Plenty friends, we have been assisted by many other donors. The Merrimack Valley Food Bank has been a welcoming partner to us, providing donated and government program food items. Many commercial groups, such as Panera Bread in Westford, local farmers, Crosby's Marketplace in Concord, Gary's Ice Cream, and Sullivan Farms Ice Cream provide product to us. In turn, we share with the Mother Theresa program at St. Francis Church in Dracut, the Lowell Transitional Living Center, and Cor Unum in Lawrence.
Pictured: Some of our Chefs settle into the kitchen at the Chelmsford Senior Center.
Back Row: Jim Meenaghan and Doug Drake
Front Row: Mel Starr, Sue MacDonald, and Paul Windt
---
NEW Mailing Address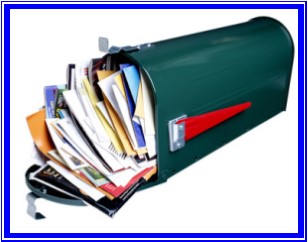 Please note our new mailing address:
Table of Plenty in Chelmsford, Inc.
P.O. Box 321
Chelmsford, MA 01824
---
Thank You to Our Meal Sponsors
The Chelmsford Business Association
Circle Health
In Honor of Jack and Ann Clancy
In Honor of Jack and Ellie Clancy
Elm Hill Labs
In Memory of Jim Fedele
In Honor of Walt Fitzgerald
Harbor of Hope Christian Church
Hardy Doric
William L. Harvey III, Esq.
Jeanne D'Arc Credit Union
The McCoy Restaurant Group (McDonalds)
Northern Bank
Sanjeeiwea Family
Sargent & Associates
In Appreciation of Jerry Serra
Zesty's
And many Anonymous Sponsors...
---
Sponsoring a Meal
If you or your business are interested in sponsoring a meal, contact Table of Plenty at 978-710-8EAT(8328), email us at or tableofplentyinchelmsford@gmail.com, or visit our website.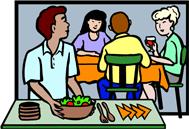 ---
Meet the Board
In previous issues, we have profiled our nine volunteer teams. In this, and future newsletters, we'd like to introduce you to our Board Members.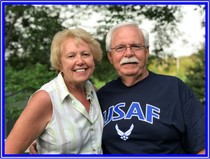 Husband and wife dynamic duo Mike and Debbie Kendrick first became acquainted with the idea of a community supper from friend, Maureen McKeown. As Debbie recalls it, for years Maureen, who had been volunteering at a similar community dinner in Concord, kept saying, "Don't you think Chelmsford needs this?" But Debbie never expected it to take off, until one day when Maureen invited them to her home for an initial planning meeting ~ and the rest is history.
Debbie is now retired after being a dental hygienist for 46 years. Mike, also now retired, spent four years in the Air Force, including one year in Vietnam, as an Aircraft Electrician. When he left the Air Force he attended computer school and ultimately retired from Community Teamwork in Lowell as their IT Director.
When their children were younger, both were very involved in St. Mary's Youth Ministry which is where they became friends with Maureen. Debbie was the group's Treasurer years ago, so she offered to assume that role for Table of Plenty. Through St. Mary's, Mike volunteered for many years with Habitat for Humanity, leading high school kids and then also starting an adult group that did builds on weekends. Both Mike and Debbie are now very active volunteers with Veteran's Groups (Chelmsford Veterans Memorial Park, Merrimack Valley Vietnam Veterans, Disabled American Veterans, and the American Legion).
When not volunteering tirelessly with Table of Plenty, you can find Mike working on his totally customized 50 Chevy street rod, while Debbie has in recent years served as a wedding coordinator at St. Irene's Parish in Carlisle.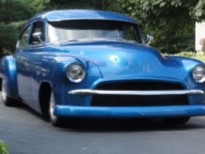 ---
President's Message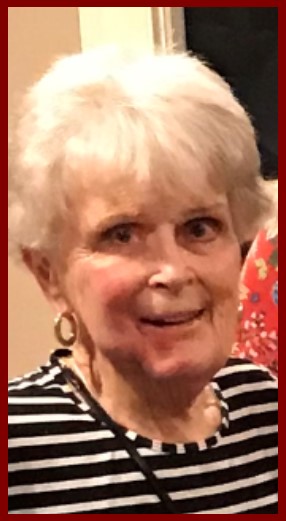 This has been a year of transition for Table of Plenty and for me personally. Our move last month to the Chelmsford Senior Center has been achieved very smoothly thanks to the planning and hard work of our dedicated Board of Directors and volunteers. We are thankful to Town Manager Paul Cohen and the staff at the Senior Center for all their support and enthusiasm for our temporary relocation.
Due to ongoing health issues, I have moved to an independent/assisted living residence in Acton. Since I am unable to drive this presents a challenge to attending weekly meals. I want you to know how much I cherish each of you and the love you extend whenever I visit. It is a blessing to have you in my life. Please continue to invite friends to join our special community at TOP. I hope to see you frequently. You are in my thoughts and prayers.
-Maureen McKeown, President
---
Contact Us
---

---
---
Board of Directors
President: Maureen McKeown
Vice President: Jerry Serra
Treasurer: Deborah Kendrick
Clerk: Mary Moriarty

Craig Bonaceto
Kathy Clark
Jim Comeau
Mary Fedele
Paul Hardy
Joe Hehn
Sharon Hehn
Marianne Hutchins
Mike Kendrick
Sue MacDonald
Merri Serra
Rev. Ellen Rowse Spero
Diane Taylor
---
Committe Members

Accountant
Gerry Paolilli
Attorney
Kevin S. Sullivan

Cooks Committee
Jim Comeau
Doug Drake
Giancarla Kalpas
Kirk Marshall
Carol MacDonald
Irene Masson
Jim Meenaghan
Annie Pelley
Mel Starr
Paul Windt

First Parish Representative
Frans Janssen

Inventory Coordinator
Sharon Hehn

Publicity Director
Diane Taylor

Technical Communications
Craig Bonaceto
Mary Moriarty

Volunteer Coordinator
Mary Fedele