June 27th Monthly Meeting
Topic: Advances in Digital Technology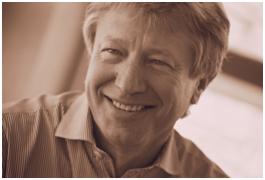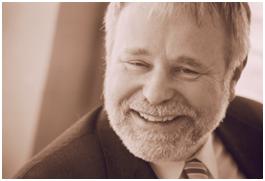 Guest Speakers: Dr. Bernd Wiemann and Günther Weber,
Technology Gurus, deep innovation gmbh
With exciting, existing and nascent enterprises driving a ever-expanding array of technology advances, society is being continually transformed by dynamic changes that will enhance our lifestyles and impact approaches to tackling and resolving challenges.
Information and Communication technologies (ICT) are permutating into powerful forces affecting abundant relevant social and industrial aspects in our daily lives. Our present accepted ICT best practices for shaping and subsequently developing such technological processes have exhausted their potential. Established technology is too often unable to cope with the relentless change dynamic that is endemic to the essential future innovations. To accommodate these upcoming evolutionally phases, we need techniques that readily support efficient use and optimization of the benefits of trans-disciplinary thinking. These should provide an incubating force for actively modeling and responsibly driving our business and lifestyle futures.
At our Munich Chapter meeting on June 27th, Dr Bernd Wiemann and Günther Weber of deep innovation gmbh will take us onto the pathways of digital development, providing their visionary insights on exciting future directions what will affect each of us. As long-time leaders of Mannesmann/Vodafone's German Advanced Research Team, Bernd and Günther have been the drivers of many of the technology leaps in telecommunications developments and evolving applications over the past two decades. While supporting a number of Vodafone SpinOuts, Bernd is also a serial entrepreneur and expert in Mobile TV, e-Mobility, internet and cloud communications technology, and interactive smart environments. Günther's focus has been on telematics, road tolling, web & media applications, online traffic management, and mobile charging processes. Both are leading participants in technology programs at Munich Network and are now in the process of ramping up deep innovation's activities here.
Further information is available in the Events section, Munich Chapter at www.agbc.de.
Visualizing Atmosphere and Key Points
by Claudia Linz
Through this artistic approach, it is now possible to capture visually the "atmosphere" and the "interplay" between participants, adding another dimension to the evening's program.
Ms. Linz's art offers new references points that cut through the jungle of words to help find what is essential in the presentation and invited conversations:
· An anchor point
· Calmness where the Insights can begin to grow
· Inspiration, enable new ways of thinking and feeling to emerge
· The opening of a new horizon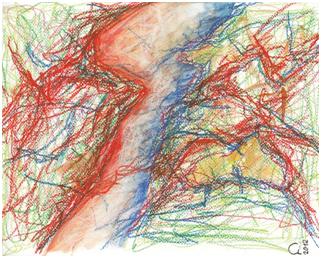 The event's presentation focused on the realization that we've moved from the "simple" to the "complex" in so many aspects of our lives. The Simple Rules are hardly adequate any longer. Instead we need the inner quietness to listen deeply to both our thoughts AND our feelings so we can feel at home in Complexity without getting lost in confusing Chaos.
In the middle of this sketch is a flowing river-line band with different dimensions. It character is many-sided: dark, light, straight and rounded, perhaps like the flow of our inner thinking and feeling. On the left side of this flow we might discover our emotional side and on the right our rational nature. The warm red shows our emotions, the sensitive and perhaps the womanly. The red lines in the background suggest the powerful connections in our unconsciousness. The lines and the white spaces in the background are certainly part of us, even if they go unnoticed, for the most part.
Our rational selves emerge on the right – colder blue, clarity, rationality and perhaps manliness? We see the connections between the two sides – links of warm and cold, conscious and unconsciousness, and woman and man.
We all know we have both of these sides within us and they are wonderful networked together, the rational and the emotional, the womanly and the manly, the conscious and the unconscious.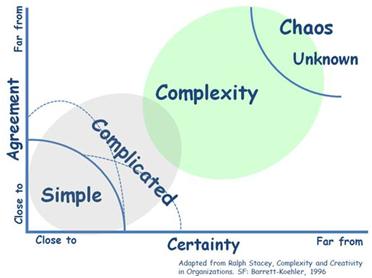 As we learn to become more at home in the complexity, how do we use both sides? Do we say imprisoned in "either/or" feeling or do we find new space to move about with "both/and" thinking and feeling?
It is possible to see in the graphic above the bridging between the Simple and the Chaos comes in dialogue. This is a dialogue connected over time which opens up new horizons of possibilities and freedom of movement.
Following the introduction, the evening's participants were asked to reflect themselves on what would bring forth their "wiser" sides. After all, Carl Linnaeus, in his great classification of all plants and animals in 1758 had suggested that humans should have the designation of Homo Sapiens Sapiens (i.e. they are or could be "wisely wise). Alas, many at our AGBC meeting agreed we are far from this goal. Instead it seems that Linnaeus might have called us, instead, Homo Selfishly Stupid (no translation needed). Given this gulf, the participants were asked to work in teams of four (World Café like) to explore what it would take to move towards Linnaeus' first designation for us humans.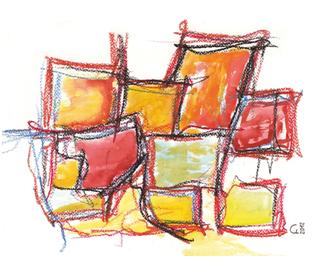 The room was soon full of energy as the teams of four listened, shared, reflected and asked. It was not always easy, but certainly emotions and thoughts were in abundance. Using the Blue Ocean Strategy Canvas approach, they set out to find a way toward human wisdom, but alas, the time was not adequate. This graphic captures the intensity of the different tables as the asked and probed the challenge, some more intensely than others.
Thanks to this wonderful new form of art, focused upon capturing and visualizing the actual atmosphere in the room, we can see so much more of what was actually happening that evening. Certainly the presentation and this art helped us realize that we need a much wiser approach if we are to live in the sea of complexity. Nevertheless, many of us realized that by bringing our rational AND emotional sides together in dialogue within and between ourselves, we can find the new insights to help navigate in these unchartered waters of complexity.
Ms. Linz is finding a growing interest in this form of insightful real-time-art for conferences, business meetings and even weddings. To see more, please visit: http://www.linz-art.de/
Independence Day – July 8th at WaWi
Join us and other Munich Area networking groups and their families for a great time in celebrating Independence Day as part of the Little American Oktoberfest at Waldwirtschaft (WaWi) Biergarten in Grosshesselohe-Pullach.
With July 4th falling on a Wednesday, this year's get-together is shifted to Sunday, July 8th. The activities and networking start around high noon and will run throughout the afternoon. There will be American food, live American Music with square dancing and American Fun as well as abundant networking opportunities.
In addition, we are again holding our annual Mini-Golf championship on the adjacent, renowned WaWi Miniature Golf Course. "Fore" further details, please see www.waldwirtschaft.de.