Jessica,

Seconds before the elevator door shut, a woman jumped on with me the other day. I noticed her gorgeous sandals.

"Love your shoes," I said.

"Thanks!" she replied.

"Do you work in this building?" I asked her.

"Yes."

"What do you do?" I asked and so our conversation continued. Within 90 seconds I had given my elevator speech in an actual elevator and as the doors opened, we were exchanging business cards and making plans to meet about how we could work together.

Is your elevator speech working for you? How many times a day or a week are you using it? Does it need a revamp? If so, some ideas:
Some artists have trouble claiming a title because they do so many things. If you don't have an elevator speech yet, your assignment this week is to whittle your title to two titles maximum, as in: "Hi, I'm Gigi Rosenberg, a writer and an artist coach." Period.
For a great example of a longer elevator speech, see Helen Hiebert's speech below.
To write the rest of your speech, you're invited to:
Over the past months I've coached a dozen artists on projects ranging from critiquing a new screenplay for a writer, to helping a musician kickstart his marketing plan, to coaching an installation artist through a prestigious grant application, to working with a painter to finesse a powerful artist statement.

If you need some undivided attention for your brilliant art career, join me in September via Skype or in person for the "Artist Success Circle." Email me for details.

Until then, I'm wishing you focus and calm,




Gigi Rosenberg
gigirosenberg.com

PS: Listen to my interview with KBOO's Eva Lake for tips on acing your next proposal.

---
Helen Hiebert's Elevator Speech

As you read Helen's elevator speech, see the two "add-ons" she uses depending on who she's speaking to. Also, notice how her language paints an image in the mind of her audience.

My name is Helen Hiebert. I am an artist and an author and my medium is paper. I take banana plant waste, grind it into a mushy malleable pulp and turn it into sheets of paper which are smooth enough to draw on, supple enough to fold into book pages and strong enough to construct sculptures and installations.

Add-on #1: I'm the author of Playing with Paper, which will be published by Rockport Publishers next January and features 18 creative projects. I hope to see you at my book release party.

Add-on #2: My next installation, called "The Wish," is a giant dandelion with detachable paper seeds which serve as a metaphor for human connectedness: we all begin as a seed, we are all connected, and each of us travels far and wide throughout our lives like the dandelion seed on the wind. Would you like to support this project by purchasing a seed and joining my dandelion?


---
About Gigi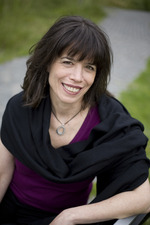 Gigi Rosenberg is an author, speaker, and presentation coach. She wrote The Artist's Guide to Grant Writing to teach artists how to win grants, fundraise creatively, and ensure that every second they spend writing a proposal pushes their art further into the world. As a presentation coach, she draws on her background in writing, visual art, theater, and corporate communications to teach executives how to give stellar public presentations.

Photo by Heather Hawksford


Connect with Gigi


---
You're receiving this email because you signed up for Gigi's mailing list. If you don't want to hear from her again, please hit "unsubscribe" below – no hard feelings! Otherwise, you'll receive occasional updates on her workshops and useful tips for your brilliant career.
Upcoming

Clackamas, Oregon
The Artist Talk:
Make a Statement
August 22

Portland, Oregon
or Anywhere via Skype
Gigi's Artist Success Circle
September
Email Gigi for details

British Columbia, Canada
Surrey International Writers' Conference
October 19-21