Opera Philadelphia Opens the 2013-2014 Season with the Company Premiere of Verdi's NABUCCO
Five Performances at the Academy of Music, Sept. 27-Oct. 6;
Plus, a FREE, HD Opera on the Mall Broadcast on Saturday, Sept. 28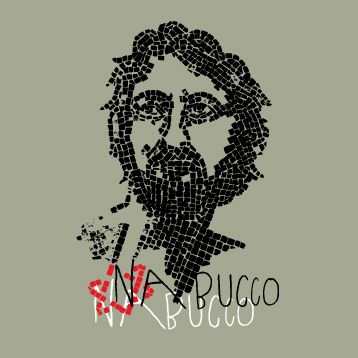 Wednesday, July 24, 2013:
Opera Philadelphia opens its 2013-2014 Season in royal fashion this September, with the Company Premiere of Nabucco. Verdi's landmark tale of politics and national identity will be presented in five performances at the Academy of Music, Sept. 27 through Oct. 6, with a FREE broadcast on a giant screen at Independence National Historical Park on Saturday, Sept. 28.
READ THE FULL NEWS RELEASE
DOWNLOAD NABUCCO IMAGES
The 29-year-old composer gave the world his first work of profound musical genius with Nabucco, which on its surface tells the Biblical tale of the defeat, enslavement, and exile of the Jews in Babylon by King Nebuchadnezzar. But to Italians fighting for their freedom from Austria, Verdi's first great opera was an inspiring call to arms. At the time of the opera's debut at La Scala in 1842, the whole of northern Italy was under Austrian domination. Insinuating that the plight of the ancient Israelites was comparable to that of his contemporaries in Milan, Verdi amplified the call for Italian independence. The "Chorus of the Hebrew Slaves" (Va, pensiero), one of the most famous choral numbers in all of opera, became a national anthem of sorts and Verdi involuntarily became a leading figure in the movement toward a free, united Italy.

Director and set designer Thaddeus Strassberger taps into that patriotic fervor by setting this new co-production in 1842, creating an opera-within-an-opera by blending 19th century operagoers with the modern day audience. As a result, the Academy of Music is transformed into La Scala, the lavish Milan opera house on which it was modeled. In celebration of Verdi's 200th birthday and 2013 being the Year of Italian Culture in the U.S., Opera Philadelphia delivers a galvanizing, must-see production.

"Our very first Nabucco is the ideal opener to what will be an exciting season with a broad range of operatic experiences that will surprise and delight audiences," said David B. Devan, General Director and President of Opera Philadelphia. "This is a gorgeously designed production that brings colorful life to Verdi's landmark opera while creating wonderful context for what it meant for 19th century audiences to experience Nabucco at a time when Verdi was telling the story of the captivity of the Israelites as a protest against Italy's own dominance under Austrian rule."

A number of international stars make their Opera Philadelphia debuts in Nabucco. Romanian baritone Sebastian Catana stars as Nabucco, a role he has performed to enthusiastic audiences in Frankfurt and Stuttgart. Hungarian soprano Csilla Boross makes her company debut as the vengeful Abigaille, a role she performed to great acclaim at the Teatro dell'Opera di Roma with Riccardo Muti, celebrating 150 years of Italian unity. Tenor Adam Diegel and recent Academy of Vocal Arts (AVA) graduate Margaret Mezzacappa portray the young lovers Ismaele and Fenena, and bass Morris Robinson (Aida) returns as Zaccaria, the high priest of Solomon's temple. AVA resident artist Musa Ngqungwana, a winner of the 2013 Metropolitan Opera National Council Auditions, debuts as the High Priest of Baal. Music Director Corrado Rovaris conducts Verdi's dramatic, inspiring score in a production that beautifully showcases the talents of the Opera Philadelphia Chorus.
READ THE FULL NEWS RELEASE
DOWNLOAD NABUCCO IMAGES

WEDNESDAY, JULY 24, 2013



Contact: Frank Luzi
Director of Communications
Office: 215.893.5902
Mobile: 215.779.7614
luzi@operaphila.org










OperaPhila

@OperaPhila

@OperaPhila

OperaPhila

operaphila.
tumblr.com