Book Now for 2017 Conference!
Mon.-Thurs., Sept. 25-28
Potawatomi Inn on Lake St. James near Angola, Indiana
Click Here to Make Your Reservations TODAY and Save $65!
Author-Speaker-Activist Shariff Abdullah's work is practical, visionary, and also infused with a spiritual aspect that inspires participants to dig deep and aim high. Combine that with Emmy award-winning singer-songwriter Faith Rivera's world-class vocal talent and nurturing spirit, and the result is a week of transformative experience that will inspire and bless you and your ministry.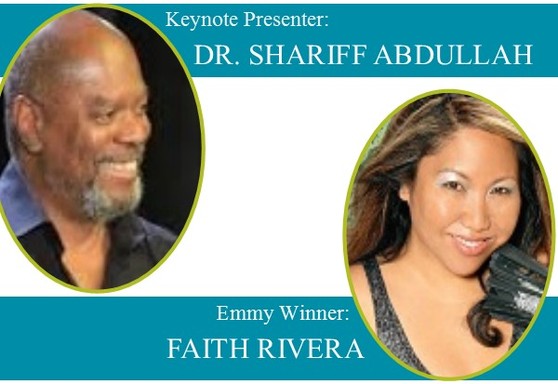 ---
Events Around the Region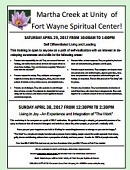 Fort Wayne Spiritual Center Presents
Two Workshops with Martha Creek
Self Differentiated Living and Leading
10 a.m. - 1 p.m., Saturday, April 29
Living in Joy-an Experience and Integration of 'The Work'
12:30-2:30 p.m., Sunday, April 30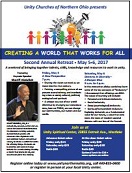 Northern Ohio Unity Churches Present Weekend of transformation Fri. & Sat. May 5-6 with Shariff Abdullah.
Second Annual Retreat weekend of bringing together
talents, skills, knowledge and resources to work in unity.
Advance 2-day registration only $30.
Friday session:
"A New perspective begins at 7 p.m
Saturday's Interactive all-day workshop:
"Oneness in Diversity -- A Deeper Dive," is from 9 a.m. to 4 p.m.
---
Youth & Family Ministry Training Opportunities
YFM Directors Connecting Through Monthly Prayer Circles
Foundational spiritual practice encourages and inspires.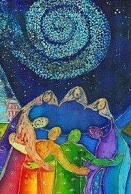 Praying together uplifts everyone involved. Prayer requests are personal and professional. Whatever they are, they are held in confidence. Prayer is a tool to create the youth and family ministry you desire. Prayer is the tool to bring out the good in the youth and family ministry already manifested. Praying connects us with God and each other.
"How to teach youth about prayer?" is a common question. Youth learn by example and so do adults. By being part of a prayer circle, YFM directors are imparting this life skill to others. The integrity of their walk and talk radiates from their being. They are also meeting their own desire of connection.
The YFM Director Prayer Circle meets the first Thursday of the month at 6:30 p.m. Central / 7:30 p.m. Eastern. For call-in instructions,
e-mail Rev. Chase at yfmtrainingdirector@greatlakesunity.com
or call 937-242- 8180.
If you want to be part of a prayer circle and you can't participate when this circle meets contact Rev. Chase
July 30-August 4, 2017, Unity Worldwide Ministries, Lee's Summit, MO
Open to all who minister to children and teens, this 40-hour integrated study explores who our young people are today and how their spiritual journey can be empowered by Unity teachings and our Unity communities
---
2017 Uniteen/Y.O.U Retreats & Rallies: Save these Dates!

Unitreats
Spring: May 5-7 ~ Fall: Oct. 6-8
Camp Lutherdale, Elkhorn, WI
Uniteens (Grades 6-8) from all over the Great Lakes Region gather to enjoy fun, fellowship, and spiritual connection at beautiful Camp Lutherdale in Elkhorn, WI. They experience interactive and engaging lessons in Spirit Groups, large group activities in Funshops, free time, a dance and party on Saturday night, and a beautiful graduation ceremony for 8th graders on Sunday morning.
Click here for Spring Unitreat paperwork.
Click here for Y.O.U. Staff Application.
Youth Of Unity Events
Rally: June 21-25 ~ Fall Retreat: Oct. 20-22
Carthage College in Kenosha, WI
High School Unity students from all over the Great Lakes Region gather for a weekend of engaging workshops, singing, meditation, Sufi Dancing, and prayer under an umbrella of fun and fellowship. Hosted by the Great Lakes Regional Y.O.U. Team, Regional Teen Consultant and Adult Staff, this event is a chance for Y.O.U.ers and Sponsors to go deeper within your chapter and to get to know other chapters.