Dear Unity Worldwide Ministries - Great Lakes Region Members & Friends: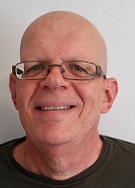 Your UWM-GLR Board of Trustees is pleased to announce that Carl S. Nawrot, member of Unity of Oak Park, IL, has been appointed to fill the position vacated by Rev. Josette Jackson, expiring in 2018. He will also serve as Treasurer.


Carl brings a wealth of experience and knowledge to his board role, including 40+ years in corporate accounting, six years on UOP's Board of Trustees as Treasurer, and five subsequent years as UOP's Church Accountant.
Please join us in welcoming Carl to the Board. Together, we pray perfect results are unfolding in our lives, our ministries and in the Great Lakes Region.
Rev. Ray Nelson Rev. Kurt Condra Rev. Glenda Walden
President Vice President Secretary
Rev. Vareta Foster Deb Hill-Davis Tom Sylvester
Trustee Trustee L.U.T. Representative
John McMahon
UWM Liaison