Conference starts in THREE weeks! Register TODAY!
Unity's Role in Transforming Society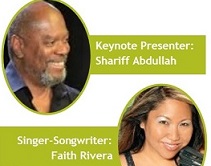 Potawatomi Inn, Angola, IN
Mon.-Thurs., Sept. 25-28

This year's annual conference promises to be as inspiring as it is relevant to our times and to our Great Lakes Region. Keynote Presenter, Dr. Shariff Abdullah is an attorney, academic, and writer, working for social, cultural and spiritual transformation. As a leading proponent of an inclusive global human society, his empowering message will bless us personally, professionally and collectively.
Faith Rivera will provide extraordinary music throughout, and powerful breakout sessions have been added to this year's schedule. In addition to the business meeting, ice cream social and banquet, we're allowing ample time to enjoy the incredible beauty of the lakeside setting and nature trails of Potawatomi Inn.
Click here
to download printable brochure.
CONFERENCE HIGHLIGHTS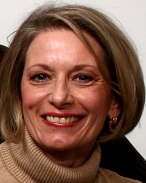 Listening/Healing Circle Breakout Session with GLR Board
Facilitator: Rev. Cynthia Vermillion-Foster,
UWM Ministry Services Director
3-4:30 p.m., Wednesday, Sep. 27
Room to be announced
There were a number of resignations from the Board in this past year and questions concerning governance issues at the Board level. Recognizing there may still be unresolved issues and lingering hurt, the Board has scheduled a special listening/healing circle to be facilitated by Rev Cynthia Vermillion-Foster, Ministries Service Director at UWM. This circle is open to all attendees as the Board creates a safe and confidential platform for all to be heard.
Greening of GLR: Business Meeting Materials Posted Online
In the interest of transparency, enhanced communication (and saving trees), many of the reports and documents referenced and/or presented at the annual business meeting are posted on the website for easy access. Please review topics of interest in advance of conference and feel free to contact board or staff directly with questions, comments or feedback.

Click here to download Annual Business Meeting Reports

Click here for board/staff phone numbers/email addresses.
---
Events Around the Region...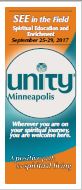 Spiritual Education & Enrichment in the Field

Unity Minneapolis, Minneapolis, MN

Monday-Friday, Sep. 25-29
Rev. Pat Williamson and Unity Minneapolis invite you to experience an exceptional week of study. Courses and instructors are: Bible Interpretation-Hebrew Scriptures with Rev. Jeanette Bohen; Lessons in

Truth

with Rev. James Stacey; and Rev. Geo Downer will facilitate Metaphysics 3 and Jesus' Teachings.

Playshop:

'Musical Firewalk' with Faith Rivera
Unity of Louisville, Louisville, KY

1 p.m., Saturday, Sep. 30
Here's your chance to shine your light in a fun, nurturing, creative space!
Led by Faith Rivera (Emmy-winning singer/songwriter and touring Positive Music artist), join in this two-hour "musical firewalk" to experience more creativity, joy, freedom, confidence, and empowering fun than you've ever had before.
Whether you want to break through stage fright or you just want to experience the joy and freedom of letting loose, this is your time to embrace the spotlight and be your brilliant self.
Click here
to download a flyer.

1:30 p.m., Sunday, Oct. 1,
Yes a SONG can heal a heart, be your morning cheerleader, welcome a newborn to this life or say goodbye. It can remind you that you are amazing when you forget and help you to do the hardest thing - forgive. The perfect lyrics and music can share your organization's message to the world and it can even bring a community together.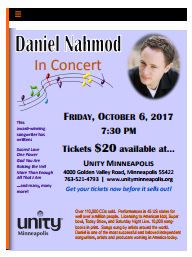 Award-Winning Singer-Songwriter:
Daniel Nahmod in Concert
Unity of Minneapolis, Minneapolis, MN
7:30 p.m., Friday, Oct. 6




Daniel is best known for his passionate, stirring live performances — yielding many thousands of standing ovations — and an award-winning catalog of powerful, insightful, inspiring pop songs which are performed around the world by independent artists, choirs, music ministers and cantors of numerous denominations, and headliners at motivational and humanitarian events.


Beyond the the Region...



Spiritual Education & Enrichment in Southern Florida
Monday-Friday, Nov. 6-10
With great anticipation and excitement, Unity of Pompano Beach is now accepting registrations for its S
.E.E. Intensive Week, featuring 16 classes.
Registration and payment are online thru our website. Please encourage students and potential students to take advantage of the earlybird fee of $65.
---
Youth & Family Ministry Training Opportunities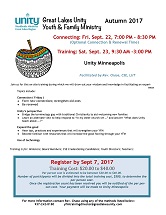 Youth & Family Ministry Training
Autumn YFM Training with Rev. Chase, CSE, LUT

Unity Minneapolis, Golden Valley, MN
Connecting: Fri., Sept. 22, 7-8:30 p.m.
Training: Sat., Sept. 23, 9:30 a.m. - 3 p.m.


Join us for this on-site training during which we will draw out your wisdom and knowledge in facilitating an experience that encourages youth to express their spirituality. We will begin with an optional time of connection Friday.
Click here
to download printable flyer and registration form.
Click here
to register online.
YFM Directors Connecting Through Monthly Prayer Circles
First Thursday of the month
Midday:
11:30 a.m. Central / 12:30 p.m. Eastern
Evening at 6:30 p.m. Central / 7:30 p.m. Eastern
For call-in instructions, e-mail Rev. Chase at
yfmtrainingdirector@greatlakesunity.com
or call 937-242- 8180.
Praying together uplifts everyone involved. Prayer requests are personal and professional. Whatever they are, they are held in confidence. Prayer is a tool to create the youth and family ministry you desire. Prayer is the tool to bring out the good in the youth and family ministry. Praying connects us with God and each other.
"How to teach youth about prayer?" is a common question. Youth learn by example and so do adults. By being part of a prayer circle, YFM directors are imparting this life skill to others. The integrity of their walk and talk radiates from their being. They are also meeting their own desire of connection.
If you want to be part of a prayer circle and you can't participate when this circle meets, contact Rev. Chase.
---
2017 Uniteen/Y.O.U Retreats & Rallies: Save these Dates!

Fall Unitreat
Fri.-Sun., Oct. 6-8
Camp Lutherdale, Elkhorn, WI


Uniteens (Grades 6-8) from all over the Great Lakes Region gather to enjoy fun, fellowship, and spiritual connection at beautiful Camp Lutherdale in Elkhorn, WI. They experience interactive and engaging lessons in Spirit Groups, large group activities in Funshops, free time, a dance and party on Saturday night, and a closing ceremony on Sunday morning.
Click here to download Unitreat Registration Forms.
Y.O.U.ers interested in staffing the Fall Unitreat:
click here to download application/registration forms.
Youth Of Unity Fall Retreat
Fri.-Sun. Oct. 20-22
Camp Lutherdale, Elkhorn, WI


High School Unity students from all over the Great Lakes Region gather for a weekend of engaging workshops, singing, meditation, Sufi Dancing, and prayer under an umbrella of fun and fellowship. Hosted by the Great Lakes Regional Y.O.U. Team, Regional Teen Consultant and Adult Staff, this event is a chance for Y.O.U.ers and Sponsors to go deeper within your chapter and to get to know other chapters.
Click here to download Y.O.U. Fall Retreat Registration Forms.
Quick Links