Vision & Mission
Awakening Oneness, we empower an evolving consciousness
that spiritually transforms the world.
We serve, build, inspire and empower ministries.
---
News from Around the Region...
Unity in Louisville Offers SEE Week Intensives On-Site and Online
Monday-Friday, April 9-13
757 S Brook St., Louisville, KY 40203
The journey of Spiritual Education and Enrichment allows us to evolve into our highest selves, to be, experience and express the truth and love that we are. The following classes are offered in this week-long session: Meditation Practices, Jesus Teachings, The Twelve Powers and Metaphysics 3. All classes are offered online for long distant education, through Free Conference Call.
Detroit Unity Temple Hosts Marianne Williamson's 'Love America Tour'
Friday, June 8, from 5:45- 9 p.m.
Detroit Unity Temple, 17505 Second Ave., Detroit, MI
Join Marianne Williamson on for a discussion of how a change in consciousness will produce a change in our country. We will delve into the specific changes of mind and heart that produce a politics of love — a conversation that moves beyond political externals to a deeper, soulful, whole person consideration of what is possible in all of us, and through all of us, at this time in our history.
Click here for tickets
Click here to download a printable flyer.
Campus Ministry Celebrates 20 Years, Launches Expansion


Unity On Campus Ministry (UOC) joyously and thankfully, completes 20 years of spiritual support services to students at the University of Michigan and Eastern Michigan University. Truth Sessions are held weekly, September through May. Over these years, students would continue to attend beyond graduation because they found the lessons helpful beyond college. September 2017, UOC board began strategic planning with these young adults to design and implement ministry in a format that meets their specific needs. March 30, 2018 will be the Inaugural Gathering of Comm-Unity Spiritual Center; expansion of Unity On Campus Ministry, an Alternative Unity CampusMinistry.
Promote Your Events to UWM-GLR Members
Promote Your Events to Great Lakes Region Members.

Email info@greatlakesunity.com to request that your Church or Center's special event be posted to the UWM-GLR website and/or included in future e-newsletters. Please include Title, Date, Location, 25-word description, soft copies of flyers (if available), and links for details and/or registration info.
---
FALL CONFERENCE:
Growing Through Change...Here We Grow Again!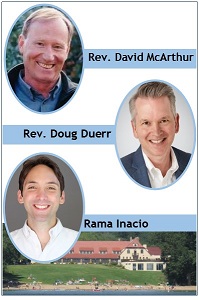 Oct. 1-4, Pokagon State Park, in Indiana
Join us for a Wonder-Filled 4-day Conference of Healing Energy and Spiritual Refreshment to Raise your Vibration!
Rev. David McArthur will bring us HeartMath to open our hearts and connect to the power of Love and the intelligence of the Heart on Tuesday.

Rev. Doug Duerr will be with us on Wednesday to help us learn new skills to navigate change and conflict as spiritual leaders.

Rama Inacio will bring us the Alchemy of Sound with the 12-Powers Crystal Bowls from Unity Village. He will also create wonderful Sound Healing experiences for us with his didgeridoo, gong and other healing vibrations.
This year's Conference is designed so we can all participate in all the events and RAISE OUR VIBRATION together!
Click here
to make your 2018 reservations TODAY and save $150!
2018 Conference Fee Schedule
---
Youth & Family Ministry Activities & Events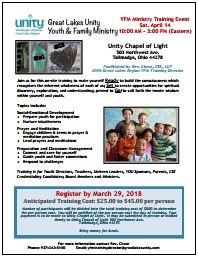 Ready, Set, Go! YFM Training Event
Facilitated by Rev. Chase, CSE, LUT, GLR YFM Training Director
10 a.m.- 3 p.m. EST, Saturday, April 14
Unity Chapel of Light
503 Northwest Ave., Tallmadge, OH 44278
On-Site training equips Youth & Family Ministry leaders in creating a learning environment that encourages youth to express their spirituality.
​​Ready, Set, Go! Ma
ke yourself READY to build the consciousness which recognizes the inherent wholeness of each of us; SET to create opportunities for spiritual discovery, exploration, and understanding; primed to GO to call forth the innate wisdom within yourself and youth.
Topics: Social-Emotional Development, Prayer & Meditation, Preparation & Classroom Management
Click here to download printable flyer and registration form.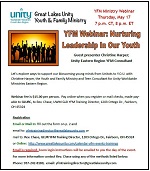 YFM Webinar: Nurturing Leadership in Our Youth
7 p.m CST/ 8 p.m. EST, Thursday, May 17
$15
Let's explore ways to support our blossoming young minds from Unitots to Y.O.U. with Christine Harper, the Youth & Family Ministry and Teen Consultant for Unity Worldwide Ministries Eastern Region.
Training is for Youth Directors, Teachers, Uniteen leaders, YOU Sponsors, Parents, CSE Credentialing Candidates; Board Members and Ministers.
Click here to download printable flyer and registration form.
Save the Date! YFM Training Event

Facilitated by Rev. Chase, CSE, LUT, GLR YFM Training Director
September 15
Unity Spiritual Center of Woodstock

225 W Calhoun St, Woodstock, IL 60098
---
2018 Uniteen/Y.O.U Retreats & Rallies: Save these Dates!

2018 Spring Unitreat
Fri.-Sun. May. 4-6
Camp Lutherdale, Elkhorn, WI
Uniteens (Grades 6-8) from all over the Great Lakes Region gather to enjoy fun, fellowship, and spiritual connection at beautiful Camp Lutherdale in Elkhorn, WI. They experience interactive and engaging lessons in Spirit Groups, large group activities in Funshops, free time, a group dance and party on Saturday night, and a beautiful graduation ceremony for 8th graders on Sunday morning.
2018 Y.O.U. June Rally
Wed.-Sun., June 20-24
Carthage College, Kenosha, WI
High School Unity students from all over the Great Lakes Region gather for a week of engaging workshops, singing, meditation, Sufi Dancing, and prayer under an umbrella of fun and fellowship. Hosted by the Great Lakes Regional Y.O.U. Team, Regional Teen Consultant and Adult Staff, this event is a chance for YOUers and Sponsors to go deeper within our chapter and to get to know other chapters.
---
Quick Links
UWM-Great Lakes Region Board of Trustees

President ~ Rev. Ray Nelson, Unity of Louisville, KY
Vice President ~
Rev. Kurt Condra, Unity on the North Shore, IL
Treasurer ~
Carl Nawrot, Unity of Oak Park, IL
Secretary ~
Rev. Glenda Walden, Unity of Ft. Wayne, IN
YFM Liaison ~
Rev. Meghan Smith Brooks, New Thought Unity Center, Cincinnati
Conference Team Liaison ~
Rev. Deb-Hill Davis, Unity of Ames, IA
Licensed Unity Teacher Liaision ~
Tom Sylvester, Unity of Garden Park, Cincinnati
Alternate ~
Rev. Vareta Davis, Renaissance Unity, MI
UWM Liasion, ~
John McMahon, Unity of Bay City, MI