GBF is in an important growth phase, having raised in late-2011 $46 million in investment capital for its new for-profit fund; plus an additional $12 million in grants from donors to replenish the nonprofit. The latter helps us provide business expertise and training for our clients to improve business areas, such as financial management; operations and supply chain; strategic and financial planning; governance; and environmental and social aspects.

GBF's growth brings many opportunities, but also some new challenges. To gain input and guidance from its stakeholders, one of GBF's main investors and donors, FMO — the Netherlands Development Finance Company — hosted last month GBF's governing and advisory meetings in The Hague. These were productive, and strengthened GBF's focus on measurable results, business rigor, execution and practicality. These aspects are driven by our experience, lessons learned, and GBF's growing field presence.

In the 8 months since the fund started, GBF has approved 8 new investments for a total of $7.6 million; with another 10 deals worth $16 million currently undergoing due diligence. Added with the $5 million of investments transferred from GBF's previous phase, the fund will soon have more than $12 million of committed investments.

GBF's existing clients have directly impacted approximately 1.9 million individuals living at the Base of the Pyramid (BoP) and delivered over $72 million in economic value.

This portfolio is also generating a healthy financial return. Clients continue to strengthen their operations with the help of GBF's business advisory services, while rapidly scaling and expanding their reach.

To achieve its financial and impact targets, GBF is continuing to improve its processes regarding deal selection, investment structuring, investment supervision, and hands-on business support for its clients.
---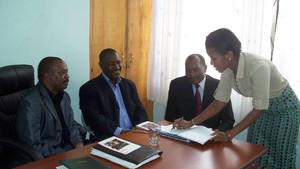 Businesses in emerging markets face big challenges on the road to profitability, sustainability, and expanding social impact. Investment alone is often not enough to help a business improve, scale, and succeed generally.

GBF works closely with clients to connect them to the business expertise they need to improve several business areas.
This value addition by GBF is based on client needs, and is supported by rigorous objectives, deliverables, and success factors per assignment. These services are closely monitored, and continually revised.





Much of this work is led by

experienced staff members both at our headquarters in Washington, DC and in each regional office.

Click here to learn more about GBF's business advisory program, previously also known as technical assistance...
---


Most artisans in the developing world, especially those in rural areas, lack access to global markets. This limits their potential to expand their businesses, create wealth and increase the economic well-being of themselves, their families and their community.

Jaipur Rugs, one of the largest manufacturers of hand-knotted carpets in India, uses a

decentralized rug production system centered on a network of 7,000 low-income home-based weavers, and an additional 3,000 wool spinners. Looms are placed both in individual homes and in community based production centers, where artisans are provided with training, materials and designs.
Through their work with artisans, and several

innovative educational programs and initiatives, Jaipur Rugs' impact reaches thousands of additional families beyond the above mentioned 10,000 weavers and spinners directly engaged.
GBF has been helping Jaipur Rugs scale up its operations and impact through a series of business advisory projects. These projects help the company become more efficient, productive, and better prepared to receive more investment capital.
GBF recently invested $1.0 million in long-term capital. Jaipur Rugs is working on building new warehouses and branch offices to optimize it supply chain and reduce costs. GBF will also be helping with this through its business advisory services. Additional areas of support include marketing, governance, financial planning and social and environmental compliance.
---
GBF Interview on Metrics:

GBF collects basic metrics, takes steps to ensure its own data quality, creates dashboards to visualize the important metrics, and analyzes that information in order to make improved management decisions. In addition, GBF provides support to its clients to enable them to carry out the same process.

This is a guest post from GBF and is part of a short series published on NextBillion.net on approaches to metrics, leading up to the recent Metrics Conference "From the Ground Up" hosted by the Aspen Network of Development Entrepreneurs. Allison Basile joined GBF in 2009 and serves as its metrics officer, a role in which she oversees the organization's metrics and environmental and social management. Click here to read a recent conversation with Allison Basile, Metrics Officer.



In Other News:

Current Career & Internship Opportunities:





For Prospective Clients:
GBF's investment guidelines help us identify the businesses that have the highest potential to succeed commercially, while also generating a positive social impact.
Lessons Learned
Good business advisory services require sustained efforts, careful monitoring, and up-close supervision on the ground. Often, frequent changes are necessary. This can be hard, expensive and takes considerable skills and experience.
Dovetailing business advisory services and investment management processes makes all the difference in getting real results from company
These services have to be owned by the clients, not the investors -both up front, and along the way during execution. This is a big challenge, given that these businesses are typically stretched thin in management.
Like elsewhere, measuring results is important--both for showing impact, and also prioritizing activities and resources.
Below: Umadevi is currently working at a Jaipur Rugs' Lakni Carpet Center in her village

, and has been weaving with

Jaipur Rugs

for four years. Read their stories...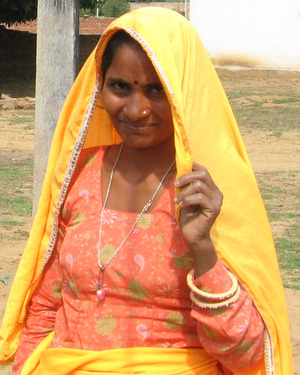 Below: Sila operates on an individual loom next to her home in Baldi, 30km from Jaipur Rugs Shahpura branch office. Read their stories...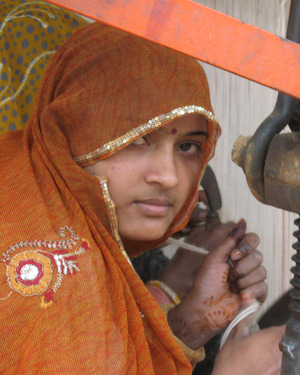 Quick Links on www.gbfund.org