Humana Hero: Inspiring Athlete Story -
Meet Paul Zierk, Jr.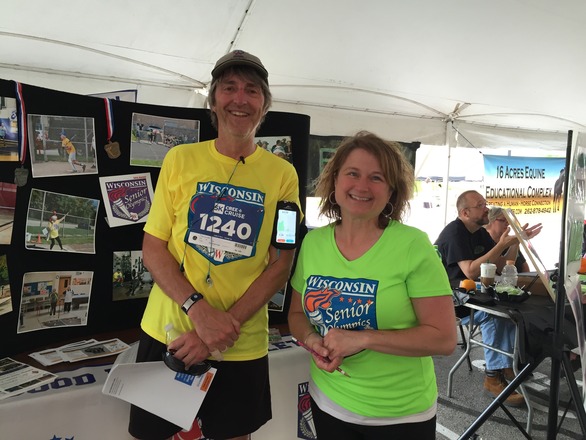 Paul catches up with Executive Director Mollie Bartelt at the Cree Cruise 5K recently sporting his 2015 WSO Shirt and NSGA hat in hopes of recruiting more athletes to compete in our games.
For Paul Zierk, Jr, of Racine, each morning begins with a reminder of his motivation for maintaining a delicate balance of fitness and wellness. Paul is a Type 2 diabetic and upon awakening in the morning, his first task is to check his blood glucose level. As he performs this duty, a quick glance at his wrist reminds him of his inspiration for living his best life. He wears a diabetic alert bracelet and what makes his unique is the inscription he chose - "Every step counts." These three words give Paul strength and guidance and serve as a metaphor for his accomplishments.
As a youth, Paul was a very active "team player" participating in Basketball and Baseball. He has a self admitted "competitive nature." In his 40's, his doctor diagnosed him with Type 2 Diabetes and asked Paul to choose which of 4 medications he would like to use to control his condition. After extensive research, Paul returned to his doctor's office with an alternative plan. He proposed a regime of diet change and exercise for a trial period of three months, his doctor agreed to let him try the medication-free diabetic management and referred him to a dietician. Paul decided to give running a try, purchasing a treadmill after being diagnosed in the winter and began his training by running 1.5 miles a day. That became the launching pad for his very successful 5K race career.
Paul runs about 24 races per year. He is 58 years old and his most recent age group victory was the Cree Cruise run in Racine, which benefits Big Brothers and Big Sisters. Being a multi-sport athlete, he is a big supporter of Wisconsin Senior Olympics and looks forward the annual games. This year, he will be participating in "The Olympian"; WSO's inaugural 5k race which will take place along Racine's lakefront on August 13. In addition to that, Paul is recruiting friends and family to form a basketball team and a softball team to compete in the upcoming WSO games.
He takes his running most seriously however, "I want to run well enough to qualify for my 4th trip to the National Senior Games." The 2017 national games will be held a year from now in Birmingham, Alabama. "I always enjoy going to the games, I have been to 3 previous events." (Houston, Cleveland and Minneapolis). The highlight of his experience at Nationals was a medal winning third place in Houston. In 2015, his son accompanied him to the Minneapolis games. "When I was not racing or training, my son and I had fun exploring the other sporting venues and looking for athletes from Wisconsin we could cheer on and inspire."
Paul is a great example of how a change in lifestyle can improve your overall health and wellness and a reminder to all that "every step counts."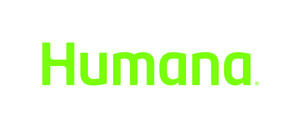 Humana Heroes seeks to honor an athlete who has made a significant contribution to the WSO through outstanding participation in the games or through volunteerism in our organization. At Humana, we support people in their daily endeavors to live a healthy life, and we are dedicated to creating innovative programs and partnerships that reflect our commitment.
Volunteers Opportunities In August & September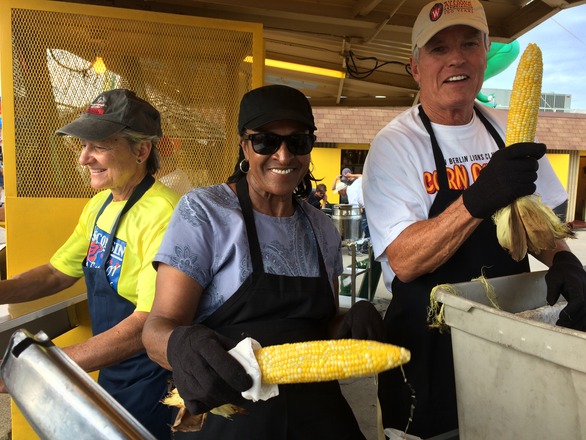 At the heart of our organization, volunteers make our games happen. From our voluntary board, to our Event Coordinators (over 30 of them!) to all the people who help spread the word, greet people and much more, we are very grateful for your support.
As we prepare for the games, we have a variety of volunteer opportunities we are hoping some of you might like to get involved with.
Being greeters at our games - hand out T-shirts and participant bags as you check people in to their events.
Serve corn at the Wisconsin State Fair - Thursday, August 11 from 6 to 11 pm. - We have so much fun with over 15 WSO volunteers working hard to shuck corn, butter it and sell it to the crowds. In one evening we sell 1000s of corn cobs!
Track & Field - help in a variety of areas is needed
If you are interested in learning more about either of these opportunities, please contact Jodie Wolf, our Volunteer Coordinator at jodiew@wiseniorolympics.com.
Recent Community Outreach Going Well!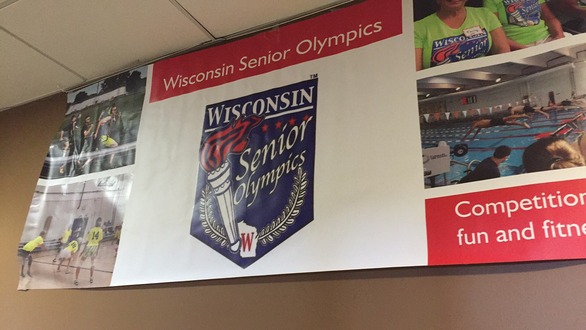 We are so appreciative of the organizations and businesses who have opened their doors to the WSO to help promote the games! Check out some of the places we've been recently.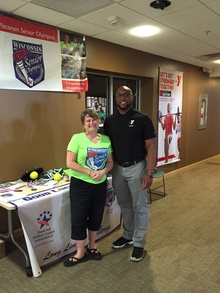 The Rite Hite YMCA in Brown Deer welcomed us to speak to their athletes! They have a great Pickleball Class that runs for four weeks and costs only $22 for non-members of the Y. The Pickleball instructor is a WSO competitor and encourages anyone interested in trying Pickleball out to come to his class!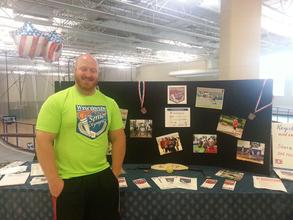 The Aurora Wellness Center in Burlington hosted a WSO booth all day last week and their trainer AJ Dahlstrom, along with other trainers will be wearing WSO shirts every Thursday until the games!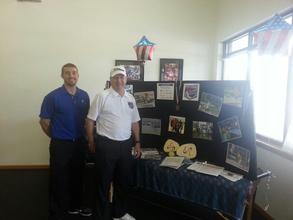 Kyle Murison opened his doors at Murison Sports Medicine and Rehab in Williams Bay to host a golf clinic last week. He is pictured here with WSO Board Member and Golfer Jim Dicks. Kyle is recruiting teams from the local country clubs to compete against each other at the WSO Golf event in September!
A special thank you to these businesses and organizations who are helping us promote the Wisconsin Senior Olympics. If you know of a place where we can set a booth up and talk with potential athletes, let us know!
- - - - - - - - -
ATHLETES REGISTERED TO PARTICIPATE
IN THE 2016 WSO GAMES (as of 6/27/2016): 199