NSGA Selects WSO's Dick Naslund -
Male Athlete of the Year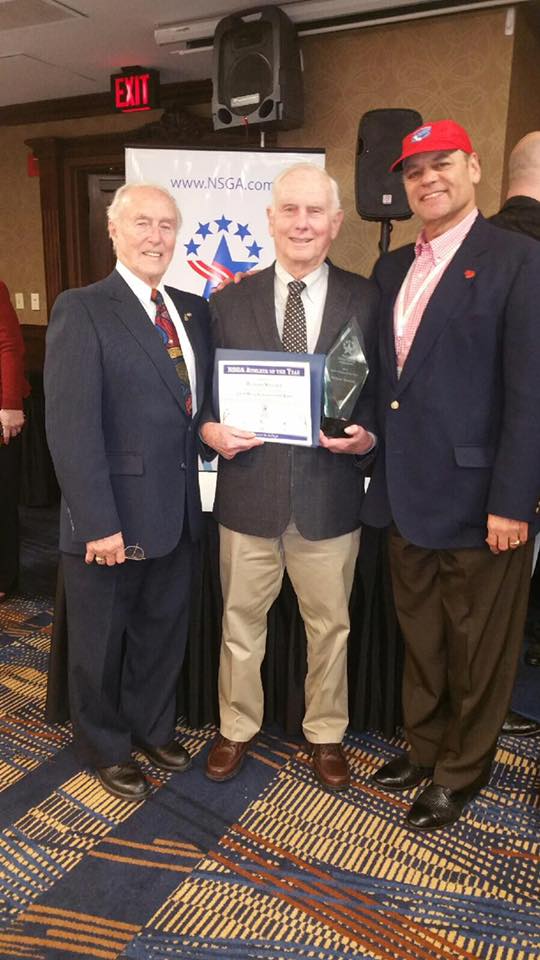 We have a very special athlete to highlight in this e-newsletter. Our very own Dick Naslund, a competitor since 2002 and medal winner, has been named the National Senior Games Association Male Athlete of the Year.
Dick received his award at a special dinner during the NSGA Annual Conference in Dallas, Texas this past weekend. Friend and fellow athlete, Don Hoeppner accompanied Dick on the trip. What an adventure it was for them!
Dick was selected from many qualified athletes by a special committee of the NSGA.
Click here to read more about Dick in the NSGA's press release where they write "He has been a tireless recruiter who inspires others to try new sports and to not let age hold them back. He has supported his Wisconsin games as an athlete, volunteer and donor. He even makes sure to take plenty of photos from state and nationals to share with WSO."
WSO President John White with Dick (center) and Don (left) in a congratulatory photo.
Humana Offers Well Being Tips
on NSGA Website
Humana is the Presenting Sponsor of the National Senior Games and shares the NSGA's commitment to advocate for health and wellness to all seniors through education, fitness and sport.
They have posted a number of helpful and informative articles on the NSGA website including Heart Health, The Benefits of Staying Positive, Fitness Tips and more. Click here to view the entire list of Humana Well Being Information.
We have been fortunate to have Humana as a Silver Sponsor of the Wisconsin Senior Olympics as well as our Humana Heroes feature in our e-newsletter recognizing athletes who have made a significant contribution to the WSO through outstanding participation in our state games, the National Senior Games or through volunteerism in our organization.
Humana supports people in their daily endeavors to live a healthy life and is dedicated to creating innovative programs and partnerships that reflect our commitment. Learn more about Humana by clicking here.