Are You In? Registration Ends August 5th
(For Pickleball, Deadline is Monday, August 1)
So far, over 620 people have registered already for this year's Wisconsin Senior Olympics. Have you registered yet? Don't wait another day (especially if you are a Pickleball player!)
We are working on your registration questions and resolving outstanding issues. Please know that we are doing our best to make sure all is set so your arrival and check-iin to your event is smooth!
Some of our events do allow onsite registration, but don't wait until then, get it done and avoid the hassle of waiting to the day of your event! It also helps us ensure your experience is fantastic!
In Two Weeks - The Olympian, 5K/10K Run Walk!
Join us on the beautiful Racine lakefront on Saturday, August 13, race time is 8 am! Bring your family - all ages can walk or run and there is a toddler dash at 9:15 am.
Click here for more details . . . or call Mollie at 414-931-1903 for more information. We understand there has been some confusion on registration.
Picture below taken on a 5K training walk with 5K Sponsors
Steinberg Financial and Runonheart Personal Training.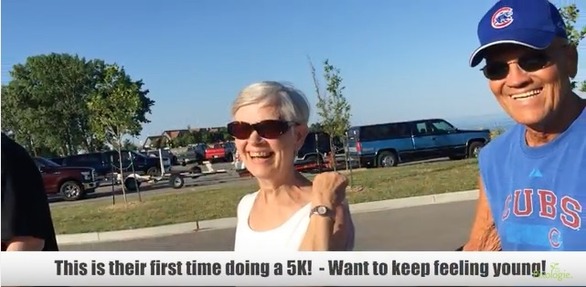 Calling All 85 Plus Basketball Players
By Dick Lane, Michigan Basketball Player
I have played in the last eight National Games most recently with the "Oldies But Goodies" age category "80 Plus" in St. Paul and Cleveland. Our team has 4 players who will all be age 85 by December 31, 2017.
This Spring we contacted the National Senior Games Association (NSGA) and suggested/requested that they add a new age division for Men's basketball, age "85 Plus."
NSGA has responded positively but with the CAVEAT that there must be at least four (4) teams from across the nation that enters with age 85 players. You will note on the NSGA Website that this new age division is now listed but with the requirement that there must be at least four teams to register.
If you are 85 Plus and are looking for a team, please contact Mollie at 414-931-1903 and she will connect you with other Wisconsin 85 plus team players.
The VMP Senior Softball League
Meet Our Humana Heroes for This Month!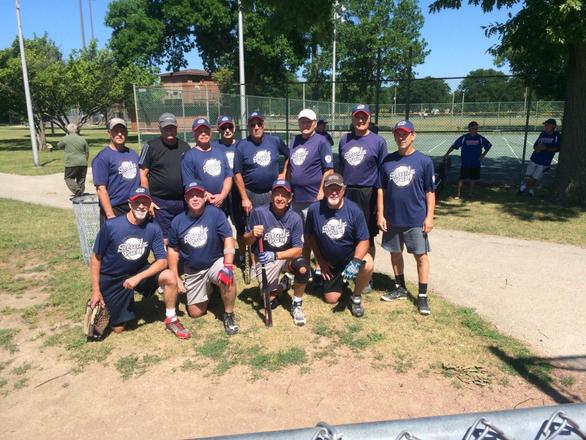 During the summer a Milwaukee senior community gets into summer fun with their very own softball league. The Village at Manor Park is home to the VMP Super Senior Softball League, long coordinated by Poncho Paleese, 93, who is retiring from his role as President this summer.
Many of our WSO softball players come from this league. Paleese explained how all of the players create new teams in their various age groups to compete together in the Wisconsin Senior Olympics. Their goal - get their team to qualify for Nationals if possible!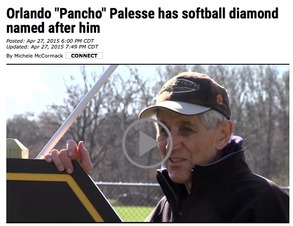 Last year, Paleese was honored by having a local softball diamond named after him in honor of his years of service. Click on the photo to learn more about Pancho. It is a fantastic story to read about his contributions over the years.
Pancho and his players had their last game of the season on Monday. We found out because one of the players in the league called the WSO office with a question about getting golf foursomes together. During that conversation, the player mentioned that he was trying to get his softball team to play golf too. The conversation grew from there an
d the player agreed to take photos of their teams on their last day together. The teams had fun getting their pictures taken and wondering which team photos would show up in our newsletter!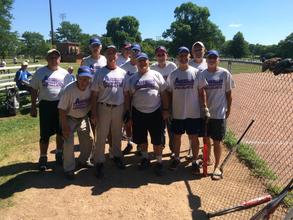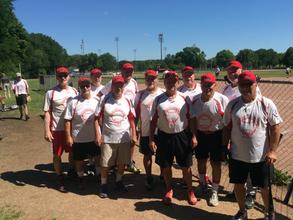 Well, enjoy the photos and we can't wait to see these guys in their reconfigured WSO softball teams and golf foursomes in just a few short weeks! And, the player who helped make the photos happen? Stay tuned for more details on him - we want to share his story too!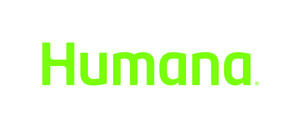 Humana Heroes seeks to honor an athlete who has made a significant contribution to the WSO through outstanding participation in the games or through volunteerism in our organization. At Humana, we support people in their daily endeavors to live a healthy life, and we are dedicated to creating innovative programs and partnerships that reflect our commitment.
Acupuncture & Sports Medicine
from WSO Sponsor, Aurora Health Care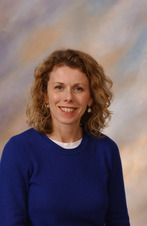 By Kim Stephens, M.S. Dipl. Ac
Acupuncture is one form of Chinese Medicine dating back 3,000 years. This ancient practice has survived and thrived in the 21st century because it is safe and effective. Acupuncture involves inserting hair-thin disposable needles along areas of the body to heal and restore balance to mind, body and spirit. Acupuncture effectively treats a variety of health conditions and is utilized in hospitals and clinics world wide, as part of an integrative approach to health. Acupuncture can be used successfully for the treatment of sports injuries and sports performance enhancement.
The earliest stories of acupuncture depict how Chinese martial artists used needles to relieve pain and heal injuries. Ancient Chinese texts describe how Chinese warriors and soldiers used acupuncture to improve their stamina and endurance. Today, many professional athletes (Aaron Rodgers) and Olympic athletes are benefiting from acupuncture, as part of their training program.
How can acupuncture be used as part of a Sports Medicine Program?
Acupuncture is mediated through the nervous and musculoskeletal systems. Acupuncture points are often found at significant anatomical sites along the body. They are located near the nerve-rich areas of tendons and their attachment to bones. Some points are located at motor points, where the nerve innervates the muscle. "Ashi" points or trigger points are located at tender or painful areas in the muscle. When these acupuncture points are needled and stimulated, a sensory nerve signal is sent to the brain releasing endorphins and other opiate peptides. These chemicals in our bodies are natural pain killers and "feel good chemicals". When an acupuncture needle is inserted near an injured area or area of inflammation it increases microcirculation in the area. This enhanced blood flow to the tissues that are injured, aids in the healing and recovery process—often resulting in a faster recovery.
When acupuncture is used as part of a training program, it can help reduce the occurrence of injuries. Treatments can be focused on improved muscle, tendon and joint health and benefit the athlete greatly. Acupuncture has been shown to increase white blood cells to boost the immune system and improve organ function. Keeping the body healthy during training season is an added benefit to any athlete.
The stress of life, competition or recovery from an injury can negatively affect us in many ways. Acupuncture activates the parasympathetic nervous system to aid in reducing stress and anxiety. This helps improve our vitality, stamina and overall health.
Acupuncture benefits the individual at any age and can easily be integrated into a training program or weekly schedule. It aids in improving and maintaining the health and vitality of the entire body and facilitates the healing of injuries for a more complete recovery. Acupuncture is safe and effective and there are virtually no negative side-effects from acupuncture.
Acupuncturists in the state of Wisconsin are nationally certified and state licensed. Aurora Health Care offers acupuncture, as part of an integrative approach to health. A physicians order is not needed to receive the benefits of acupuncture. Please check with your insurance to determine if acupuncture services are a covered benefit.
Kim Stephens M.S. Dipl. Ac
Nationally Certified Acupuncturist
414-219-5241
Aurora Health Care-Aurora Sinai Medical Center
945 N. 12th street, Milwaukee, WI. 53210
Physical Medicine and Rehabilitation