Click to view this email in a browser



Welcome to the SFA
Automation Insights
Newsletter! This special edition focuses on a recent, important manufacturing industry topic.
Here's
SFA's two cents on the topic - share
your
thoughts
on social media, or contact us today!
---
The True Focus of IMTS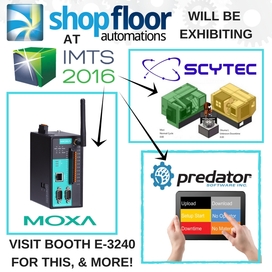 In mere weeks, IMTS 2016 in Chicago will pull in the best & brightest that our industry has to offer. With opportunities for networking & business deals, a company must question if the most worthwhile products & solutions are being brought to the table.
For
the International Manufacturing Technology Show, w
e focus on travel reservations, booth dimensions, ad campaigns, scheduling - but the heartbeat of it all is what we have to offer. Stop by Booth E-3240 to discover how the latest technology from SFA will offer continuous improvements for your shop. Learn more about how the Industrial Internet of Things (IIoT) & MTConnect can benefit you.
At IMTS, SFA will present:
Multi Connect -

an All-in-One Device for IIoT

Predator machine monitoring & DNC program updates

Real-time OEE Dashboards with your Shop Floor layout from Scytec

Touch HMI simplifies communication & data collection using tablets & PCs!
For more information on IMTS 2016, plus contests & other promotions from SFA, click below!

---
CONTACT US
Toll Free: (877) 611-5825
If you wish to unsubscribe, please scroll below for instructions.

---
If you no longer wish to receive these emails, please reply to this message with "Unsubscribe" in the subject line or simply click on the following link: Unsubscribe
---
Shop Floor Automations
5360 Jackson Drive Suite #202
La Mesa, California 91942
US


Read the VerticalResponse marketing policy.