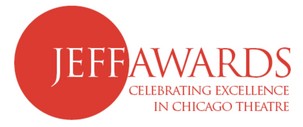 Released:
October 14, 2011
Contact:
Jeffrey Marks–Media Chair, 312–606–0400 or media@jeffawards.org
or Diane Hires–Equity Chair, equitywing@jeffawards.org
Special Jeff Award to Honor Hedy Weiss's
Career in Chicago Theatre Criticism
October 14, 2011 - Chicago, IL. A Special Jeff Award will be presented to Sun-Times theatre critic Hedy Weiss at the Jeff Awards Ceremony, November 7, in recognition of her contributions to Chicagoland theatre. In addition to being an effective and knowledgeable chronicler of the growth of Chicago theatres, Hedy has consistently encouraged and supported young emerging theatres and artists and been a strong supporter of new works and new adaptations coming from the diverse Chicago theatre scene.

Hedy Weiss has been Theater and Dance Critic of the Chicago Sun-Times since 1984, reporting on local, national and international productions, as well as a wide range of other subjects including art and architecture, books, travel and international affairs.
Since 2002, she also has served as Theater and Dance Critic for "Chicago Tonight," the nightly news magazine on WTTW-Channel 11, Chicago's PBS station, and she has contributed frequently to radio programs on WGN and WBEZ radio. A Contributing Editor to Dance Magazine, Weiss' work also has appeared in the London Observer, the Boston Globe, the Lincoln Center Playbill, Pointe Magazine and many other publications. She has served on the Pulitzer Prize panel for Drama three times.
In 1997, during a sabbatical in Europe, Weiss covered news events in Serbia, Bosnia, Poland, Hungary, Germany and other parts of Eastern and Western Europe for the Sun-Times. The New Europe, her five-part series inspired by that year abroad, was nominated for several major awards.
In October 2010, Weiss received an award from the Arts and Business Council of Chicago citing her as one of the top 25 influential forces in the arts in Chicago, and for making "outstanding and lasting contributions to Chicago¹s lively, diverse arts landscape."
Born in New York, Weiss graduated from Hunter College with a degree in English literature and art history, and early on pursued a career as a dancer and choreographer, with professional training at the Metropolitan Opera and Joffrey Ballet Schools. She moved to Chicago in 1980 and worked for four years as an assistant professor at the Theatre School of DePaul University before turning to full-time journalism.
The 43rd Annual Jeff Awards ceremony honoring excellence in professional theatre produced within the immediate Chicago area will be held on Monday, November 7, at Drury Lane Oakbrook, 100 Drury Lane, Oakbrook Terrace. Pre-show Appetizers and Cash Bar will run from 6:00 p.m. to 7:30 p.m., and the Awards Ceremony, directed by Michael Weber, will begin at 7:30 p.m., with a Buffet and Reception immediately following. Musical numbers featuring cast members from nominated musicals and video segments from nominated plays will highlight the Jeff Awards ceremony. Advance purchase tickets, which include the ceremony and buffets, are $75 ($55 for members of Actors' Equity Association, United Scenic Artists, Stage Directors and Choreographers Society, Stage Managers' Association, and The Dramatists Guild of America). The evening is black tie optional and the public is cordially invited to attend. To purchase tickets, visit the Jeff Awards website at www.jeffawards.org. For more information, contact Equity Chair Diane Hires at equitywing@jeffawards.org.
The Jeff Awards has been honoring outstanding theatre artists annually since it was established in 1968. With up to 50 members representing a wide variety of backgrounds in theatre, the Jeff Awards is committed to celebrating the vitality of Chicago area theatre by recognizing excellence through its recommendations, awards, and honors. The Jeff Awards fosters the artistic growth of area theatres and theatre artists and promotes educational opportunities, audience appreciation, and civic pride in the achievements of the theatre community. Each year the Jeff Awards evaluates over 250 theatrical productions and holds two awards ceremonies. Originally chartered to recognize only Equity productions, the Jeff Awards established the Non-Equity Wing in 1973 to celebrate outstanding achievement in non-union theatre. The next Non-Equity awards ceremony will be held on June 4, 2012, at the Park West.
SPECIAL NOTICE TO NEWS MEDIA
Your complimentary ticket to the 43rd Annual Equity Jeff Awards Ceremony will be held at the News Media Table at the Drury Lane Theatre only if you make a reservation in advance with Jeffrey Marks at 312.606.0400 or media@jeffawards.org.
Names of award recipients will be released immediately following the presentation ceremony November 7 by email and on our website. Photos from the event will be available on our website.
A Media Curtain is available for your own photos. We will also have an interview area available to you, and will assist in bringing interviewees to that area. If you need a quote or interview with any Jeff Awards committee member, please call or e-mail Jeffrey Marks at 312-606-0400 or media@jeffawards.org.
The Jeff Awards website, www.jeffawards.org. lists all the current Equity nominees and statistics, along with previous recipients and nominees and other Jeff Awards information and news.
Link to my website