REMINDER
---
Award Celebration: October 12
The Pennsylvania Historic Preservation Awards honor innovation and excellence in the field of historic preservation -- we'll celebrate the 2017 recipients on Thursday, October 12 at the State Museum in Harrisburg. Awards ceremony with reception to follow in the grand Memorial Hall.
Click here for more info!
ALERT

Your attention is needed for a PA House budget action that could take place as early as Monday, September 11. Please help us protect preservation funds.

PROPOSED
Taking "unused" account balances from the Historic Preservation Fund; the Keystone Recreation, Park and Conservation Fund; the Environmental Stewardship Fund (Growing Greener); farmland preservation and other statewide programs including Heritage Areas. If you would like more information, this article provides a helpful overview: http://www.pennlive.com/politics/index.ssf/2017/09/taxpayers_budget_breakdown.html

The rationale that raiding these funds won't hurt projects or cost jobs is incorrect. These funds are already spoken for, not unused.

If this raid takes place:
Jobs will be lost.
Work at the PHMC and SHPO would be crippled.
Approved park and conservation projects will not receive state funding.
Municipalities and charitable organizations may not be reimbursed for their approved grant project expenses.
Counties may be forced to renege on preservation contracts with farmers, sticking farmers with costs they incurred to prepare their farms for protection.
Jobs will be lost at state-run heritage sites including The State Museum of Pennsylvania, Landis Valley Village and Farm Museum, Pennsylvania Military Museum, Pennsylvania Anthracite Heritage Museum, Eckley Miners' Village, and the Railroad Museum of Pennsylvania.
Cuts to mitigation funds will affect work to complete inventories of historic properties, develop local historic preservation plans, complete economic impact studies and prepare historic contexts and National Register nominations.
The State Museum of Pennsylvania, the commonwealth's official history museum, would be impacted in several essential areas, including security and curatorial, and could result in the museum being closed to the public altogether, severely limiting PHMC's ability to conduct mandated compliance archaeology to protect the commonwealth's archaeological and anthropological resources.
Additionally, preservation funding in the Pennsylvania State Archives provides support to the Security Microfilm Program, providing secure disaster backup storage for county records, such as deeds and vital records. The loss of this program would increase risk to the citizens of almost every county in the commonwealth.
The raid would devastate grant funds awarded by the State Historical Records Advisory Board and would negatively impact historical record repositories and local governments.
It's absolutely critical that legislators comprehend how much opposition there is to this latest proposal.
HOW TO HELP
Contact House members and urge them to reject this budget proposal and reject all special fund transfers proposed in the future.
Write a letter to your legislator.
Leave social media comments for House members – let them know we need their support. Be positive in your message – let them know you will support them in their effort to stop these raids.
FACTS YOU CAN USE
The investments made by the Keystone Recreation, Park and Conservation Fund, Growing Greener, and farmland preservation are proven to bolster the economy. For example, a study on the Keystone Fund found that for every $1 invested in land and water conservation, $7 in natural goods and services is returned to Pennsylvania. Several county governments have recently examined the connection between conservation and their economic well-being and found tremendous returns on conservation investments. You can view many of these studies at http://conservationtools.org/conservation-benefits
Polls show strong, consistent public support for these investments. A recent Penn State poll found that 97.4% of Pennsylvanians think that state funds dedicated to protecting rivers and streams; conserving open space, forests, natural areas, and wildlife habitats; providing parks and trails; and preserving farmland should continue to be used for these purposes. The people of Pennsylvania clearly feel that the dedicated funds deliver value and must not be diminished.
Thank you!
---
Need help finding your legislators?
Find your legistators here. Just click!

Show them how many constituents care. Be part of a strong voice that supports the environment and historic preservation!

---
GET SOCIAL – SPREAD THE WORD!
Use #PABudget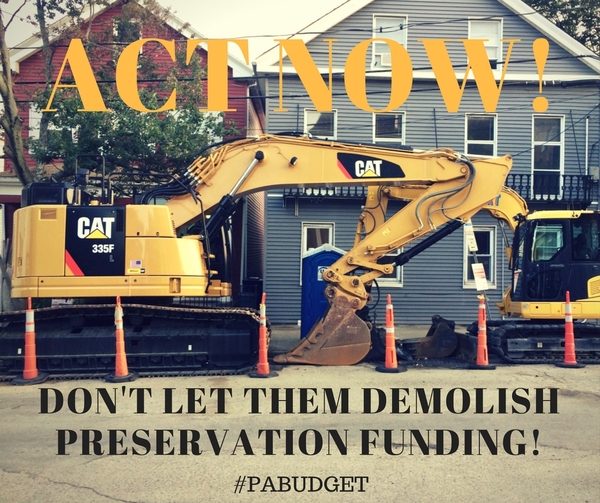 ---
ABOUT THE KEYSTONE FUND
The Keystone Fund is one of the few dedicated funding sources that support preservation, restoration, and rehabilitation projects of National Register-listed or eligible properties. Grants awarded to local governments, non-profits, and public institutions showcase the diverse nature of historic properties in the Commonwealth, including covered bridges, historic houses, county courthouses, theaters, and museums.
More information about how the Keystone Fund improves the lives of Pennsylvanians at
KeystoneFund.org
Also check out
GrowingGreener.info
---
Let's preserve together!