FEBRUARY 2017 EDITION

Dear Friends,

Over the last century, Massachusetts has transformed from an epicenter of the industrial revolution to an innovation hub focused on technology and healthcare. Yet our approach to public education has remained largely the same. Built to prepare students for jobs in factories, our current system too often promotes a one-size-fits-all model where too many students struggle to find long-term academic and life success.

Data tracked in our Condition of Education report shows that while 87 percent of Massachusetts public school students graduate from high school in four years, approximately one-third of those students are required to take developmental—or remedial—courses when enrolling in the state's public colleges and universities. There is a dramatic disconnect between the lessons we teach in schools and the skills needed for success after high school.

To achieve broad success for all young people, we need to examine the very crux of how learning happens. That's why the focus of this year's Condition of Education Action Guide is on student-centered learning. Providing more personalized and flexible educational opportunities is the next step in building on the impressive progress Massachusetts has already made through its commitment to high expectations, rigorous academic content and measurable ways to assess learning.

Student-centered learning allows educators to meet students where they are with strategies that address their individual needs, interests and learning styles. Student-centered learning fosters greater motivation, self-efficacy, and improved achievement. It is also more efficient: students get targeted support in areas where they struggle and opportunities to accelerate when they demonstrate mastery, allowing educators to focus limited time and resources where they can have the greatest impact.

Our focus on student-centered learning will not end with the Condition of Education report. We are continuing to engage in a range of activities to delve further into this topic. We recently teamed up with the Nellie Mae Education Foundation to conduct a poll on public understanding of student-centered learning (see highlights below).

From founding the first public school in the nation to passing the historic 1993 Education Reform Act, innovation in education has been part of the DNA in Massachusetts. Now, it's time for us to lead the way in this next, crucial, phase of education reform.

Best,



Chad d'Entremont, Ph.D.
Executive Director
---
POLL RESULTS: PUBLIC OPINION ON STUDENT-CENTERED LEARNING
We partnered with the Nellie Mae Education Foundation to get a sense of New Englanders' feelings on public education, looking specifically at the public perception of student-centered learning. We surveyed 2,400 individuals across New England from August 5-31, 2016. Here's what we learned: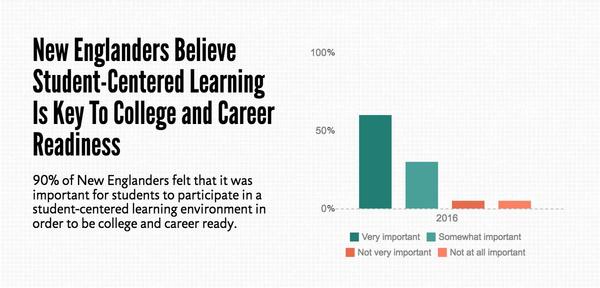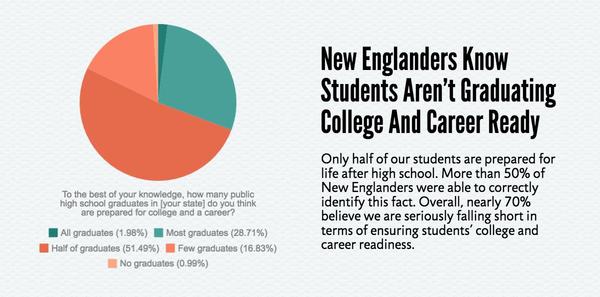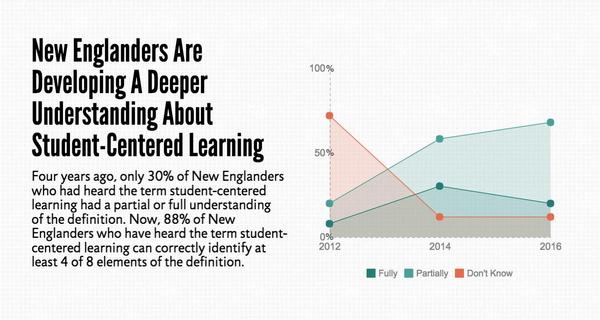 ---

Please contact Catherine Rauseo at 617-354-0002, ext. 8 with any questions.

New Research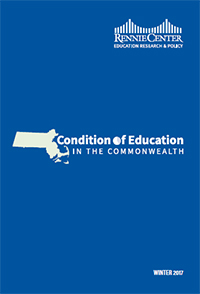 Condition of Education in the Commonwealth

ACTION GUIDE>

DATA DASHBOARD>





New Website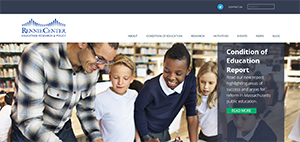 Check out the new Rennie Center website! We hope this new site makes searching our reports, using our data dashboard, reading about our initiatives, registering for our events, and reading our new blog easy from any device.


Rennie in the News

Leominster Center for Excellence garners high praise from Rennie Center
February 01, 2017
By Peter Jasinski, Sentinel & Enterprise
The Leominster Center for Excellence was praised as a traditional education alternative "with very strong promise" in the Rennie Center for Education Research & Policy's annual report on the condition of education throughout the state…[Read More]

Brookline High School program highlighted as a model
January 23, 2017
By Gerry Tuoti, The Brookline TAB
When aspiring teacher Chaurice McMillan was a student at Brookline High School, she initially struggled when problems at home had a negative effect on her performance in the classroom. But after the school's Alternative Choices in Education, or ACE, program provided her with a different pathway, she began to thrive...[Read More]

Challenge of education 'personalization' discussed
January 19, 2017
By Katie Lannan, State House News Service/Worcester Telegram & Gazette
As an education think tank and members of state boards called for more personalization in learning Thursday, the state's top education official cautioned of potential "danger" ahead in setting expectations beyond what can be delivered. The Rennie Center for Education Research and Public Policy released its annual Condition of Education in the Commonwealth report Thursday...[Read More]

Education leaders call for student-centered reforms
January 19, 2017
By Gerry Tuoti, MetroWest Daily News
Calling for a personalized, student-centered approach to reforms, state education leaders gathered Thursday to mark the release of an annual report on the state of education in Massachusetts...[Read More]