Massachusetts Teaching & Le
arning Network
Spring Newsletter
The Rennie Center launched the Massachusetts Teaching & Learning Network (MassTLN) as a hub for three implementation networks to improve local educator effectiveness. By empowering teachers to systematically test new practices and share their results in learning communities, the Rennie Center facilitates knowledge sharing to stimulate continuous improvement processes, support better outcomes, and promote learning around a shared problem of practice within and across the participating networks.
R
ead more about MassTLN>
---
THE FIVE DISTRICT PARTNERSHIP (5DP)

supports teachers in developing and using common assessments in ELA and math. 5DP works with five districts to align curriculum and rigor to ease city-to-city transitions for a highly mobile population. Over the past three years, the 5DP has worked with teams of teacher leaders to develop and refine year-long plans in all core subject areas. They have also created Understanding by Design curriculum units and other resources that support teachers.


MASSACHUSETTS CONSORTIUM FOR INNOVATIVE EDUCATION ASSESSMENT

(MCIEA)

is committed to establishing fair and authentic ways of assessing student learning and school quality that better reflect what students, educators, and community members most value in our schools. MCIEA works with six districts to develop locally created, curriculum-embedded performance assessments to build the capacity of teacher leaders and improve instruction and student learning.



MASS INSIGHT EDUCATION'S (MIE)

Gateway to College Success Network works with five districts to close the gap in college preparation by aligning classroom instruction both within and across grade levels. MIE is serving as the convener of the Gateway to College Success Network, which is governed by the superintendents of the five participating districts. MIE staff has been coordinating the Network's day-to-day operations, planning and facilitating meetings within and across districts, providing direct implementation support to each district, and overseeing the research, measurement, and evaluation of the Network.



EMPOWER SCHOOLS

partners with teachers, schools, civic leaders and state education agencies to create networks of highly autonomous schools. Empower Schools' deep partnership in Springfield has entered a new phase to support the transition to the new Co-Executive Directors of the Springfield Empowerment Zone.



---
DISTRICT & PRACTICE SPOTLIGHT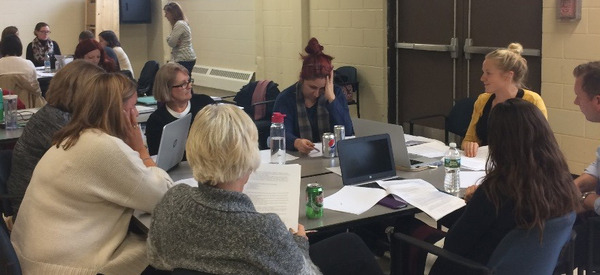 5DP Photograph of Coaches/Teacher Leaders Developing Common Assessments
Teacher collaboration at the 5DP
Teacher collaboration is a best practice of the 5DP. Over the course of 5DP's three assessment planning sessions, cross district teacher/coach teams developed relationships and trust across the teams. The 5DP is planning to facilitate a review process and planning session in June with coaches and teachers to review and discuss the development of the common assessment process and establish structures/procedures for the 2017-2018 school year. 5DP, with support from the Rennie Center, revised their teacher survey to include comprehensive and targeted questions yielding valuable feedback on the common assessments in ELA and math in grades 2-8. The coaching project coupled with the Educator Showcase, which will feature educators and educator teams sharing examples of their work
—
how they're supporting students, collaborating, and thinking creatively
—
allows the 5DP to elevate the best practices of the network to push this work forward in the fall.
R
ead more
>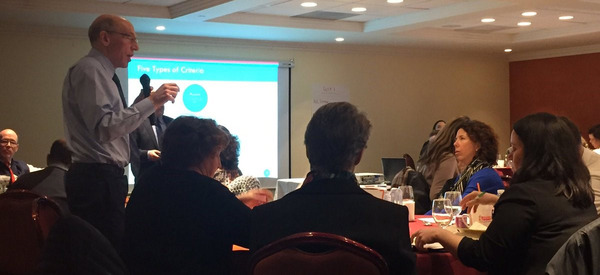 MCIEA's quality performance assessments (QPA) institutes Meeting
Revere Teachers Building Performance Assessments at MCIEA
Revere Public Schools is on the move. One of the two major goals of the MCIEA is to build assessment literacy for all school faculty to use a system of performance assessments. Assessment literacy, which consists of understanding types and purposes of assessments and having the ability to apply one's technical knowledge about assessments in practice, is vital to MCIEA's vision of quality schools. Their vision of quality schools allows all students to demonstrate what they know and can do through real-world application, preparing graduates for college, career, and beyond. Teacher-generated, curriculum-embedded performance assessments are a foundation for creating a richer means of assessing student achievement and serve as the primary student learning measure in MCIEA's school quality framework. In Revere, three participating schools are doing just that. Principals and teachers have joined together to form leadership teams. They have introduced performance assessment to the whole school and continued the discussion through regularly scheduled grade level times.
Read more>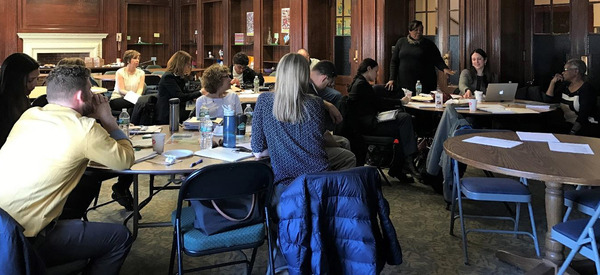 MIE
Photograph of Worcester within District Meeting on March 3rd, 2017
Worcester Middle and High School Teachers
Leading Math Instruction Alignment at MIE
In coordination with MIE and the Gateway to College Success Network, Worcester Public Schools is on its way to improving the vertical and horizontal alignment of math instruction in middle and high schools. Drawing from information gathered during initial meetings with district leaders, MIE developed a Logic Model to lead to a new strategic approach to align and strengthen math instruction in grades 6 through 12.
R
ead more>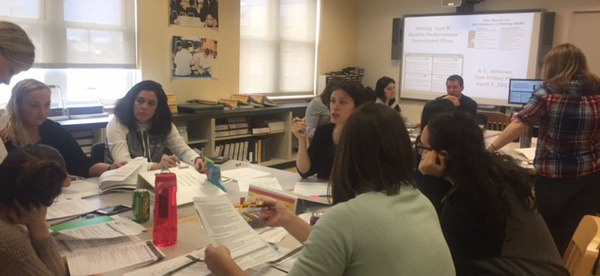 Staff Collaboration of Teachers at the Whelan Elementary School
Advancing STEM at Whelan Elementary in
Springfield at Empower Schools
Empower Schools has held one network-wide convening in collaboration with DESE and two school showcases focused on facilitating sharing of specific best practices. In March, the Whelan Elementary School hosted a school showcase to specifically highlight their practices in advancing high-quality STEM education at their school.
R
ead more
>
---
For comments or questions please contact Juanita Zerda