Centre Honoured with Provincial Award

How awesome is this? The Coastal Centre was selected as one of six recipients of the Minister of Environment's "Award for Environmental Excellence." And it was presented by none other than The Honourable Jim Bradley, Minister of the Environment, in a private luncheon at Queen's Park.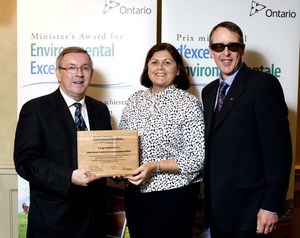 Minister of Environment Jim Bradley presents award
to Centre Chair Pamela Scharfe and Coastal Resources Manager Geoff Peach.
We were in good company. The other five recipient's, also doing great work, represented a variety of sectors, covering a wide range of fields. More information on the award winners can be found on the MOE website.
In a letter received by the Centre, Minister Jim Bradley wrote that "On behalf of the Government of Ontario and the Ministry of the Environment, I am pleased to advise that you have been chosen to receive a 2012 Minister's Award for Environmental Excellence. The Minister's Award for Environmental Excellence recognizes leadership and innovation in environmental protection and recognizes home-grown environmental achievement here in Ontario. Commitments to environmental excellence benefit all of us today and future generations."
It's a great honour to be singled out among the many organizations doing environmental work in Ontario. And awards like this are important to organizations and the people who run them. It signifies that what we're doing is seen as important, not only to our local communities, but to the Province of Ontario.

Looking back, the Coastal Centre has been around for 15 years doing innovative work and providing leadership on current and emerging coastal issues. Looking forward, we plan to continue our formula for success in environmental protection.
---
Fighting Phragmites...without chemicals
Many on Lake Huron are now familiar with the invasive plant Phragmites - the 3-4 metre tall grass that chokes out native vegetation and makes a dense barrier for people trying to acess the shore. A couple of updates on this nasty invasive beach invader:
Update #1
This just in: Lynn Short, a cottager on Wymbolwood Beach (Georgian Bay) has
been able to successfully control dense patches of the invasive grass Phragmites along her beach without using chemicals! She has figured out that if you take a spade and cut the stalk just below the sand surface this will significantly stress out the plant.
This method does not disturb the soil and thereby reduces Phragmites competitive edge while promoting native species response. She finds teenagers willing to work with her 8am -11am (my teenagers are still in bed then) cutting the plant down on privately owned shoreline property. The property owners pay the kids by the hour. They start ~mid July when the plant is well established but before seeds set. The plant material is collected and burned (off site). Using this method it was possible to control a dense patch of Phragmites ~ 30m x 15m in a couple of years.
Lynn teaches at Humber College. Her email: Lynn.Short@humber.ca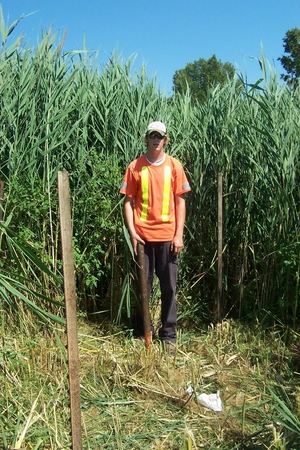 Phragmites (also called European Common Reed) can grow 3 to 4 metres in height, in very dense colonies.
Update #2
Trent University Student Discovers New Species of Gall midge that may help control spread of Phragmites
Trent University student Jordan Ahee has been credited with discovering a new species of gall midge (a small fly) which may help control the spread of common reed, one of the worst invasive plants in Canada.

Jordan's discovery is described in his research paper entitled A new species of Stenodiplosis (Diptera: Cecidomyiidae) on florets of the invasive common reed (Phragmites australis) and its effects on seed production. The paper appears in the April 2013 edition of The Canadian Entomologist, the journal for the Entomological Society of Canada. Bradley Sinclair, of the Canadian National Collection of Insects, Arachnids and Nematodes (CanaColl), and Trent Biology professor Dr. Marcel Dorken, are co-authors of the paper.

Phragmites, also known as European Common Reed, is an invasive plant causing damage to Ontario's biodiversity, wetlands and beaches. The plant, which is often found alongside rural highways, spreads quickly and out-competes native species for water and nutrients. Using this species of gall midge to attack the reed's flowers may be one way to control the plant, according to the research author. The insect has the potential to substantially reduce seed production in Phragmites stands. More research on this is planned.
(Midge article source - St Clair River Binational Public Advisory Committee newsletter, July 2013)
---
It's Up To You.
What did Lake Huron say to the beach? Nothing, it just waved.
Donate now to the Coastal Centre, or we'll keep sending you jokes like this. Or worse. You can end it now. It's your choice.

Your donations help our coastal conservation mission. You can donate online through CanadaHelps, or send a donation cheque by mail. For more information on donating to the Centre, visit our donate page.
Postings: broadcast-only list (outside postings are not accepted)
Frequency: once per month with infrequent special bulletins
Privacy Policy: your contact information will not be shared with others. Lake Huron e-news is provided by the Coastal Centre - www.lakehuron.ca