Centre Picked as1 of 20 to Lead National Beach Cleanup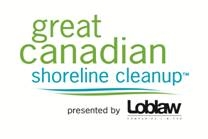 In our June edition of E-news, we featured an article on the plastic pollution problem that is plaguing the Great Lakes. One of the sources of this pollution is the garbage left on our beaches, or reaching the lake by way of river, stream and stormwater pathways.

The Coastal Centre likes clean beaches. What we mean by that is having beaches free from human generated garbage (including plastics). This doesn't include natural debris, like driftwood and other organic material that washes ashore and is important to shore ecology. But plastic doesn't belong on beaches, and doesn't belong in our Great Lakes. As more and more plastic litters our beaches and gets into our water, it's time we say enough is enough.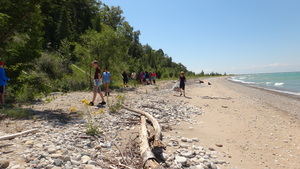 (LHCCC phtoto)
The Coastal Centre has been a leader in coordinating local beach cleanups up and down Lake Huron's coast. We've reported in the past on the results of these cleanups and showed the types and quantities of garbage being picked up by volunteers.

This September, the Centre is taking on a national role in beach cleanups.

On September 14, the Centre will be one of 20 organizations nationally to mark the 20th Anniversary of the "Great Canadian Shoreline Cleanup. To commemorate this milestone, 20 designated public shoreline cleanups held in 20 communities across Canada – including our cleanup in Goderich – will feature special celebrations.

The September 14 cleanup celebration will take place at the Main Beach in Goderich, at 11 am. The aim is to clean up about 6.5 km of beach and a segment of the Maitland River where it enters Lake Huron.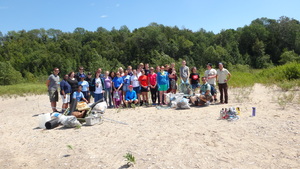 (LHCCC photo)

An important benefit of beach cleanups is that it helps to address the growing plastics pollution problem in the Great Lakes. Plastic pollution is not only unsightly, but poses a risk to wildlife, and possibly human health, as it makes it's way through the food chain and water supply. The event at Goderich beach will not only commemorate 20 years of community beach cleanups, but also focus awareness on the plastics issue, and how people can make a difference.

If you're able to participate in this event, please register here.
---
Beach Mega Cleanup
Beach cleanups are a great way to involve people in local grassroots environmental stewardship. But sometimes conditions can get beyond the standard removal of garbage. Education is the best way to avoid that. The Coastal Centre has developed a Bluff Stewardship Guide which is available to landowners and helps them protect their property.

The case of Bluewater Beach is a recent example of what can happen when a local community and municipality work together to address a beach pollution issue. Back in the 1990s, Bluewater Beach, just south of Goderich, had a situation where hundreds of tires ended up embedded into the beach.

The problem started when an area landowner made a poor and misinformed decision to install hundreds of tires onto an eroding bluff in a failed attempt to control erosion. The bluff continued to erode, and all the tires ended up strewn on the beach. It was a classic example of someone carrying out an idea that ended up creating a mess for the local community to deal with.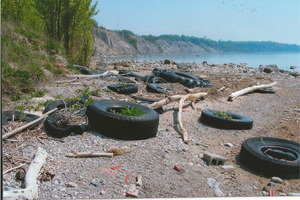 Bluewater Beach before cleanup (photo credit:D. Pugh)
Tires continued to slide down the bluff and onto the beach over the years. The mess became intolerable to local cottagers. They requested help from their local municipality (Central Huron), and together they devised a plan to aid in the cleanup.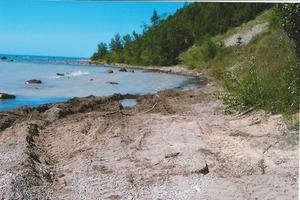 Bluewater Beach after cleanup (photo credit D. Pugh)
Of course, none of this expense and hassle would have been necessary if the original landowner responsible for the problem had taken some time to learn about coastal processes, or consulted with professionals, such as the Coastal Centre, who could have provided better guidance.

The Coastal Centre has developed a Bluff Stewardship Guide for landowners to help provide some basic knowledge about how bluff erosion works. Improving coastal literacy is one of the ways the Centre is helping to prevent future issues like this from happening.

This summer, the Coastal Centre has been distributing the guide through various means to get it into the hands of bluff landowners. If you would like a copy of the guide, let us know by calling us at (226) 421-3029 or emailing coastalcentre#lakehuron.on.ca
The guide is also available online here.
---
Staying Upbeat
With Labour Day gone, some claim it's the end of summer. We say no way. The 2013 September equinox comes on September 22, at 4:44 p.m. (EDT). Summer is not over until then. You can support this kind of science-based optimism by donating to the Coastal Centre. We won't cut your summer short when the scientific evidence is clear and unequivocal.

Your donations help our coastal conservation mission. You can donate online through CanadaHelps, or send a donation cheque by mail. For more information on donating to the Centre, visit our donate page.
Postings: broadcast-only list (outside postings are not accepted)
Frequency: once per month with infrequent special bulletins
Privacy Policy: your contact information will not be shared with others. Lake Huron e-news is provided by the Coastal Centre - www.lakehuron.ca