Making the Connection - lake levels and wetland health

Observing and studying Lake Huron's shores over long periods of time can result in a better understanding and appreciation of what makes her tick. I remember driving along the shore in mid-Bruce County back in the summer of 1999. Lake levels had just dropped to below average after 30 years of being above average. In fact, 1997 was a high lake level point, so what I was observing stood in sharp contrast to the last thirty years. What I saw was a narrow fringe of coastal wetlands with about 300 to 500 metres of mud flats towards the lake. I remember thinking "What a lousy beach." In retrospect, I realize I was about to learn a valuable lesson is shoreline ecology. It wasn't until a couple of summers later that I drove the same area in mid-Bruce. What I saw was astonishing. The mud flats had come to life. Sedges, rushes and grasses of all sorts emerged and the formerly narrow band of wetland expanded into acre upon acre of new wetland, teeming with plant and animal life.

I had read some articles about this phenomenon a few years earlier, but here I was able to observe it first-hand. It's a process that makes coastal wetlands (often referred to as 'Coastal meadow marsh') unique from inland wetlands. Coastal wetlands are very dynamic and constantly changing due to changing lake levels.

During low water years, landward margins of wetlands dry and mudflats are exposed as water retreats lakeward. Emergent vegetation is replaced by sedges, grasses, and shrubs that expand into areas where the water was once too deep. Submerged aquatic vegetation is replaced by emergent vegetation as germination occurs on exposed mudflats. With the return of high water levels, vegetation communities slowly retreat landward.

The plant species found in coastal wetlands depend on fluctuating water levels to maintain periodic open sandy shorelines, and during low water years, sprout abundantly from newly exposed seedbanks. They flower, and set seed again, waiting until the next low water period before they can sprout again.

High water years kill woody plants which become established in low water years, which is a factor in maintaining the open conditions. In addition to fluctuating water levels, meadow marshes are also subjected to wave energy. This washes away organic accumulations, and deposits new layers of sand. Although impacted by this deposition, these coastal meadow marshes contain extremely dense seedbanks. These seedbanks allow the vegetation to replace itself during low water periods.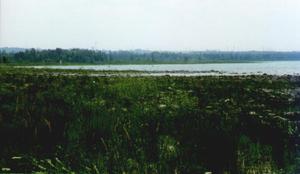 Baie du Dore wetland, Municipality of Kincardine (LHCCC photo)
Low lake levels over the past decade have had the effect of expanding coastal wetlands in many locations around Lake Huron, including Kettle Point, Baie du Dore to MacGregor Point Provincial Park and Oliphant. Expansions have also occurred along the Michigan side of the lake. This is not a permanent expansion, however, and we need to be mindful that in the historical context, we've lost about 70% of our coastal wetlands.

With lake levels increasing over the past several months, these wetlands will begin to constrict as expected. Vegetation at the lake's interface will get drowned out and replaced with emergent plants. This cyclical process maintains the health of these wetlands. Healthy wetlands, improve our water quality, fish, plant and animal habitat, and protect the shore from flooding and erosion hazards.

When I observe how these coastal wetlands change, and think about the benefits that people derive from healthy functioning wetlands, I wonder why we as a Great Lakes community haven't placed a greater priority on their conservation and stewardship. Governments at all levels need to prevent activities that damage the wetlands. Local communities need to foster a better relationship with these coastal features. The future prosperity of our coast will depend on it.
More on:
- Lake levels
- Coastal wetlands
Upcoming event: Great Lakes wetlands day
[article by Geoff Peach, Coastal Resources Manager]
Have an Ice Day
In our January 2013 edition of E-news, we talked about ice cover on the lake, and some of the trends being observed. This winter has gotten off to a cold start, leading to increased ice-breaker activity in December.
Below are two satellite images of Lake Huron, nearly one year apart, which show ice conditions then and now.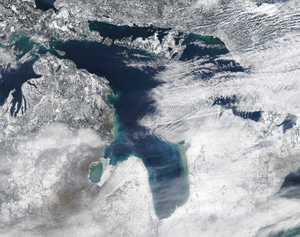 Satellite image of Lake Huron taken on January 8, 2013 (image from US National Ocean and Atmospheric Administration)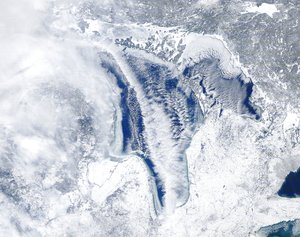 Satellite image of Lake Huron taken on January 3, 2014 (US National Ocean amnd Atmospheric Administration)
An extensive cap of ice on the lake should help to reduce water evaporation and maybe even hep reduce regional lake-effect snow squalls.
---
New Beginnings
Looking back over the past year, we're proud to be able to look at what we were able to accomplish with the limited amounts of funding and human resources available to us. Here's a sample of what we mean:
...and modesty prevents us from going on. We can say, though, that our 2014 program looks equally ambitious. This is where your donation can help. We put all of our donors money to good use, advancing conservation programs that make positive change.

You can donate online through CanadaHelps, or send a donation cheque by mail. For more information on donating to the Centre, visit our donate page.
Postings: broadcast-only list (outside postings are not accepted)
Frequency: once per month with infrequent special bulletins
Privacy Policy: your contact information will not be shared with others. Lake Huron e-news is provided by the Coastal Centre - www.lakehuron.ca