Reader Questions Fall Water Drop
One of our readers had an interesting observation about autumn lake levels. "Each September, I've noticed that the lake drops up to 30 centimetres. Why?"

To answer this, it's useful to look at the annual lake level cycle. We've written articles in the past about long term lake level fluctuations that are based on the balance between precipitation and evaporation. We've also written about short term level changes based on wind and waves or barometric pressure that cause storm surges and seiches.
In this case we need to look at the annual lake level cycal. In any given year, the lake reaches its high point for the year, typically in June or early July. This happens after the spring rains and snowmelt running off the land into the lake. From that high point, levels decline to an annual low point, usually seen in February.

So why would levels be observed to drop so much in September? By this time of the year, the lake has had several months to warm up, particularly in July and August. By September, air masses start to bring cooler, drier air over the lakes. We also get into the time of year where nights are quite cool relative to the lake temperature. These conditions can lead to significant evaporation of water from the lakes. This evaporation slows down by mid fall as the lakes cool down, and the difference between water and air temperature reduces substantially and the evaporation rate declines.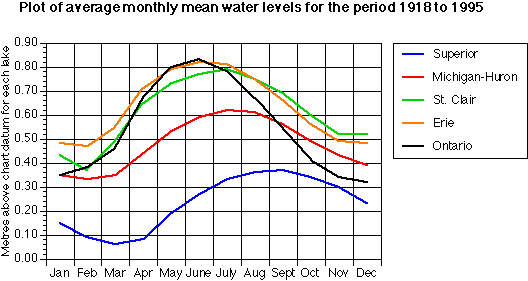 Source: USGS
However, this Septemver has been quite wet, so the change in levels has been more subtle.

It was a good observation from one of our readers that often goes unobserved by many seasonal residents who go home after summer vacation missing so much of these regular changes.

We're trying to harness all the benefits of lake observations through our Coast Watchers program. Coast Watchers are people who volunteer with us to record lake observations. This helps us to better track local conditions, and make sense of changes that are being observed. Consider joining 'the few, the proud, the Coast Watchers.' Call us at 226-421-3029.
More on lake levels here.
Sssssspectacular!!
Centre staff have been looking at some of the species that are at risk along our coast. One species, the Massasauga rattlesnake is a threatened animal in Ontario. One of the places it calls home is the Bruce Peninsula.
We've been focusing our work on the south end of the Peninsula, specifically in the Oliphant coastal wetlands where the shore has been under increasing pressure and degradation by human activities.
This summer, we co-hosted a community workshop in Oliphant with the Federation of Ontario Naturalists (FON). The presentations provided information on the perils experienced by this animal (road mortality, persecution, habitat loss) and the need to better understand how it uses the shore, and how we can better protect it. Workshop participants were given information on how to report sightings. Taking photographs and noting the location of the sighting are key elements to this information gathering.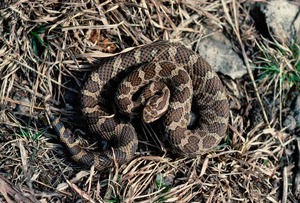 source: Parks Canada
Massasauga rattlesnake

Several people came forward and provided photos and sighting information that had gone previously unreported. What came from this was a sighting as far south as Southampton. This was fascinating information because the southern range for the Massasauga was thought to have been Oliphant.

FON is developing an atlas for at risk species like the Massasauga. If you have had a sighting, you can contribute this information online to help build the atlas. You can find the link here.
They also have a Smartphone App
here
.
---
Stayin" Alive
October's fall colours are a sign that our landscape is about to go into dormancy. Don't let this happen to you. Keep yourself and your bank account active by giving to the Coastal Centre. It will make you feel alive and get you through the winter months.


Your donations help our coastal conservation mission. You can donate online through CanadaHelps, or send a donation cheque by mail. For more information on donating to the Centre, visit our donate page.
Postings: broadcast-only list (outside postings are not accepted)
Frequency: once per month with infrequent special bulletins
Privacy Policy: your contact information will not be shared with others. Lake Huron e-news is provided by the Coastal Centre - www.lakehuron.ca