Mark Your Calender
The Coastal Centre's "Is the Coast Clear?" conference will be
on June 20, 2014 at Oakwood Inn in Grand Bend. The theme of this year's conference is: "Our Coast, Our Future: Building knowledge and taking action to protect our lake.

We are pleased to have two keynote speakers: The Hon. Jim Bradley, Ontario Minister of the Environment , and Mike Bradley, Mayor of the City of Sarnia.
For more information click here.
Bottom Dwellers
Life along the shore. Birds, fish, amphibians and reptiles easily come to mind. But what about the bugs that live in the lake bottom sediments? Bet they didn't come to mind. They should. They're important.

So important, in fact, that the Coastal Centre just completed a six month study collecting, analysing and documenting the small life that live in the bottom of the lake close to the shore. Remarkably, we had gone where few researchers had gone before

These lake bugs, that scientists call "benthic macro-invertebrates" (translation: small bugs that live in bottom sediments of a lake or stream), have been looked at in deeper water (deeper than 3metres) but not in shallow waters where it might have been assumed that, between wave disturbance and human activity, not much would be expected to live in the dynamic shore environment. Well, we found lots.

We studied three shore types: sandy, cobble/stony, and coastal wetland. The bugs were most abundant in cobble and wetland shore types. There was also a greater variety of bug species there too.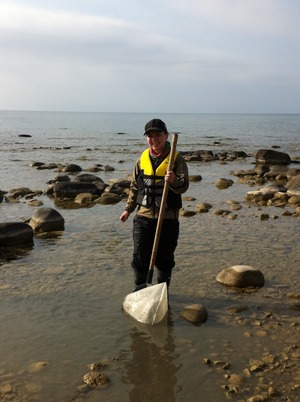 (Research Intern, Jessica Frigault, sampling benthic macro-invertebrates in Lake Huron)

Many of these bugs are in their juvenile stage in the water and emerge as winged insects that we commonly see along the shore. For instance, the Mayfly spends most of its life in the lake bottom sediments. They spend their last days of life as winged insects. Many lakefront cottagers probably experience their cottage, decks and chairs covered with Mayflies a varying times during the summer, leading to that morning sweep to clean them off.

May flies, Caddis flies, and midges, among other bottom dwelling insects, can be indicators of good water quality During their in-water life stage, they thrive in clean water, but are very sensitive to pollutants. So their presence or absence can be a sign of good or poor water quality.

This study presents a baseline of what was found last fall. Similar research done in the future can be compared against it to determine trends in water quality and lake health.

The Coastal Centre study does tell us that there are a lot of these animals in the shallow nearshore of the lake, and may be a significant food source for other animals, like shorebirds, fish and amphibians.

It helps us to understand better that these lake bottoms near the shoreline have an ecological significance that was poorly understood before. Altering these areas may be more harmful to fish, birds and other animals, than previously thought.

This research is being presented later this month at the international Association of Great Lakes Researchers conference taking place at McMaster University. This study was made possible through a Science Horizons Youth Internship grant. It was conducted in partnership with staff from the Dorsett Environmental Science Centre, and Saugeen Conservation. Jessica Frigault, is now employed by the Toronto Region Conservation Authority.
The detailed research report can be found here.

More on the Mayfly as an environmental indicator (a cautionary tale) - click here
[article by Geoff Peach, Coastal Resources Manager]
Our Goderich office typically gets busy with the addition of our own summer and research staff. This summer is looking to be especially busy with the addition of field staff from the Nature Conservancy of Canada (NCC), and the Huron Stewardship Council (HSC). They'll be using the Centre office as a base to launch their field research on Species at Risk.
The two organizations have teamed up to conduct field research on two at-risk reptiles in Huron County. The Lower Maitland River is home to the largest known population of Queensnakes in Ontario, which is currently listed as endangered. The HSC will be flipping river rocks to investigate the distribution of this unique reptile, while the NCC conducts a mark-recapture research study to learn about Queensnake abundance and habitat needs. Together the groups will continue a long-term recovery project on a rare turtle species. With several large tracts along the Lower Maitland River, the NCC staff will also help assist with the management of NCC properties in Huron County through the removal of invasive species and trail maintenance. work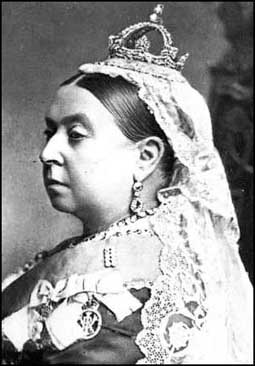 You can make her smile
Victoria Day is coming. It's the one day in the year that we set aside to toast Queen Victoria. What better way to do that than by donating to the Coastal Centre. The Coastal Centre works locally to make Lake Huron the greatest of the Great Lakes. Put a smile on Her Majesty's face by donating to the Coastal Centre. She would be most amused.

You can donate online through CanadaHelps, or send a donation cheque by mail. For more information on donating to the Centre, visit our donate page.
Postings: broadcast-only list (outside postings are not accepted)
Frequency: once per month with infrequent special bulletins
Privacy Policy: your contact information will not be shared with others. Lake Huron e-news is provided by the Coastal Centre - www.lakehuron.ca