We at The Gretta Foundation (TGF) were so honored to have the opportunity to host one of our Gretta Graduates here in the beautiful San Francisco Bay Area earlier this month.

Sr. Cathy Nakiboneka, in her position as coordinator of health training institutions for the Ugandan Catholic Medical Bureau, oversees 14 nursing and midwifery schools in Uganda. She is not only a past Gretta Scholar and graduate, but one of TGF's most invaluable volunteers in Uganda. She helps identify potential scholarship candidates and then mentors them through their nursing and midwifery programs.

While visiting, we were able to introduce Sr. Cathy to a variety of collaborators and partners of The Gretta Foundation. Sr. Cathy shared powerful stories; poignant reminders of why striving to put more nurses and midwives on the ground is imperative to saving lives like mothers and their infants in Uganda. It's still hard to imagine her frontline account of being the only nurse working on a labor ward birthing a minimum of 10 mothers a night, often going from delivering mother to delivering mother without having the time to change her gloves. Her stories were compelling and a moving tribute to your generous support.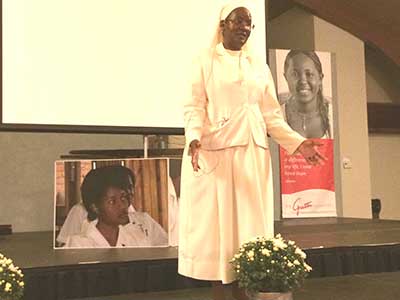 In a rather dramatic turn of events, after delivering a sermon to one of our faith-based supporting organizations, Sr. Cathy masterfully administered emergency medical aid. Here is a powerful account as told in Sunday's East Bay Times, "Danville: Ugandan nurse visits Bay Area, saves life". We are so proud of Sr. Cathy and her heroic efforts while visiting our community.

Sr. Cathy has helped us select 10 worthy scholarship candidates who hope to begin school this November. We have a long way to go to support all 10 and we'd love your support in this endeavor. These brave aspiring candidates rise up from impoverished conditions and struggle to empower their lives and save others in return. If you have not yet invested in our scholarship program this year, we humbly ask for your generous support today.

If you have already invested – thank you! And please feel free to share our information with family and friends who you think might be interested in learning more about our work and our scholars like Sr. Cathy.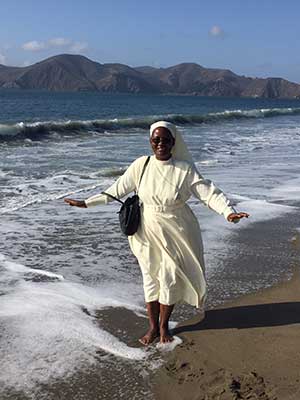 Sr. Cathy's first time seeing an ocean and walking in sand.

With gratitude,

Meg Styles
President