San Marzanos

---
Toy Box of Heirloom Tomatoes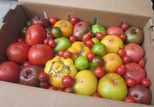 ---
Strawberries
---
Mixed Sweet Peppers
Mariquita Farm


Tomatoes & Mystery Boxes


at Greens

on Thursday 9-22-11

---
---
Click on the above Link to the order form text to place your order for a pick up Wed
9-21 between 5pm and 7pm.
** Please tell your Oakland Friends who cook that we are now going to Oakland sometimes! Including
next Wednesday
! Please forward this message, and or have them sign up for future reminders here
To Sign Up for That List
How the Ladybug Bulk Delivery Program / Mystery Box Night works:
First, you submit your form via the link above, then nothing happens until we send you an email confirmation. We plan to do those a day or two before the delivery day, by Wednesda at the latest Then, just show up at the restaurant at the time appointed (4:30pm to 7pm)
Julia and Michelle's Roasted Pepper How -to Photo Essay
Julia's Easy Tomato Canning Photo Essay
Full text of link to form for the Greens Ft. Mason delivery here:
https://docs.google.com/spreadsheet/viewform?formkey=dHE4WHlseEN3YjlOZ0pSYk1lVUthanc6MQ
THE WEST COAST'S LARGEST BOOK SALE!

*** from regular mystery box picker upper Steven P who works at the library: right where we are passing out veggies, how convenient!


Before or after you pick up your order, head over to Friends of the SF Public Library's 47th Annual Big Book Sale. Held at Fort Mason Center's Festival Pavilion, the sale features over 500,000 books, DVDs, CDs, books on tape, vinyl and other forms of media. Everything is $4 or less. All proceeds from the sale benefit the San Francisco Public Library. The Big Book Sale is free and open to the public, and runs September 21st through September 25th. The sale will be open on Thursday until 8pm.
---

If you have any questions or comments at all just reply to this email. Questions are allowed and encouraged.
The List:
As we sell out any item, we will remove it from the order form. So, get your order in early because we do sell out of items; mystery boxes are likely to sell out this time. Everything is organic.
~ Mystery Box $25/box - Fresh, locally grown, seasonal organic produce from our farm
~ Heirloom Tomato Toy Box $25/flat -- . Mix may include Purple Cherokee, Black Prince, Orange Blossom, Principe Borghese, San Marzano, Pink Brandywine, Valencia and others. Each flat about 12#.


~ Dry Farmed Early Girl Tomatoes $24/flat -- Excellent for salads, drying, sauce, great acidity, delicious. About 12# per flat.


~ San Marzano Tomatoes $24/flat OR special 5 flats for $100 -- Delicious roma-type tomato, about 20# per flat. Plan your tomato sauce making party.
~ Mixed Sweet Peppers $20/flat -- Roast, stuff, or eat fresh, these are a beautiful sweet medley of colors and flavors. About 10# per flat.
recipes
~ Albion Strawberries $24/flat -- Ripe, red, sweet organic Albion Strawberries! Make jam, freeze them for smoothies, put them on shortcake.
recipes
~ Mariquita Farm Hat $10 each -- Baseball cap style, adjustable, with the Mariquita Farm Ladybug logo on the front. Comes in three colors. Choose from what's available when you get there. Limited supply.
~ Belle Farms Extra Virgin "Every Day" Olive Oil $20/750 mL bottle -- Made from locally grown and pressed olives from the Santa Cruz mountains
. Great for cooking or salads
---
Tomato U-Picks in Hollister

Two more tomato upicks: Thursday Sept. 22nd, and Saturday Sept. 24th. They will be $0.75/lb. Thursday will be JUST heirlooms and dry farmed Principe Borgheses. Saturday will be San Marzanos and heirlooms.
Bring shallow boxes and crates (not too deep or your tomatoes will squish each other!), water to drink, and a hat because it can get hot. We will have some cardboard boxes for sale, but you're encouraged to bring your own.
Dogs are great, but please don't bring yours to the u-pick day. Children sometimes feel threatened by dogs and I don't want to be responsible if someone's dog gets into a fight with someone else's dog. Also, dogs can do a lot of damage in the fields, and the sight of a dog peeing on a tomato plant doesn't do our sales any favors.
Details will be announcement in our Ladybug Postcard newsletter first. Please do sign up for our weekly
ladybug postcard email letter
to get all event updates and plenty of recipes, weekly from
Chef Jonathan Miller
and from Julia too, when she's in town...
---