This is Mariquita Farm's Ladybug Postcard, our recipe newsletter, with essays by Andy, photos, and announcements.
---
Solving Problems
Whenever the drama at my farm is provoking me to pull my hair out and scream I try to pacify my fretful mind by repeating, mantra-like, the following platitudes:
1. "If this was easy, everybody would do it." (I laugh at myself because there was a time in my life when farming seemed like the easiest path for me to take, especially compared to getting a job, but then again I hadn't yet learned this platitude, nor would I have appreciated it had I heard it.)
2. "Business IS solving problems." Sure, there was a place where crops grew effortlessly, where insect pests, soil pathogens didn't exist, and labor wasn't an issue and we could all just wander around naked eating fruit, but it was called "Eden." That train has left the station. So we live by the sweat of our brows in a world where there are so many problems they almost make up the air we breath; no problems = no solutions = no economic activity. Which brings me to the last platitude, taught me by my mother and repeated to me by her to this day when she doesn't want to hear me complain....
3. "This too shall pass." Indeed. Everything shall pass, so the best plan is not be surprised by problems but to appreciate them as the quintessential aether of existence and to endeavor to turn them from grievances into business opportunities and to find satisfaction, however fleeting, in the incremental progress we make in finding solutions. Today's "problem" is heat.
It's actually a lovely day in Corralitos as I write you this note with temperatures in the high 70s. Someone living in Barstow or Bagdad may not be able to take me seriously if I say that heat is a problem, but I'd remind them that it is quite hot in our green houses-easily 100 degrees fahrenheit. I don't get to only rent the green houses in the winter when it's rainy and cold outside and the plants in the green house appreciate the cover they get from the elements. Lettuces, greens, and herbs grow effortlessly in the green houses in the winter, but they'd die in this heat. For successful summer green house production I need to find crops that not only tolerate the heat, but thrive in it. And I have to be able to sell the crops too. Some people, hearing me complain about how the marijuana growers are pricing us vegetable growers out of the green houses, have suggested that I grow weed. Marijuana sells well and the plant does great in the heat. But I don't want to grow pot. Nobody has ever broken into the green houses at night to steal baby carrots, scallions, or cucumbers, so I sleep without concern. Still, thinking about marijuana production did give me some ideas about what crops might be suitable for indoor summer production. Marijuana goes by many names- weed, pot, cannabis, Mary Jane, mota, herb, etc. - but one of the plant's names, ganja, points in a useful direction. Ganja is a
Sanskrit
word. Cannabis came to the Americas from India, brought by British Empire when they brought Indians to work in the sugar islands of the Caribbean. Jamaica doesn't have weed by accident. When you think about how to successfully grow a crop it's a good idea to consider under what environmental conditions the plant originally evolved under. Hot summer temperatures in the green house practically beg for Indian vegetables and greens.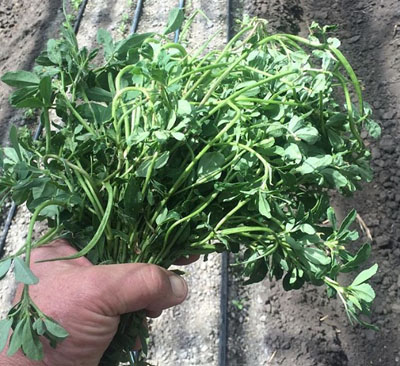 I want to grow crops that cooks want to buy, so I like it when the kitchens I work with give me suggestions. Russell, the chef/owner of
Camino
on Grand Avenue in Oakland, asked me if I'd grow
fenugreek
for him. After I did a little research I was excited about the crop. Look at how many problems fenugreek solves.
1. Fenugreek appreciates heat, so we can check off that box.
2. Fenugreek is a legume, a member of the
Fabaceae
, like alfalfa, peas, beans, or lentils. All legumes have the interesting relationship with a beneficial bacteria wherein they are "infected," causing some knobby, disfiguring nodules to develop on the roots. But serving as a host to this bacteria has it's benefits, since the bacteria take up atmospheric nitrogen as they grow and then "fix" and excrete the nitrogen in a soluble form that is available to the host plant to use as a fertilizer. In the field we often grow nitrogen fixing crops like Horse beans in order to fertilize the field by turning them under to rot and provide nitrogen for the next food crop. Planting Fenugreek in the green house could be an asset to farm even if I can't sell it, because if we turn it under we enrich the soil. At the very least, we don't have to give the crop additional fertilizer.
3. Fenugreek is a legume, which means it ISN'T an allium, like chives, scallions, cocktail onions, garlic chives, or leeks. And it ISN'T an Umbellifer, like carrots, cilantro, parsley, chervil, dill, celery, or lovage. And it isn't a Composite, like lettuce or chicory. And it ISN'T a Brassica, like arugula, radish, kale, mustard, broccoli, etc. We try and discourage the buildup of soil pathogens or pest insects but rotating crops. Every crop family tends to mine the same profile of nutrients from the soil and pests tend to prefer one plant family over another. If we were to grow crops from the same plant family over and over again in the same spot we would be acting to deplete the soil of certain nutrients while attracting an ever growing population of pests. My "rule" about crop rotation is to follow every crop with another crop from an entirely different plant family. I don't have any other legumes that I'm growing in the green house so Fenugreek makes a perfect rotation crop to slip in to the mix and bring balance to the growing environment.
4. I can sell fenugreek. Granted, it's not as popular a crop here in the States compared to say, Romaine Lettuce or Beefsteak tomatoes, but the production of those crops, because of their popularity, is dominated by industrial giants against whom I simply don't have the resources to compete. Dole isn't shipping a lot of fenugreek at the moment, so I have an opening to exploit. Besides
Camino Restaurant
on Grand I've also gotten interest in fenugreek from
Millennium
on College near the Rockridge Bart Station and from
Tawla
, a Mediterranean style restaurant in the Duboce Triangle in SF. Maybe none of these places will buy LOTS of fenugreek, but they'll buy some and that's what counts.
5. Plus, I get bored easily and don't have much of an attention span, so growing a crop that is new to me, like fenugreek, wakes up my brain cells and gets me interested in life. Put another way, my ignorance about fenugreek created problems which demanded solutions, so growing a new crop gave me an excuse to learn something.
My daughter, Lena, was visiting last week, and after eating dining hall food at the dorms for the whole year she was anxious to be back in her own kitchen again and cook the food she likes to eat. Lena loves Indian food and she had a cook book open to a recipe calling for fresh fenugreek. I was gratified to have her ask me for fenugreek and to be able to fulfill her "order." I love Indian food too, and I'm stoked to have a daughter who has grown up with an interest and skill in cooking. So that evening the "problem" of me needing to make dinner but feeling too tired to cook was solved by having raised both a daughter and a crop of fenugreek. This week I can send you some fresh fenugreek for you to try yourself. There might have been moments in the past when I'd have facetiously offered to ship my daughter out too, in order to solve some parenting headache, but those times....well, those times have passed too.
© 2017 Photo and essay by Andy Griffin.
---
Mystery Thursday & Ladybug Bulk Deliveries
The Mariquita Mystery van will be in
Dog Patch at Piccino
this Thursday, June 29th.
Hass Avocado
season has arrived! We have Hass Avocados,
Cherry Tomatoes
, Mystery Boxes and more -- all available by pre-order for pick up at Piccino.
Place your order as soon as possible as we will close the form when we need to get the harvest done. (Below: Hass Avocados. Photo by Shelley Kadota.)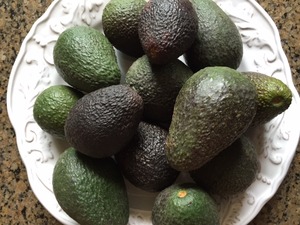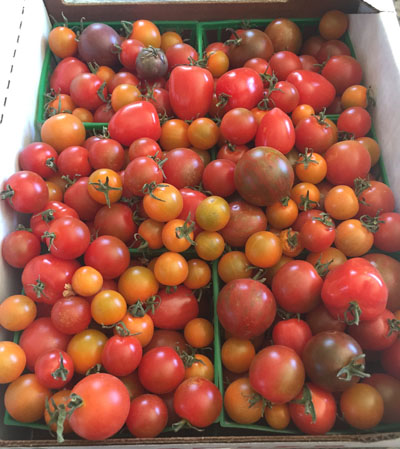 Be sure you're on the list for your area to receive email alerts about these deliveries.
(Please note that these are separate mailing lists from the Ladybug Postcard newsletter.) To sign up, click below for your area to be added to the correct mailing list:
How the Mariquita Farm Bulk Special Delivery Program works: First, you submit your form via the order form link provided in our email announcements and then nothing happens until we send you an email order confirmation a day or two before your delivery -- by Wednesday for Mystery Thursday -- at the latest, with directions for the pick up location. Bring cash to pay for your order for pick up on Thursday at Piccino -- it's a staffed delivery.
WHAT is a Mystery Box?: They are $30 each:
A 'Mystery Box' is like a CSA box — only bigger with typically 10-12 different items in it
—
vegetables, herbs, and occasionally fruit, all seasonal and organically grown but we don't really know everything that's going to be in it until the day of delivery. Will it rain? Will we have a heat wave? The weather can impact a lot of factors: ripening (will a crop mature past its prime?), pests (will they get the upper hand over beneficial insects?), and field conditions (it was 109 in Hollister last week...) And, w
hen we run short of an item, we substitute with something else similar. Andy will make sure it will be a good value. In the meantime, we appreciate your patience and a sense of adventure with these boxes. Enjoy!
Some items that Andy is considering for this week's Mystery Box: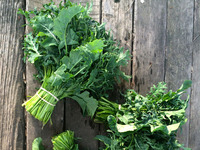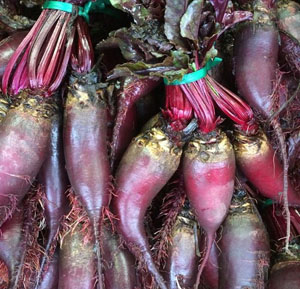 Photos of Formanova Beets and Spigariello
by Andy Griffin.
Something new: Do you often cook for a crowd or cater events for friends and family?
Need more than just a bunch or two of carrots or a pound of broccoli? For those of you who cook on a scale that is not quite a restaurant but more than your average family size of 2.53 people, you may be interested in getting on our new special mini-restaurant availability list -- an abbreviated list of the same items we sell to restaurants in the Bay Area. There is a
minimum order requirement of $50
and
pick up needs to be at one of our staffed Mystery Thursday or Ladybug sales, with payment in cash or check upon delivery
. If getting access to larger quantities of Mariquita Farm veggies is of interested to you, send us an email to
ladybugbuyingclub@gmail.com
to get on the mailing list.
---
Recipes
Fenugreek ~ Fresh fenugreek leaves, also known and sold as "methi", can be used in salads and are often used both fresh and dried in Indian cuisine, particularly Punjabi style, as in the Aloo Methi recipe below.
Aloo Methi
3.5 to 4 cups tightly packed methi leaves (fenugreek leaves), chopped
3 to 4 medium size potatoes (aloo) or 12 to 15 baby potatoes
1 to 2 green chilies (hari mirch), chopped or ¼ to ½ teaspoon red chili powder (lal mirch powder)
1.5 to 2 tablespoons butter or mustard oil or any vegetable oil
1 pinch asafoetida (hing) (spice found in many Indian or ethnic food store sections)
rock salt or regular salt as required
Remove the leaves from the stems of the methi/fenugreek leaves. Rinse the leaves thoroughly in running water. See that the leaves are clean and devoid of any muddy particles on them. C
hop the fenugreek leaves with a knife or in a food processor. If chopping in the food processor, make sure you do not chop it too fine or make a paste of it.
Rinse, peel and chop the potatoes into small cubes or squares. I
n a kadai or pan, heat up the butter or oil. Add the potatoes first. S
auté the potatoes for some minutes till they start looking crisp and are lightly browned from the edges. A
dd the chopped green chilies and asafoetida. stir. If you don't have green chilies, then just add about ¼ to ½ tsp of red chili powder.
Next, add the chopped methi/fenugreek leaves and stir very well. A
dd salt. Give a nice stir and let the methi leaves cook on a medium flame uncovered. T
he methi will start to leave water. Lower the flame and cook the leaves for 5-6 minutes more. Y
ou should see the leaves wilted and cooked completely. Continue to sauté for 2 to 3 minutes more once all the water has dried up. There should be no moisture in this dish. I
f you see that the potatoes are not cooked and the water has dried, then sprinkle 2-3 tbsp of water, so that the potatoes get cooked. When the veggies are done and if there is any water left, then dry the water. The end dish should be dry and not watery. W
hen the aloo methi is done, you could add some more butter and mix it with the veggies. Serve the aloo methi with parathas, rotis or rice-dal combo.
Garlic Marinated Broccoli
Adapted from More Recipes from a Kitchen Garden, Shepherd and Raboff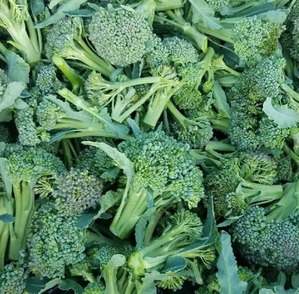 1 lb or more
broccoli
, roughly cut up into pieces
Marinade:
3 tbsp olive oil
1 tsp finely minced garlic
2 tbsp chopped fresh
basil
1 tsp chopped fresh oregano or 1/2 tsp dried
2 tsp soy sauce
2 tbsp vinegar
pepper to taste
Mix the marinade ingredients together. Steam or quickly boil broccoli only until they are tender-crisp, 2-3 minutes. Drain immediately and chill broccoli in ice water to set color and stop the cooking process. Toss the well-drained broccoli with the marinade and let flavors blend for at least 1/2 hour. Serve at room temperature or chilled.
Spigariello Skillet Pies from Chef Jonathan
This is Mediterranean take on a fried, vegetarian empanada. There are a few steps involved, but each one is simple, even the dough, so it's worth making. You can make these any size, so don't feel like you have to go as large as these are. The herb combination is a simple one made up of herbs I see in the market all the time. Feel free to modify these however you like. I think even using one herb would work. I love marjoram and parsley together in this if you can find marjoram.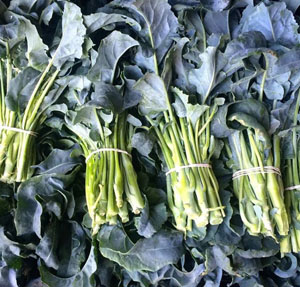 2 1/4 c flour
olive oil
1 T red wine vinegar
1 bunch dill, chopped
1 bunch mint, leaves only, chopped
leaves from 8 sprigs oregano, chopped
4 oz feta, crumbled
Parmesan
1 egg
grapeseed oil (or canola)
Combine the flour with a teaspoon of salt and mix well. Add 3/4 c water, 1/4 c olive oil, and the vinegar to the flour/salt mixture and mix well. The dough should be a little sticky. Knead on a floured board until the dough is silky smooth, then allow it to chill in the fridge for about an hour (or overnight is fine).
Heat a few tablespoons of olive oil in a saucepan and add the scallions and cook just until soft, a couple of minutes, then add the spigariello and wilt the spigariello, maybe 5-8 minutes. Add the herbs for the last minute, then transfer everything to a colander and allow to cool. Squeeze the cooked greens and herbs so you extract most of the water. Combine those greens with feta, a few tablespoons of parmesan and an egg, mixing well. Season with salt and pepper and taste to make sure you like it.
Quarter the dough, and roll each piece out into a very thin disk, about 8 inches or so in diameter. Fill each round with a quarter of the greens filling and fold the dough over it into half moon shapes. Crimp the edges to seal.
In a very large skillet, heat some grapeseed oil until very hot, then add 1-2 pies (depending on the size of your skillet) and pan-fry them in the hot oil until deeply colored. Flip, and fry the other side until deeply brown. Do the other pies the same way and serve warm.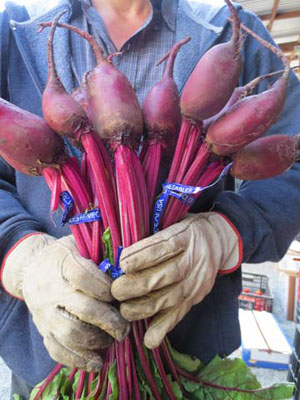 Simple Beet Salad with Onions
Grate scrubbed
beets
or cut into julienne; toss with chopped green onions and a vinaigrette you make or from a bottle in your fridge. Add toasted nuts and/or a sharp cheese (blue, Parmesan, feta). Serve alone or with lettuce.
Just cut them into chunks and roast them with olive oil, S & P until they are tender.
Simple summer beet soup
Boil and peel
beets
. (can use both kinds). Whirl in food processor with orange or lemon juice, small amount of fresh mint leaves if you have some, and black pepper. Chill. Serve with plain yogurt or sour cream.
Photos by Andy Griffin.
---
Mariquita Farm is on Facebook & Instagram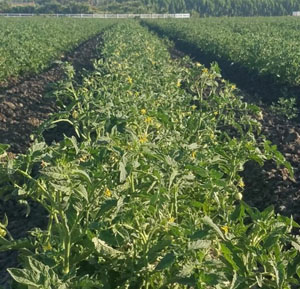 A few recent posts.
The d f girls this am (June 19th).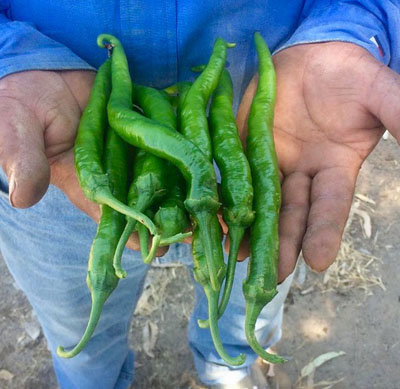 The Cayenne are big enough to pack a little heat.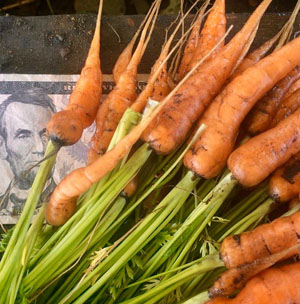 Tiny chantenay, pictured here with an honest Republican to show size.
All photos by Andy Griffin.