San Marzanos

---
Toy Box of Heirloom Tomatoes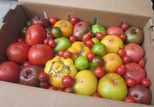 ---
Strawberries
---
Mixed Sweet Peppers
---
Pimiento de Padron Peppers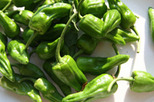 Delicious, addictive, & healthy!
---
Mariquita Farm


Tomatoes, Padron Peppers, Sweet Peppers & Strawberries


Ladybug Buying Club/Mystery Thursday
in Oakland - Thurs. Oct 6th 5:00 -7:00 PM

We're at our
Camino
in Oakland this Thursday. We are bringing San Marzanos, Heirlooms, Sweet and Spicy peppers, strawberries and more! All by preorder.
---
---
Click on the above Link to the order form text to place your order for a pick up Wed 10-5-11 between 4pm and 6pm.
** Please tell your Oakland friends who cook. Please forward this message, and or have them sign up for future reminders here
To Sign Up for That List
How the Ladybug Bulk Delivery Program works:
First, you submit your form via the link above, then nothing happens until we send you an email confirmation with directions to the pick up location. We plan to do those a day or two before the delivery day, by Wednesday at the latest Then, just show up at the pick up site at the time appointed (5pm to 7pm)
.
Make Your Own Red Chile Flakes Photo Essay
Easy Tomato Canning Photo Essay
Full text of link to form for the Oakland delivery here:
https://docs.google.com/spreadsheet/viewform?formkey=dGV6V2doeWtOaUprWE8wTDl3aDRvZVE6MQ
---

If you have any questions or comments at all just reply to this email. Questions are allowed and encouraged.
The List:
As we sell out any item, we will remove it from the order form. So, get your order in early because we do sell out of items. Everything is organic.
~ Mystery Box $25/each -- Big bounty box of stuff we truly harvest just for you from our farm. Fresh and healthy and adventurous! These boxes have hundreds of fans in SF.
If you cook, you'll love it!
~ Heirloom Tomato Toy Box $25/flat -- . Mix may include Purple Cherokee, Black Prince, Orange Blossom, Principe Borghese, San Marzano, Pink Brandywine, Valencia and others. Each flat about 12#.


~ Dry Farmed Early Girl Tomatoes $24/flat -- Excellent for salads, drying, sauce, great acidity, delicious. About 12# per flat.


~ San Marzano Tomatoes $24/flat OR special 5 flats for $100 -- Delicious roma-type tomato, about 20# per flat. Plan your tomato sauce making party.
~ Mixed Sweet Peppers $20/flat -- Roast, stuff, or eat fresh, these are a beautiful sweet medley of colors and flavors. About 10# per flat.
~ Red Padron Peppers $10 for 5 pound bag -- These are left on the plant and become fiery hot. They are perfect to dry then whirl in the food processor for RED PEPPER CHILE FLAKES. These make a great holiday gift!
Photo essay on how to do this
.
~ Pimiento de Padron Peppers $10 for one pound bag -- We know how to grow and harvest these when they're still small, green and mild. Only one in ten or 15 might have a bit of heat. Delicious and addictive. Saute in olive oil and sprinkle with good salt. Yum!


~ Albion Strawberries $24/flat -- Ripe, red, sweet organic Albion Strawberries! Make jam, freeze them for smoothies, put them on shortcake.
~ Indian Corn - 12 ears for $10 -- Beautiful and decorative for the fall season, then grind them up in to cornmeal for delicious cornbread!
---