Mystery Boxes!

---
Cauliflower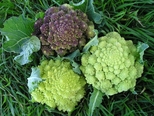 Romanesco, Purple OR Cheddar!
---
Jerusalem Artichokes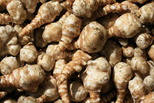 Also known as Sunchokes
---
Pippin Apples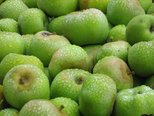 ---


Mariquita Farm


Mystery Boxes

, Cauliflower, Apples & more!
Ladybug Buying Club

in Santa Cruz
Wed. Nov. 23rd **12 to 2 PM**

** We are doing it 12-2 since it's the day before TDAY.

I have personally experienced HORRIBLE traffic in Santa Cruz... we can easily leave your order for you for a later pick up that day, just let us know. -julia

We'll be at Julia's friend's place in Santa Cruz on Park Way, next Wednesday, November 23rd from 12 noon to 2 PM with mystery boxes, cauliflower, apples and more. Last call for Red Padron Peppers for chile flakes this season!

Thanksgiving Cheat Sheet: Andy gave me this list that he's planning and hoping for next week's boxes, it may change a bit:
Celery
Couve Tronchudo (Portuguese cabbage, like collards)
Chantenay carrots x 2

bunches

; 1 yellow, 1 orange
Italian Parsley x 1 bunch
Escarole
apples of some sort
Purple cauliflower
leeks
Butternut squash
---
---
Click on the above Link to the order form text to place your order for a pick up next Wednesday, November 23rd from 12 noon to 2 PM. This is an earlier pre-Thanksgiving time so if you need to pick up later, please let us know and we'll try to make arrangements for a more convenient time.
Please forward this to any friends who might be interested.
Why so much cauliflower at once?

You can share it, pickle it, roast it: it's picked so fresh it's sweet, it's a different animal that the cauliflower that's been on ice from the supermarket.



How the Ladybug Bulk Delivery Program works:
First, you submit your form via the link above, then nothing happens until we send you an email confirmation with directions to the pick up location. We plan to do those a day or two before the delivery day, by Tuesday. at the latest Then, just show up at the pick up site at the time appointed (12 to 2 pm)
.
Red Pepper Flakes How to Photo Essay
Full text of link to form for the Santa Cruz delivery here:
https://docs.google.com/spreadsheet/viewform?hl=en_US&pli=1&formkey=dEplSzFYTUxBeEZhMm5ISEpGUFVOLUE6MA#gid=0
---

If you have any questions or comments at all just reply to this email. Questions are allowed and encouraged.
The List: As we sell out any item, we will remove it from the order form. So, get your order in early because we do sell out of items.

~ Mystery Box $25/box - A big beautiful box of seasonal fresh organic veggies from our farm! Interesting varieties! Great for those who enjoy cooking at home.
~ Purple, Romanesco OR Cheddar Cauliflower $12/10 pound box -- Fresh cauliflower has a sweetness to it. This cauliflower is fresh! Boxes are single type so be sure to order the type you want on the order form. There's no difference in flavor -- both are yummy!) Delicious roasted with olive oil and salt and mixed into a salad or pasta.
~ Red Padron Peppers $10 for 5 pound bag -- These are left on the plant and become fiery hot. They are perfect to dry then whirl in the food processor for RED PEPPER CHILE FLAKES. These make a great holiday gift!
Photo essay on how to do this
.
~ Jerusalem Artichokes $15/5# bag -- Also called Sunchokes, Jerusalem artichokes are popular with restaurants in the winter because they make rich soups and gratins. Some people enjoy them sliced thin and served raw. The texture of raw Jerusalem artichoke is similar to the water chestnut.
~ Gala Apples $22/20 pound flat -- Crisp, sweet, smaller-sized apples, great for snacking. About 20# per box.
~ Pippin Apples $22/20 pound flat -- Crisp, tart, medium-sized apple, great for pies and other baked goods, as well as just eating! About 20 pounds per box.
---
Please do sign up for our weekly
ladybug postcard email letter
to get event updates and plenty of recipes, weekly from
Chef Jonathan Miller
and from Julia too, when she's in town...
---