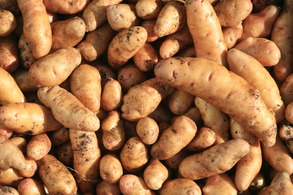 Do you ever wonder where the next generation of America's farmers is going to come from? I've read statistics that say the average
age
of farmers in the US is over 60. My birthday falls this Saturday and I'll turn 53, which makes me a "young farmer." Agriculture is about the only place I could ever pass as "young" any more. My friend, Martin, who farms in Chualar and Soledad, is still in his 40s, which makes him a veritable infant. And then there's Gerardo; he grew the Ruby Crescent fingerling potatoes in your veggie box this week.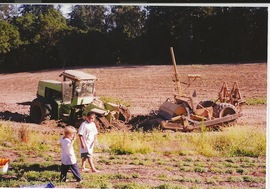 Gerardo is in his early 20s. He's the grandson of Gerardo Vargas who has worked for Mariquita Farm as a driver and harvester since 1997, and he's the son of Hector Maldonado, who worked with us from 1992 through 1990. In the summers, when school was out, Gerardo would often come to work with his papa. We were farming in a 2 acre greenhouse at that time, and Gerardo would play down in the canyon below the farm or "hunt" gophers with a bow and arrow. I told him that I'd charge him money if he shot arrows through the plastic greenhouse walls but that I'd pay him a bounty for every gopher that he caught, and I gave him a string of
Maccabee
gopher traps to work with. Gophers are smarter than they look and it takes motivation, attention, patience, and discipline to catch them. Gerardo went to work like an avenging angel and he put the buck-toothed horde on the defensive.
Gerardo has grown up. He works for my friend, Martin, on Martin's farm in Chualar, and he is participating in the
ALBA program
. ALBA teaches farmworkers who are looking to start their own farms how to go about the business of farming. Besides taking classes on growing vegetables, the students are given plots of ground to cultivate. When their harvests come in ALBA students are then in a position to learn about the ups and downs of marketing. I suspect that more than a few of ALBA's students learn what I learned when I was starting out in farming; that sometimes it's easier to grow food than it is to sell it, and it can be easier to sell food than it is to harvest it, pack it, and deliver it on time, and that all too often it can be easier to grow, harvest, pack, and deliver food than it is to get paid for your work. The
Mariquita Farm Community Supported Agriculture program
is our way of working around that reality by putting us in contact with customers who care about our well-being.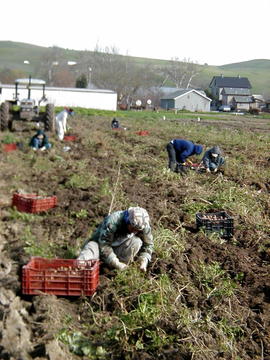 I didn't grow any Ruby Crescent fingerling
potatoes
this year because when it was time to plant I couldn't find any seed stock available. I was disappointed because I really like the fingerlings, and part of the informal contract I have with my CSA subscribers is that I try to grow interesting and somewhat unusual crops for them from time to time. But Gerardo grew some Ruby Crescents and they came in great for him. It looks like he paid attention during his production classes. Now Gerardo is learning about the special challenges that potatoes place on cash flow. First of all, good, virus-free potato seed stock for planting costs a lot. Of course it costs time, water, power, labor and rent to grow the crop. Secondly, you have to harvest the whole crop before the gophers do, which means that with a nice crop you can run up a substantial labor bill digging, cleaning, sorting, and packing the potatoes, and of course there's the carton costs to absorb in advance of any sales. Then, because the best returns come back to the farm when you can meter the potatoes out to good customers instead of dumping them all at once, there's the cost (and space) of storage to absorb. Ironically, for a farmer with limited cash reserves, a big potato crop can initiate a period of dire poverty.
Potatoes keep for months and in a way, assuming that the customers buy them over time and eventually pay, having a cooler full of potatoes is like having money in the bank, except that potatoes don't earn interest. (And now that savings accounts don't really pay any interest either that difference is negligible.) You can't eat money. But you can't pay your bills with potatoes either. Sometimes I have fantasies about the good old days when "rendering unto Caesar" meant giving the government a cut of your crop that they could ship off to the citizens of Rome. I'd love to pay my taxes with a portion of my harvest instead of sending Washington a check. This week, for example, I'd ship the IRS a down payment on my quarterly payroll taxes; a truckload of
zucchini
, some
tomatillos
, yellow
onions
, and
jalapeno peppers
and a newsletter full of recipes!
So Gerardo called me about potatoes. I'm delighted to buy some of his crop and I'll pay him COD. Some of the potatoes I'll pack up for you all and some of them I'll put to one side to plant myself next February so that we have our own crop in 2013. It makes me feel old to see "the kid" become a peer, but I'm happy to see Gerardo venture into farming and I wish him success. His father and his grandpa are proud of him.
©
2012 Article and photos by Andy Griffin.
Photos top to bottom:
1: Ruby Crescent Potatoes
2: Graydon and Gerardo on Mariquita Home Farm, 1999.
3: Harvesting potatoes
4: Crate of purple potatoes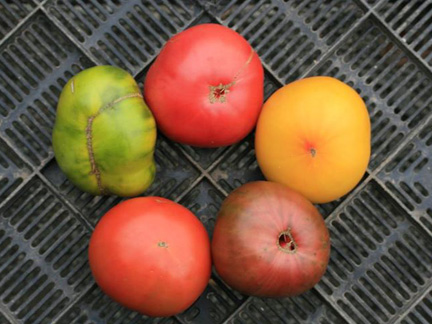 Strawberries
and
tomatoes
are here, and the
peppers
have begun coming in, too. (Tip: Current members get discounted prices at our u-picks!) We have a 4-week trial subscription for new members for $88. Returning members can sign up for our 9 week subscription for $198. If we receive your payment by this Saturday, August 18th, we could get you started next week (August 22nd or 23rd).
To sign up, please print and complete our subscription form (link to pdf below) and mail it with your check made payable to Mariquita Farm to P.O. Box 2065, Watsonville, CA 95077.
We'll email you a confirmation as soon as we get your subscription entered in to our system. If you have questions,
e-mail us
(for the quickest response) or call (831) 706-6799. Thank you for being a part of our CSA community! (Photo of five heirloom tomato varieties by Andy Griffin.)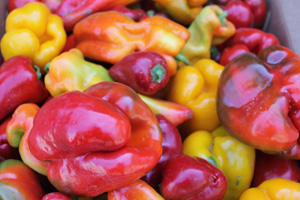 Downloadable PDF of our Subscription Form

Pick Up Site List
Photo of Mixed Sweet Peppers by Shelley Kadota.
~~~~~
We're (still) looking for a new pick up site in the Castro in San Francisco.

If you are interested and have a site that is:
Shaded & secure
Truck accessible
Has space for a minimum of 20 CSA share boxes
then, please email Shelley at office@mariquita.com to see if becoming a CSA host site is a good fit for you. There may even be a discount for your CSA subscription for being a host based on the number of shares delivered to your site and at minimum, you get your veggies delivered to your doorstep!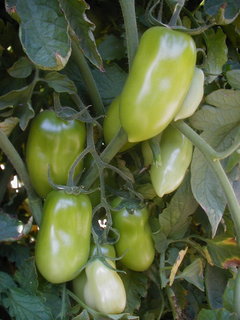 Andy sees a lot of green tomatoes out there in the fields -- but in this case, we want to see red! The cooler weather this summer continues to slow down the ripening and for now, there are just enough ripe tomatoes to harvest for our CSA shares and to sell some to our restaurant clients. Many of you probably noticed that we haven't been including tomatoes in our Ladybug bulk deliveries either! There just aren't enough tomatoes yet to really offer them in bulk, let alone for a tomato u-pick. And we want to make sure that when you do make it down for our tomato u-pick, there's lots of ripe, delicious fruit for you to harvest to your heart's delight. And that day is coming. Believe us when we say we're looking forward to it possibly even more than you are! Stay tuned and we promise to keep you posted.
We still have
Saturday September 1st and Wednesday, the 12th
very tentatively penciled on our calendars for tomato u-picks but these dates could shift, too, depending on the weather. (For a bit of perspective, last year, we didn't have our first tomato u-pick until September 10th.)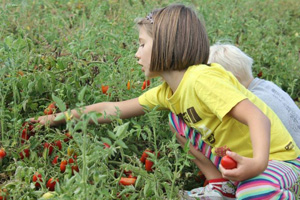 This year, Andy planted cherry tomatoes, dry-farmed Early Girls, San Marzanos, heirloom and several other tomato varieties. Which of these will be available for each u-pick depends on the weather and other things beyond our control but we will let you know at least a few days before the u-pick. So, start collecting shallow boxes and crates (not too deep or your tomatoes will squish each other!), and your jars and preserving equipment, and be ready to re-stock your pantry!
Photo of green San Marzanos by Andy Griffin.
Photo of young harvesters picking ripe San Marzanos in Hollister last summer by Shelley Kadota.
RECIPES from Jonathan and Julia
from Julia:
It's Caprese Season: the easiest salad is to cut up tomatoes and eat them. Or you can add salt and pepper. another addition can be olive oil drizzled. Basil leaves chopped up make it sublime. To 'caprese' the salad, add fresh mozzarella. Sometimes I slice everything and lay it out, sometimes I cube everything and gently toss it. 'Tis the Season!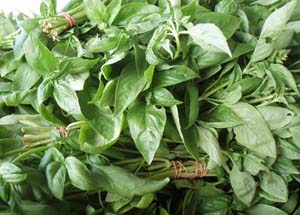 Tofu-Basil Dressing
½ block silken tofu (about 5 ounces)
2 tablespoons cider vinegar
2 tablespoons unsweetened apple or orange juice
½ teaspoon Dijon mustard
1 small garlic clove, minced or pressed
2 tablespoons chopped fresh basil
¼ teaspoon salt
Place all of the ingredients in a blender or food processor and puree until smooth. Covered and refrigerated, Tofu-Basil Dressing will keep for about a week. Use over salads or steamed potatoes. 5 minutes total time, makes ¾ cup.
Onions in Basil Cream
adapted from Recipes from a Kitchen Garden by Renee Sheperd
1 bunch onions
2 Tbs. butter
2 tsp. shallots, finely chopped
1/4 c fresh chopped basil
1/4 c dry vermouth
1 c heavy cream
salt to taste
Cut the tops off the onions and discard. Put onions in boiling salted water for about 5 minutes. (If you have an abundance of chicken stock, poach them in it; they are tastier!) Remove the onions. Cool. Take uncut end of onion and squeeze onion out the cut end. (You are removing the skins.) Reserve the onions.
In a skillet or saute pan, heat the butter and saute the shallots and basil. Deglaze the pan by adding the vermouth, bringing to a rapid boil for one minute and scraping up the bits with a spoon. Add cream. Simmer the sauce to reduce to desired consistency. Salt to taste. Add the onions and rewarm.
A Simple Tomato and Basil Sauce
(From The Top 100 Italian Dishes, Diane Seed)
1 tbsp. olive oil
1 small onion, chopped
2 cloves garlic, minced
2 lbs. tomatoes, peeled
Heat the oil and gently fry the onion and garlic until they are transparent. Add the tomatoes and cook quickly in a shallow uncovered pan so that the sauce thickens and remains a bright red. Season to taste then puree with the basil leaves.
Festive Red and Green Toasts
(Adapted from Bon Appetit)
1 French bread baguette, cut into 24 1/2‑inch‑thick rounds
1/2 pound St. Andre or other triple cream cheese, room temperature
1/2 pound Saga or other soft ripe blue cheese, room temperature
2 radish bunches, trimmed and thinly sliced
3 celery stalks, thinly sliced
Preheat broiler. Arrange bread on baking pan. Broil until lightly colored on both sides.
Cool very slightly. Spread 12 bread rounds with St. Andre and 12 with Saga. Arrange
radish slices in circle atop St. André toasts and celery slices in circle atop blue cheese
toasts. Serve toasts immediately.
from Chef Jonathan Miller:
Watermelon and Pepper Salad
As promised, here's a treatment of either Padron or Shishito peppers that is different and really cool. This is an adaptation of a dish that used to be served at a restaurant in Santa Cruz now re-named Le Cigar Volante, run by Bonny Doon Vineyard. My version is a bit simpler, but it has all the really cool elements, especially the grilled watermelon. Definitely worth the small effort involved. I think you could also add a little goat yogurt drizzle to this dish to take it to another level.
1/4 watermelon
olive oil
1/3 c pine nuts
1/2 # squid, tubes and tentacles
Cut the watermelon rind off the watermelon and slice it into triangles that are 1/2 inch thick.


Heat a grill and oil it. Grill the watermelon slices until colored by smoke and have dark grill marks, flipping to char evenly. Remove from the grill and sprinkle with a flaky salt.
Wash and dry the peppers, then remove the dead flower petals from them.


Heat a large skillet until very hot and add a little olive oil. Saute the peppers over high heat. Stir once to coat with oil, then allow to char on the first side. Stir well and char the other side of some of them. Add a little salt just before removing from the heat. Set aside.


Toast the pine nuts in the skillet until lightly golden. Watch carefully and stir often so you don't scorch these pricey goodies!


Slice the squid tubes into quarter inch rings and saute them with the tentacles in a little olive oil and salt.


Put the watermelon on a serving plate, sprinkle some baby greens around and drizzle with a little olive oil. Arrange the pine nuts, peppers, and squid around the plate in an artful way and sprinkle with a touch of salt. Serve warm or at room temperature.
Radish, Cucumber, and Red Onion Salad
Take the sting out of raw onions and radishes by soaking them in ice water for a bit. Then serve them with plenty of salt and a splash of vinegar and your favorite fresh herb. Cherry Belle Radishes are a red variety, and tasty!
1 small red
onion
(julia says you can use a yellow one from your box)
1 bunch
radishes
, greens reserved for another use
1
cucumber
, washed well (peeled if waxed)
olive oil
champagne vinegar
Slice the red onion and the radishes as thinly as you can with your knife and put in a large bowl. Cover with cold water and plenty of ice cubes. Allow to sit for at least 10 minutes, and up to 30. Drain well and pat dry with towels.


Slice your cucumber thinly and toss in a mixing bowl with the onions, radishes, and dill. Drizzle in a little olive oil, some salt, and toss well. Serve in a wide bowl with a splash of vinegar (add the vinegar just before serving). Add some crumbled sheep feta if you like.
Roasted Ruby Crescents and Onions
Comfort food doesn't get much simpler than this. The trick here is to start with potatoes that are dry and are not too crowded on the sheet pan. Also, don't be shy about getting into a hot oven - get in there at the halfway point and stir those babies up so the onions brown evenly. Use plenty of salt and oil.
2-3 small yellow
onions
, peeled and thinly sliced
olive oil
salt
Heat the oven to 400.


Wash and dry the potatoes. This will turn out better if the potatoes are dry and at room temperature when you put them into the oven.


Toss the dried potatoes and the onions in a large bowl with plenty of olive oil and salt. (If you want to use an herb, that's fine - rosemary goes well and the chopped needles can be added here. Other herbs should be added after the potatoes cook.)


Put into a sheet pan and roast until softened and the onions have caramelized, about 30-40 minutes, depending on the potatoes and the oven.


Serve warm by themselves or alongside something equally comforting like a roasted chicken.


~~~~~~~