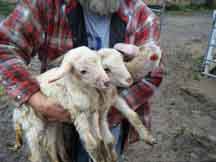 Our friend, Annabelle, from La Tercera Farm in Marin County, came down from Bolinas on the morning of January 1st and she brought the party with her. She brought fresh crab and home made aioli, deviled eggs topped with bright orange salmon caviar, eel-crème fraiche-potato appetizers, radicchio from her farm for salads, bread from Della Fattoria, several bottles of champagne and, finally, a big platter evenly divided between tiny lemon tarts and tiny mincemeat tarts. Annabelle is a fabulous cook. She and Julia spread all the goodies out on our kitchen table. Then the phone rang. It was our neighbor, Adriana, from Tomatero Farm. "There is a crisis," she reported. "Chris and I are going over to Becky's." Rebecca's ewes had all started to lamb, some of them giving birth to triplets. It was pouring down rain, Becky's workers all had the day off, and she was all alone. She needed to move the birthing ewes and their newborn lambs to dry quarters out of the weather, milk the new mamas, bottle feed the orphans, and feed the herd their daily ration of hay. This was bad news for our party because Rebecca was the other guest we were waiting for.
Julia called Rebecca. "Can we help?"
"All I can promise you is mud, blood, afterbirth, and dozens of baby lambs" Rebecca said. So the feast moved again. Julia and Annabelle threw the goodies in the car and we raced over to Monkeyflower Ranch. Adriana and Chris were already there. Becky's parents and her brother, Tim, showed up and we all threw ourselves at the task. It was raining lambs. We built jugs in the barn for the new sheep families, moved the ewes and their lambs from the muddy fields, and reunited confused, lost lambs with their hungry mothers. There were lambs to bottle feed, hay bales to haul, and water buckets to fill. And after several hours- and dozens of baby lambs- the chores were momentarily over. We retreated to Becky's house, took our boots off, brushed the straw off our shirtsleeves, washed off the mud and blood from our hands, uncorked the champagne, and sat down to a spectacular New Year's feast, compliments of Annabelle. And of course Becky added a jug of sheep's milk and a sheep's cheese plate to the meal. It was as memorable a New Year's meal as I've ever had. Happy New Year to you too.
RECIPES from Jonathan and Julia:

The following recipes are designed for this week's CSA and mystery boxes:

Sorrel is highly underrated. A delicious, tart green. It's also a great keeper in the fridge. Make sure you stem your sorrel and wash it thoroughly. It almost always comes with grit and slugs. Use any small leaves whole.
Beet Salad with Sorrel with Pistachio Dressing
2 bunches beets
1/4 c pistachios + extra for garnish, roasted and unsalted
3-4 T olive oil
2 T balsamic vinegar
1 bunch sorrel
2 cups croutons
Roast your beets to your liking. (I roast mine at 375, covered, in a baking dish with 1/4 c water.) Peel and slice into wedges.
Blend the pistachios in a blender with 3/4 c water and blend until very smooth. Strain and season with salt and pepper. Whisk this with the olive oil and balsamic vinegar. Check for seasoning and toss a few of the tablespoons with the beets.
Stem the sorrel and julienne the leaves. Put the julienned leaves on the bottom of a plate, top with the beets, then the croutons, then drizzle with some remaining dressing. Finish with some extra pistachios and some more pepper.
~~~
This is a fantastic technique for braising any cabbage. It's quick, very satisfying, and versatile. It's great by itself, but I love it with sliced hard cooked egg on top. You could also try including some of your sorrel in this, or your potatoes, or try topping with roasted chicken. The next morning, have it for breakfast with a runny fried egg. Yummy!
Braised Savoy Cabbage
1 head savoy cabbage, chopped or sliced thinly
1 onion, halved and sliced thinly
4 oz butter
parsley
Put the cabbage in a large colander in the sink (or just in a clean sink). Toss with about 2 tablespoons of kosher salt and allow to sit for at least 10 minutes.
Saute the onion in the butter very slowly over low heat until the onions have softened and turned translucent, about 8-10 minutes.
Bring 2 cups of water to a boil and pour it over the cabbage in the sink to remove most of the salt. Taste a leaf to make sure it isn't too salty. Put the cabbage into the saucepan with the onions, stir, cover, and braise over very low heat until soft and tender, about 15 minutes. Finish with some chopped parsley.
~~~
One of my wife's favorite chowders. She loves tons of parsley on top. I like just a little. Make sure you don't boil your chowder once the milk and cream are added. A great cold weather meal with a hunk of black bread. I never peel my parsnips for this, but if you are serving this for guests, you might go that route. If so, try to peel the parsnip and keep the peelings long. Then fry them in hot oil until crispy. Sprinkle with salt and you have some delicious sweet parsnip chips. Great on the side, or as a garnish.
Parsnip Chowder
2-4 parsnips, depending on size, chopped (if large, remove the inner, tough, fibrous core)
1/4 lb bacon, diced
1 onion, diced
1 1/2 lb potatoes, cut into bite sized chunks
4 c milk
2 T butter
1 c cream
parsley
Saute the bacon in a large saucepan until crisp. Remove the bacon, but leave at least 2 T of the fat. Add the onions and saute until lightly browned, about 8 minutes. Bring 2 cups of water to boil. Add the parsnips and the potatoes to the saucepan with the onions, then add the water. Cover and cook until tender, about 30 minutes. Add the milk and heat through - do not boil. Finish with the butter and cream, then garnish with the parsley and cooked bacon.
~~~

Sorrel recipes curated by Julia:
Greens and Fish from Brenda H.
An old authentic French recipe

Ingredients:
1/2 pound chard
1/2 pound spinach
few leaves of sorrel
one garlic clove
2 pounds thin fish fillets
Crusty bread

Place the greens and one peeled, crushed garlic clove in a pot and cook for ten minutes, then chop. Add the fish, and cook for 10-15 minutes until done-NO longer. Place piece of crusty bread on a plate and serve the fish and the chopped greens beside one another with the liquid.
~~~

Sorrel Omelet

Ingredients:
4 eggs
1 tablespoon cream
1 cup sorrel, cleaned and trimmed
2 tablespoons butter, divided
1/4 tsp salt

Shred sorrel. In a heavy pan, heat half the butter and add sorrel and salt. Cook for about ten minutes, while stirring. Combine the eggs and cream in a bowl, beating gently. Add the sorrel mixture and combine. Add the remaining butter to a skillet and heat until butter is slightly browned. Add the egg mixture and stir briskly with the back of a fork or spoon until the eggs are evenly spread on the bottom of the skillet. Keep moving the unset eggs around with the utensil smoothly until there is no liquid left. Do not overcook. Shake the pan gently over the heat a few times. Fold the omelet over in half and serve.

~~~

Sorrel Soup

Ingredients:
1/2 pound sorrel
2 tablespoons butter
6 cups water
1/2 pound potatoes, peeled and quartered
2 tsp. salt
1 cup milk
1 egg yolk

Clean and shred sorrel, then chop. In a large heavy pan, heat butter. Add sorrel and cook, stirring, for ten minutes until reduced to about 1/2 cup. Add the water, potatoes and salt. Bring to a boil. Cover and simmer for 1/2 hour. Strain and mash or puree the vegetables. Stir the cooking liquid into vegetables and return to pan. Bring to boil. Stir in milk and yolk. Cook until hot, but do not boil. Serve with French Bread.
Upcoming Veggie deliveries: This Wednesday at the Fatted Calf in Hayes Valley (San Francisco) -- see info below. And Mystery Boxes in SF, Palo Alto, Menlo Park, & San Jose.
Wednesday, January 5th, 2011, Menlo Park, 4-6 PM Winter Mystery Box Order Form
Thursday, January 6th, 2011, at Piccino in San Francisco, 4:30-7 PM Winter Mystery Box Order Form
Thursday, January 13th, 2011, in San Jose near SJSU, 4-6 PM Winter Mystery Box Order Form
Thursday, January 20th, 2011, at Slow Club in San Francisco, 4:30-7 PM Order Form will be posted next week.
Friday, January 21st, 2011, in Palo Alto**, 4:30-6 PM Winter Mystery Box Order Form
**There will also be an Indian cooking class offered at this site! See more info below. You can sign up for either the Mystery Box or the cooking class or both!