Tomato and pepper season continues! This week, we have San Marzanos, Dry-farmed Early Girls, our mixed heirloom tomato toy box, mixed sweet peppers, strawberries, as well as flats of Anaheim and Poblano peppers.
Some items are already sold out but if you didn't get your order in in time this week, more will be coming next week.
(If you are signed up for the Ladybug Delivery announcements for your area, you would have received an email about these last week. See info below if you're not signed up already.) Click on the Order Form link specific to the pick up location you want to place your order for:
And, we're planning bulk deliveries for next week in Aptos, San Francisco, and on the Peninsula. We'll send out announcements with order form links at the end of this week. Make sure you're on the list for your area to receive these email alerts.
For the convenience of cooks who would like to can, pickle, juice, dry, or otherwise consume bulk quantities of fresh vegetables, herbs and fruits we are regularly scheduling
special deliveries of bulk quantities of tomatoes, carrots, peppers, basil, pumpkins, etc.
whenever the harvest permits. If this service looks interesting to you, please be sure you're signed up to be included on the list of people to get a special email alert. This is
a separate mailing list
from this Ladybug Postcard newsletter! We have three separate lists:
San Francisco
,
the Peninsula/Palo Alto/San Jose
,
Monterey Bay Area
and now,
East Bay
Then, stayed tuned for announcements when we're bringing the bounty to your area!
RECIPES from Julia & Chef Jonathan Miller

First, some notes and suggestions from Julia:
On the Cabbage/Kale thing in your box: that's just what it is: a cabbage kale thing! The leaves can be used in many recipes that call for cabbage or kale, and the white parts of the bottom of the leaves can be cut up and used like cabbage. I nearly always prefer my greens cooked, I always have. The occasional coleslaw that isn't too mayo-heavy is ok, but I love wine-braised cabbage, garlic sauteed kale, etc. With this veggie you can truly look up cabbage and kale recipes with great success.

Julia's note on Radicchio: Radicchio is a pleasantly bitter chicory that works well in lettuce salads, and for folks that don't want everything on their table 'sweet', it can even be it's own salad. For palates that aren't ready for an all-radicchio salad, it also is GREAT cooked way down with some onions and olive oil as a pasta dressing. I've done this many times in the past, with a small drizzle of balsamic at the end. Here are three Cook-the Radicchio-Down recipes for you to peruse.

Radicchio Pasta Recipe

This one looks interesting!: Tagliolini con Gamberi e Radicchio

A risotto recipe from Epicurious

And our own
radicchio recipe page
is full of ideas: both salady and cooked.
My favorite way to prepare cauliflower. I just do it often enough I don't use a recipe, but Elise at Simply recipes made a nice page about it with the 'official recipe': so here you are:
Roasted Cauliflower from Simply Recipes
.
You can then serve this cauliflower as is, or top a pizza, or mix into a grain salad....
Curried Cauliflower
from Epicurious
~~~~~
And, from Jonathan:
Hello! There are some great items in your box this week - and I'm not talking about the tomatoes or peppers! You have a very unusual cabbage, one that I would bet none of us has seen in a traditional American grocery store. It's a Portuguese cabbage. You can use it like regular cabbage or other cooking greens if you like, but I'm recommending an actual Portuguese dish - the traditional
caldo verde
soup - for it. You'll also have radicchio, one of the most beautiful vegetables, and one not to be feared. I know it can be bitter, but try it in either of the recipes I include below and I bet you'll love it! Have fun with these unusual ingredients! Hope to see some of you out at the tomato u-picks! - jm
Grilling Radicchio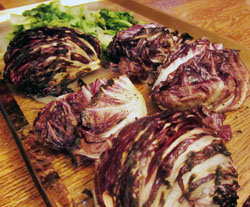 A simple preparation, and one that I bet will become your favorite way of preparing radicchio. Done correctly, the radicchio comes out smoky, crispy and tender at the same time, juicy, while still retaining some of its bitter qualities. The color does fade somewhat, but that is a small price to pay for this delicious and simple dish. Cook over fire or mesquite charcoal for an even more pronounced smokiness. Serve with your favorite balsamic vinaigrette, or just by itself. Yum! Note that this is for 1 head of radicchio - use more if you like!
1 head radicchio
olive oil
salt
Shave the root end of the radicchio so you have a clean, white cut. Quarter the radicchio through the root end, making sure that each quarter has part of the root and the leaves are still attached to it. Drizzle each quarter with a couple tablespoons of olive oil and sprinkle with some salt, turning to coat. Heat a grill, or a barbeque until very hot, then put the radicchio on one of the cut sides onto the grill. Do not fuss with it once it is on the grill and cook for a few minutes, or until it is flecked with black char, but not totally blackened. Turn with tongs to the other cut side and cook the same way. Remove from the grill and put on a serving plate, drizzling with a balsamic vinaigrette if you like. It's also fine just the way it is. Serve hot.
Radicchio and Fennel Salad with Prosciutto
This is the very first salad I ever made with radicchio, and one that I still love. There is something about this flavor combination that helps minimize the bitterness of the radicchio, and the combination of textures is really appealing. Use more prosciutto if you like.
4 T pine nuts
olive oil
white wine vinegar
1 t Dijon
2 red grapefruit
1 head fennel
1 large, or two small heads radicchio
1/4 lb prosciutto, thinly sliced
Chop the pine nuts, then saute them in a little olive oil until they are lightly golden. Remove from heat and add the Dijon and a couple tablespoons of the vinegar, whisking well. Taste to make sure you like it, adding just a little salt if you prefer.


Section your grapefruit, making sure to catch the juice. Very coarsely chop the sections. Core the fennel and slice it very thinly crosswise. Thinly slice, or shred, the radicchio. Toss the radicchio with the grapefruit sections, the fennel, and the pine nut vinaigrette. Put the prosciutto on a serving plate and top with the salad. Finish with a little bit of the grapefruit juice and serve.
Peperonata
A richer variation of simple stewed sweet peppers, peperonata is super versatile. You can eat it just the way it is, or use it as a topping, which is how I use it most. You can even top pizza or sandwiches with it. It is only special during this time of year though, when both tomatoes and peppers are at their peak. Feel free to vary the herb based on your planned use. Thyme is my favorite.
4 sweet peppers, cored and thinly sliced
olive oil
3 garlic cloves, thinly sliced
2 tomatoes, peeled and chopped
1 bay leaf
leaves from 6 branches thyme
Heat a large skillet and add some olive oil, then the peppers, stirring until coated in the hot oil. Saute briskly for a few minutes until they begin to soften, then add the garlic, tomatoes and any tomato juices that exude onto the cutting board. Add the bay leaf and the thyme, stir, lower the heat, and stew, uncovered, until the tomatoes have cooked down and the peppers are very soft, about 7-8 minutes. Season with salt and pepper, taste and adjust seasonings if necessary. Serve over polenta, grilled meats, strong cheese, or as a side dish. Use leftover peperonata for sandwiches, pizza, or serve on a crostini with ricotta cheese.
Roasted Cauliflower and Pasta
I think I've contributed this recipe on another occasion, but it's worth repeating. This is a go-to dish in our house, and is so satisfying. I vary the vegetable used here based on what I have in the fridge. This week it will be cauliflower. Some weeks it's cabbage, broccoli, escarole, or even chard. This is also good with chopped sauteed padron peppers in it. Or you could garnish it with charred padrons for a more dramatic look.
1 large head cauliflower or two small heads, cut into florets
1 large onion, halved and thinly sliced crosswise
1/2 t crushed chili flakes
olive oil
2 garlic cloves, chopped
handful of green olives, pitted and chopped
4 T parsley, chopped
2 eggs, beaten
3 T parmesan, grated
3-4 oz smoked cheese (gouda or mozarella are good here), grated
1 lb pasta noodles (spaghetti works great)
1 c bread crumbs
Toss the cauliflower with some olive oil and salt on a sheet pan, then roast in a 400 degree oven until colored and nutty tasting, about 15 minutes.


Heat a skillet. Add some olive oil and saute the onion with the chili flakes over high heat, stirring, until golden but not caramelized, about 5 minutes. Stir in the garlic, some salt, and remove from heat. Combine in a bowl with the cauliflower, the olives, and the parsley.


Beat the eggs in a separate bowl and fold in the cheeses.


Saute the bread crumbs in olive oil or butter until golden brown.


Cook your pasta until al dente, drain and immediately toss with the cauliflower mixture. Add the egg mixture, and stir with tongs until all the noodles are coated well. Transfer to a serving plate and top with the bread crumbs. Serve hot.
Caldo Verde
You will have an unusual and delicious head of Portuguese cabbage in your box this week. Since you probably are the only person on your block to have this here, it merits being used as it is back in Portugal - as part of the traditional soup, Caldo Verde. Make sure to source a good linguica here. It makes a difference.
2 garlic cloves, chopped
olive oil
1 large onion, chopped
6 oz linguica, thinly sliced
1 lb potatoes, diced
1 bunch couve tronchudo, shredded
Heat a pot with some olive oil in it and add the garlic, onion, and half the sausage. Cook over moderately high heat, stirring, until the onion is soft, about 8 minutes. Add about 2 quarts of water, the potatoes, and some salt. Boil, reduce heat to low, and simmer until the potatoes are tender, about 8-10 more minutes. Mash the soup with a masher, or use a food processor to create a coarsely mashed, rustic texture. Return the soup to a simmer and add the couve tronchudo and simmer until it is cooked down, at least another 5 minutes. Add the remaining linguica and heat through, tasting for seasoning. Serve warm with quality olive oil drizzled on top.
Salad of the Week: Roasted Peppers and Green Beans
3 sweet peppers
2 shallots, thinly sliced
1 garlic clove, minced
2 T red wine vinegar
1/2 T sherry vinegar
olive oil
1/2-3/4 lb green beans, stem end trimmed
1/2 lb tomatoes, chopped (or use cherry tomatoes, halved)
mint
parsley
almonds, toasted
Combine the shallots with the garlic, vinegars, and a little salt. Allow to sit while you make the rest of the salad.


Roast your peppers using the method you prefer. (I do mine under the broiler or on the grill outside. Make sure you blacken the skin.) Scrape the charred skins off them and slice the flesh into strips.


Blanch the beans until crisp-tender, about 2-3 minutes in heavily salted boiling water. Drain and cool under cold running water or in an ice bath. Drain and pat dry.


Combine the peppers with the green beans the tomatoes, the herbs (use a tablespoon at least of each), and the shallot mixture. Toss well and taste for seasoning. Finish with toasted almonds (chopped or whole). Serve at room temperature.