2014 Environmental Odyssey: You can make a difference!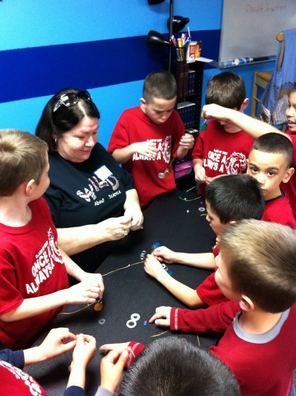 Dear Friends and Members,
The Environmental Co-op Annual Environmental Odyssey - an educational program for more than 750 Terrell, Kaufman and Scurry 2nd grade students that will be held next week on March 4th and 5th, 2014 at the Rockwall and Brin Church of Christ, 407 N. Rockwall St., Terrell, Texas, 75160.
The event is geared to promoting environmental awareness to Kaufman County's students through fun-filled education about recycling, water conservation, composting with earthworms, wildlife and many more. Most importantly, an anti-littering campaign bestows general awareness of the responsibility each one of us has regarding littering –education that helps to influence habits in our young people in order that they might make conscious decisions as adults.
Environmental Co-op, a 501(c) 3 non-profit organization, needs your help:
1- Volunteering for this event
2- Considering any donation for this educational event
3- Or helping us to find either volunteers or sponsors
We would be pleased to answer any questions you may have. Please feel free to call us at any time at 972-524-0007.
Thanking you in advance.
Environmental Co-op staff and Environmental Odyssey Committee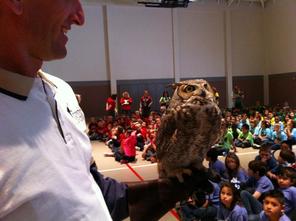 ---
From Marilyn's Desk...
After twelve wonderfully fulfilling years working and building Environmental Co-op I have made the decision to take on a new challenge in my work life. As of March 1st I will no longer be the Executive Director of what we all affectionately call "the Co-op". My decision has not been an easy one or without much thought. As I thought about what was needed to continue on the organization I felt new ideas and enthusiasm would enhance our organization and with those thoughts I made my decision to move on to another phase of my life. I am staying in recycling and will be an Independent Recycling Consultant. I will continue to work with the Co-op in that capacity and hope to continue to find homes for the recyclables that are collected throughout the community.
Please remember that your recyclables help fund the fine work the Co-op does. Please use the recycling opportunities that are available through the Co-op and if you are not a member signup today. It is the most affordable membership to support the environmental health of your community, your children's and grand-children's environmental learning experiences and the cleanliness of your roads and highways.
Best to all of you!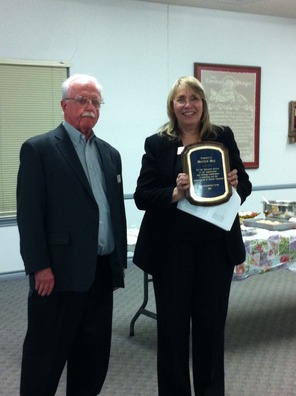 ---
Forney Clean Up March 22nd: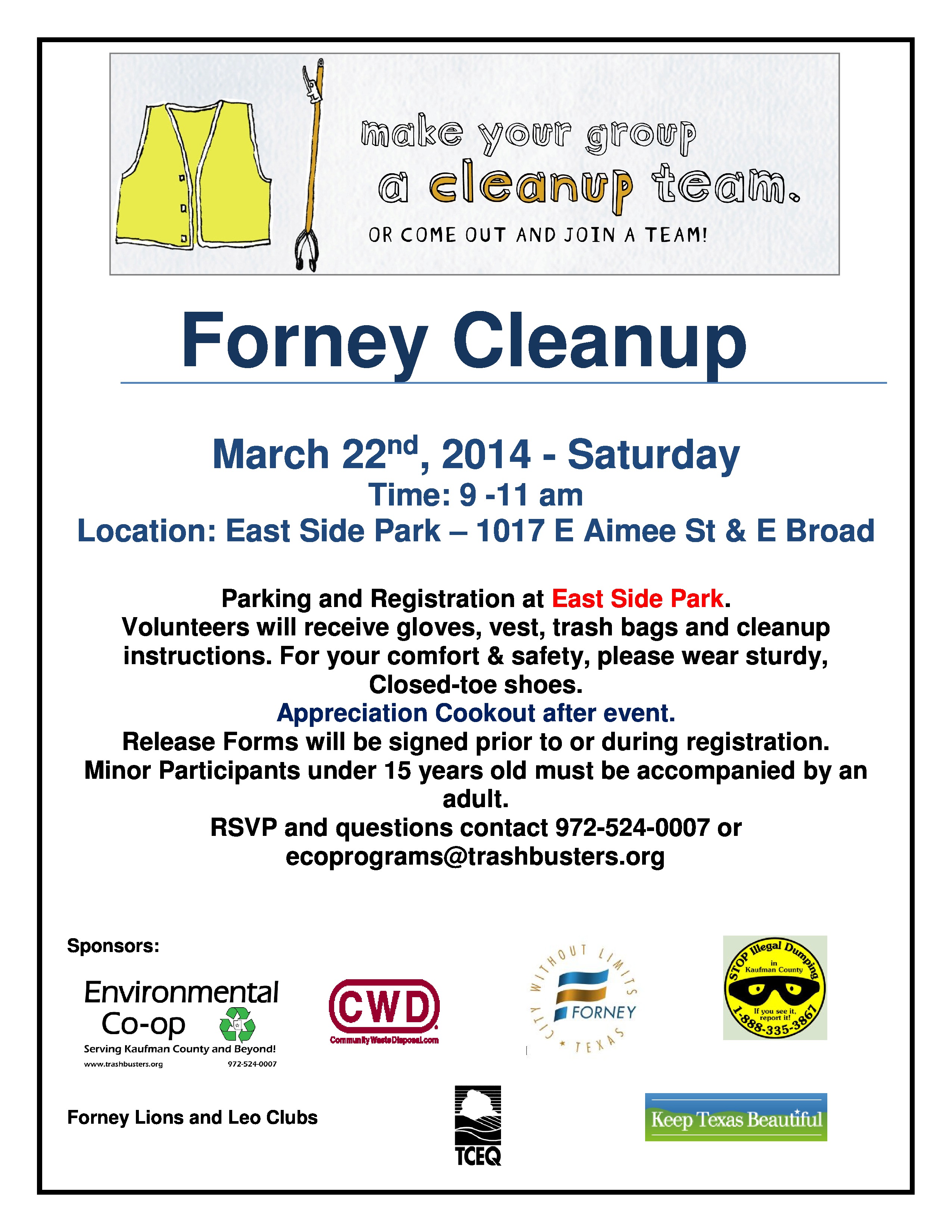 ---
Co-op Compost Mania Sale Event: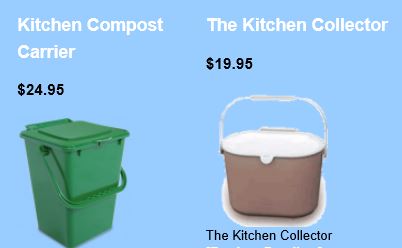 Now: $20 each Now: $17 each
***************************************
Shepherd Compost Bin: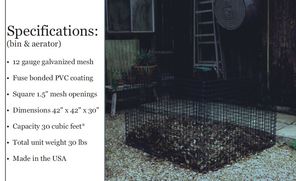 Now: $58 each
******************************************************************************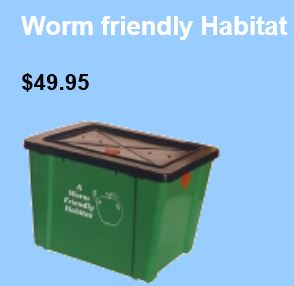 Now: $45 each
*Restrictions apply. Price good to pick up at our plant in Terrell; add shipping & handling to mail orders. Price good until 3/10/14 or while supply last.
---
Keep Elections Environmentally Friendly
Environmental Co-op would like to remind everyone, that all unwanted campaign signs, following Tuesday's election on Mar 4th, can be brought to the Kaufman County Recycling Plant located at 1100 Airport road in Terrell from 7:30am – 3:00pm M-F. This will reclaim several tons of plastic and cardboard for recycling, keeping it off the side of our roads and out of landfills; help support local environmental education and recycling efforts; and help keep Kaufman County and its neighbors Clean and Green!
Please contact the Co-op if you have any questions about what items can be recycled at the facility. 972-524-0007; eco@trashbusters.org.

---
Co-op Annual Membership Meeting: March 20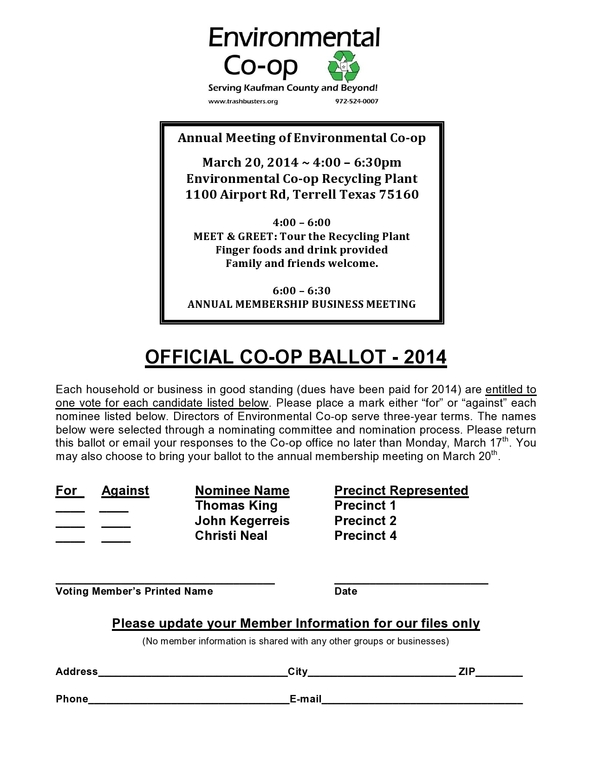 Hello all, it is time for our Annual Membership Meeting. The ballot below has been sent out to all current 2014 members. If you have not received your ballot, please contact our office to update your mailing address.
If you are a member and have not received your ballot, feel free to print this off, fill it out, sign it and return it to our office. You can return your ballots by fax, mail, email or in person. You can also bring it with you to our Annual Membership meeting!
Our membership meeting is a chance for us to show off all that we have accomplished together this past year. We will have an Open House at the Recycling Plant from 4:00 – 6:00pm. The Open House is open to everyone and is a great chance for you to take a look inside at how we process local recyclables for shipment. Everyone is welcome. We hope you will bring family and friends. Our business meeting will take place beginning at 6:00pm following the Open House.
Candice Boswell
Administrator
Environmental Co-op
ecoadmin@trashbusters.org
---
Compost Workshop: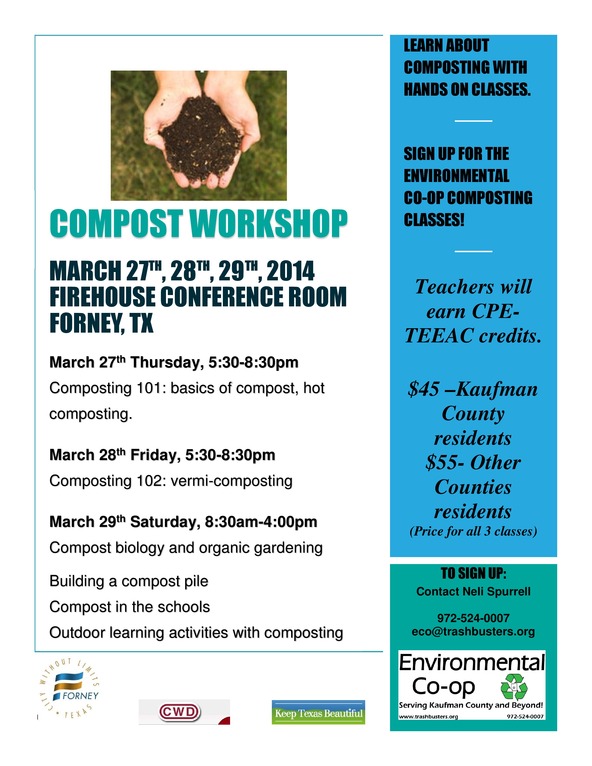 ---
Just for fun....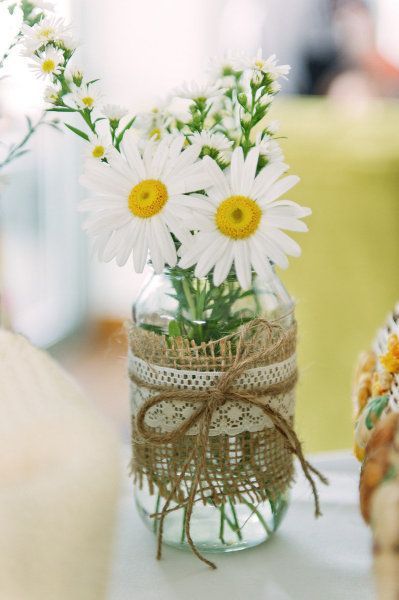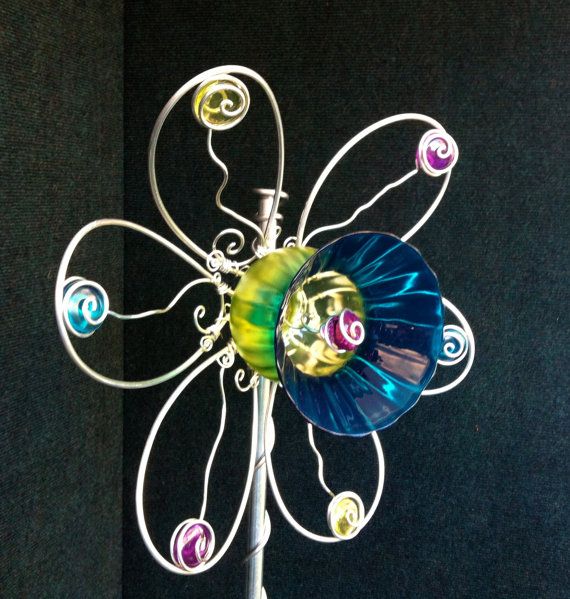 RE-USE YOUR GLASS!!!!

---
City of Terrell Clean-up: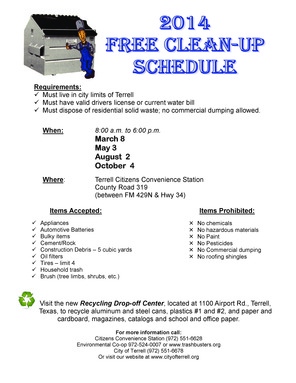 ---
VOLUNTEERS NEEDED!
March 3rd, Monday, from 2-4pm for set up.
March 4th (Tuesday) and 5th(Wednesday) shifts from 8:30am- 2:00pm each day.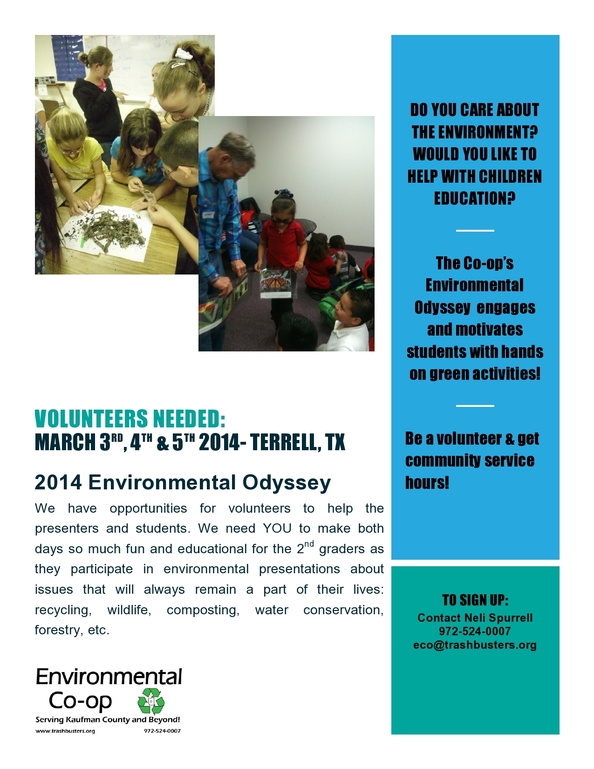 ---
NOTICE:
NOTICE TO ALL FRIENDS AND BUSINESS ASSOCIATES OF THE CO-OP
It has almost been a year since our office relocated to the Recycling Plant! Wow, time can fly by so quickly! Please take a moment to make sure you have updated our mailing address because, as of March 26th, our mail will no longer be forwarded! Be advised we DO NOT receive mail at our physical location and all mail must be sent to Environmental Co-op PO Box 1833, Terrell TX 75160. Our phone, fax, and emails have all remained the same.
If you haven't had a chance to visit us at our new location, come out for a look around our offices and recycling plant during our Annual Membership Meeting on March 20th from 5:00 – 7:00 pm.
Candice Boswell
Administrator
Environmental Co-op
************************
Environmental Co-op
Mailing: PO Box 1833, Terrell TX 75160
Physical: 1100 Airport Rd, Terrell TX 75160
Phone: 972-524-0007 * Fax: 972-524-0086
www.trashbusters.org
www.facebook.com/trashbusters
---
Great Job!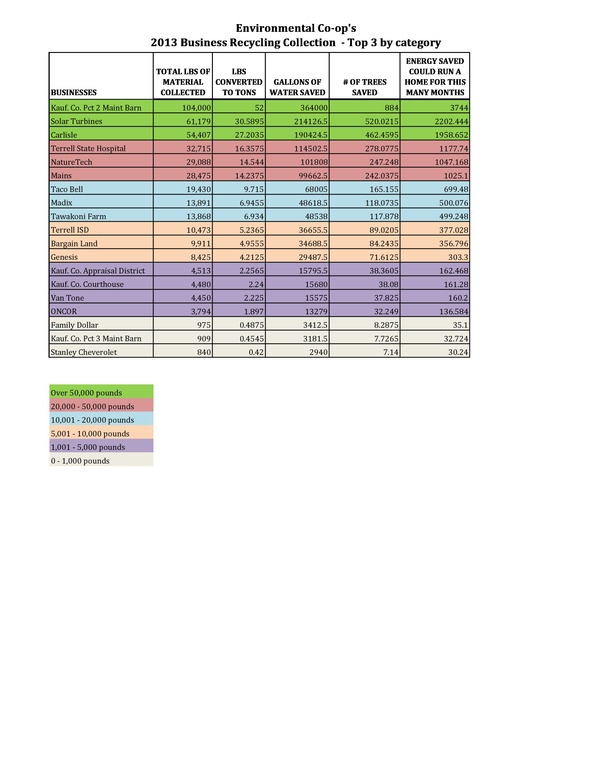 Tonya Staples
Office Manager
---
Like us on Facebook:
Our Facebook page is public, you don't have to be a Facebook user to see it!... Follow us there:
https://www.facebook.com/trashbusters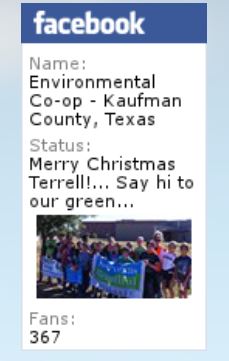 ---