Easter Sunday worship at Holy Wisdom Monastery - photo by Nick Wilkes Photography
As Easter people now we sing; the heavens with our anthems ring.
The Spirit makes our voices strong, for "Alleluia" is our song.
- hymn text by Delores Dufner, OSB
Celebrating the Easter season
With the glorious music of Easter Sunday still ringing in our hearts, our Alleluias continue throughout the weeks of the Easter season ahead. In our worship space the radiant cross of Christ replaces the cross of Jesus' crucifixion. In our prayer and praise we celebrate the ways we are called to follow as Christ leads us on the path to peace. We invite you to join us for daily prayer and/or Sunday worship. All are welcome!
---
Sharing an Easter message



The sisters were grateful to receive the following poem as an Easter message from former Ecumenical Board member, Barbara Battin: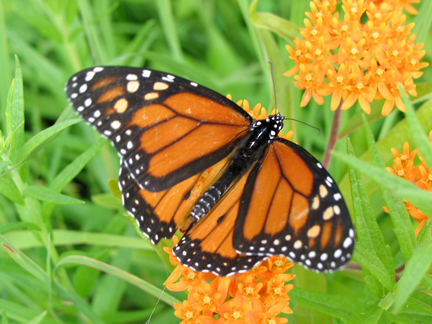 In grave danger,
entombed
in individualism and consumerism,
in greed and exploitation,
in violence and war,
dis-eased and despairing,
may Easter offer us
hope for healing,
courage for reconciling,
inspiration for restoring
bodies and souls.

May resurrection power
transform us
that together we may
shape a new season of human life
that blooms with justice
and blossoms with joy,
that together we may
grow a fruitful garden
of peace on earth.

As we journey from grave to garden
may we share the blessings of life
and the gift of community.

Easter alleluias,
Barbara Battin
Rev. Barbara Battin was a member of our Ecumenical Board (1994-2006), a group of ecumenical religious leaders who helped the sisters shape their vision to become an ecumenical Benedictine community. Barbara currently serves as an adjunct faculty member at Simpson Community College, Dayton, OH.
---
Oblates
My Benedictine bracelet
by Sherri Hansen, oblate class of 2010

I've been a Benedictine oblate for five years, which has been a profoundly grounding practice for me spiritually. Oblates are drawn to the 1,500 year-old Rule of Benedict, and we strive to live out its principles of obedience, stability, and conversion of faith in our daily modern lives. Other core values include hospitality and balance in one's work and prayer life. It is relatively easy to honor these sacred principles while immersed in the daily contemplative life of a monastery, but it is much more difficult while out in the busy, hurried world in which we live. It is challenging to take time out to be with God and practice stillness, while faced with work deadlines, traffic jams, family demands, and the unpredictable needs that direct our attention away from being fully present in each moment.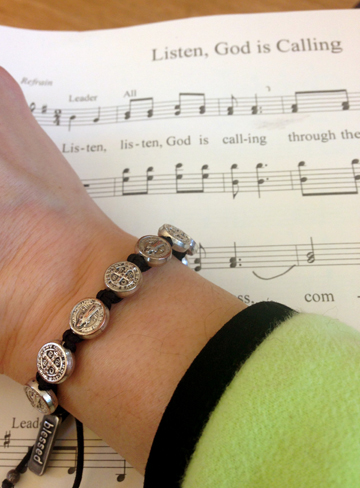 Last spring, I came across a bracelet created by the company, My Saint, My Hero. It is a corded bracelet that features tiny metal beads imprinted with the medal of St. Benedict. I purchased it, put it on and haven't taken it off since. For me, the bracelet is a constant reminder of who I am, and gently reminds me of my values and the Rule of Benedict that I have studied and strive to live out on a daily basis. I am reminded to take time to complete one task or thought before starting another. I am reminded to be as present as I can in everything I do, from the most simple, mundane tasks of washing dishes, or paying bills, shoveling unending piles of snow in Wisconsin, to weeding and digging vegetables in my garden.

During my work day, I am reminded to practice patience and see the face of Christ in every person I encounter. I have found myself frequently fingering the metal imprints on the bracelet, reminding me to pause and reflect before speaking or reacting quickly. As a musician, I see the gleam of the medals on my wrist as my hands move across my piano keyboard and I am reminded how my music is a prayer to God. I feel the bracelet's nylon cords with the beaded ends gently brush across my wrist as I do a forward fold on my yoga mat and am reminded again and again to gently exhale. Every action then becomes a silent prayer and an offering. But most of all, it is a reminder of who I am and what I stand and live for.

The bracelet has held up well to showers, sweat, swimming, and clothing snags. Knowing the impermanence of things, I suspect that time and elements will eventually wear the nylon cord away. My hope, however, is that by then the values will be ingrained upon my heart and soul.
---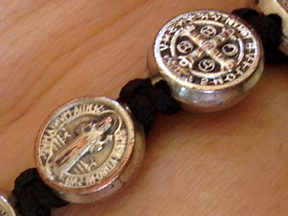 Detail in the Benedictine medal: The front of the medal shows Benedict holding his rule in his left hand and a cross in his right. On its back, Benedict's cross is inscribed with the first letters of an ancient Latin prayer: Crus sacra sit mihi lux! (May the holy cross be my light!) Also on the back is the Latin word for peace: Pax.
---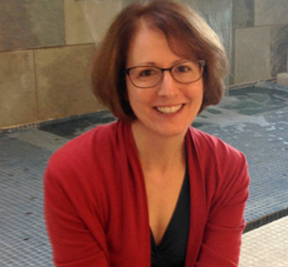 Sherri Hansen, MD, OblSB, is a psychiatrist in private practice, a Benedictine Oblate, a church musician and composer, and a certified yoga instructor and passionate gardener in Madison, Wisconsin. You can learn more about her and her music at:
www.sherrihansencomposer.com
---
Why the radiant cross?
by

Joanne Kollasch, OSB
Speaking of symbols, we are often asked about the cross we wear as a symbol of our community. When we began the process of becoming ecumenical, as Benedictine Women of Madison, we chose the simple design of a cross radiating light as our symbol. This is a cross that signifies a basic tension of our Christian faith—the cross of death and the glorious light of resurrection, dying and rising, loss and new beginning, never one without the other. Just as a symbol points to something beyond its physical shape and design, our cross points to a reality that we are constantly living into—the glory of God.

We are grateful to the late Frank Kacmarcik, oblate of Saint John's Abbey, Collegeville, MN, who designed the cross, and to John Begay, Navajo silversmith, who handcrafted these crosses for us.
---
Sisters & Sojourners
Exploring Benedictine Sojourners Retreat
by Ann Moyer, director of membership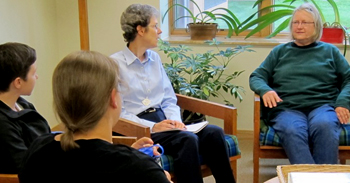 What would it be like to live with the sisters in their rhythm of monastic life? How might that experience speak to your heart's desires? Benedictine Sojourners are invited to live with the sisters for six months, and to immerse themselves in the experience of Benedictine community life. To learn more about this possibility, women from any Christian tradition,
ages 20 to 50,
are invited to an Exploring Benedictine Sojourners Retreat. Our next retreat, April 24-26 is full, but future retreats are scheduled for June 12-14, 2015 and November 6-8, 2015. Learn more on our website at Exploring Benedictine Sojourners Retreat, or contact Ann Moyer at amoyer@benedictinewomen.org, 608-836-1631, x197. We would love to welcome you to this experience.
---
Guests & Retreatants
What to do on a personal retreat
by Jill Carlson

, director of guest services
Often when someone calls guest services to schedule a personal retreat at Holy Wisdom, they know they need to take some time for themselves. But they aren't sure what they should do once they get here, so they ask "What am I supposed to do while I'm on a retreat?"

The answer is you don't have to "do" anything. A personal retreat is unstructured time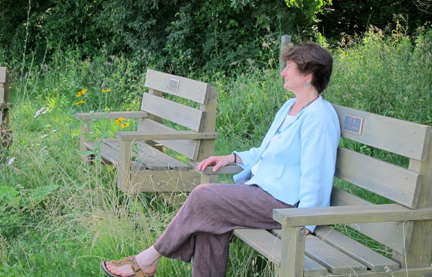 . It might be a good time to meditate, read a book, catch up on journaling, walk our nature trails, join the sisters in prayer, sit on a bench by Lost Lake or take a nap. It's up to you to decide what to do with your time during a personal retreat. Some people choose to be silent and not to interact with others while on retreat.

We've become so used to multi-tasking that even in our down time we think we have to be doing something. While on retreat, put away the cell phone and the laptop. Let your thoughts flow freely to clear away the clutter of daily thoughts that intrude on relaxation.

Take time to notice things around you such as the birds, prairie flowers and sky which will add to your relaxation. Breathe deeply, inhale fresh air and exhale negative thoughts.

Schedule an overnight for Tuesday or Wednesday in the retreat and guest house and receive a 25% discount of our regular overnight rates.

Visit our Personal Retreats webpage for more information. Fill out the availability form to inquire about room availability, or email personal-retreats@benedictinewomen.org.
---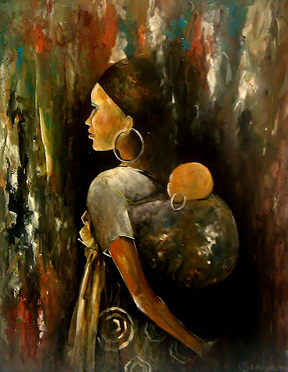 Mama and child, by David Mngodo
Holy Wisdom Monastery is pleased to welcome Pastor David Mngodo to share his acrylic artwork collection, People in Daily Life. The opening reception will be on Friday, May 1 from 5:00 to 8:00 pm, with comments by David at 6:15 pm. The exhibit will be on display May 1 through June 26, 2015.

David began painting at a young age. All his brothers painted while they were children. In particular, one specialized in water color painting, but wouldn't teach David to paint. David tried to learn by watching, but his brother always chased him away. This became the inspiration for David to forge his own path by taking up acrylic painting.

Now, as a pastor, David finds painting provides a creative outlet for him. "Art ministers to the soul and brings comfort and joy with a sense of satisfaction, as one's eyes behold the beauty of it," David told me. "I always think of the Biblical principles that apply to our daily lives. If we can look into the true word of God as light into our lives and situations I truly believe we will find answers. Art gives me a chance to share the love of Christ."

David's works reflect the colors and lights that fill his memories. Come and see these works and hear more of his story—join us for the opening reception on Friday, May 1 or visit our gallery space on weekdays between 8:00 am and 4:30 pm through June 26.

We are grateful to the following for their support of the arts at Holy Wisdom Monastery:
Anonymous

Consulting for Non-profits

Gail and Dan Shea

Judy and Sal Troia

Dick Wagner
---
Interested in displaying your artwork at Holy Wisdom Monastery? We have an open call for proposals right now, due

May 29

, 2015. More details on our website: Art Gallery Guidelines and Call for Submissions.
---
Wisdom Prairie Project declared a success!
by Mike Sweitzer-Beckman, director of development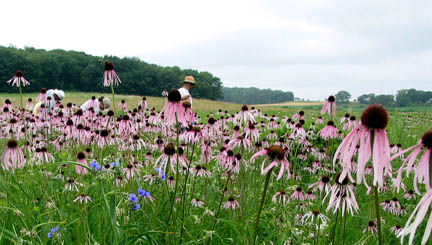 In case you missed the recent announcement, the Wisdom Prairie Project is complete! With the help of so many, we have successfully met our goal of raising $1.9 million to cover the acquisition and initial management costs to restore this 53-acre parcel to native prairie and oak savanna.

We could not have done this without your support. Thank you to the hundreds of families, companies, foundations, and municipalities for supporting our vision of caring for the earth. Read more about this successful project here.

So what is next on the Wisdom Prairie?
---
Volunteers & Coworkers
Greg Armstrong: He helps people appreciate nature
by
Ann Moyer
,
director of membership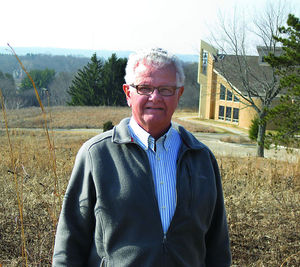 Have you seen the article that appeared recently in The Waunakee Tribune about Greg Armstrong, director of land management and environmental education here at Holy Wisdom? The article, written by Kari LaScala, begins:

After retiring as the Director of the Arboretum at the University of Wisconsin-Madison, Greg Armstrong began volunteering with the Holy Wisdom Monastery in Westport. This eventually led him out of retirement and back into employment, as he is now the Director of Land Management and Environmental Education at the monastery. He has also been instrumental in getting its Friends group, Friends of Wisdom Prairie up and running.

He smiled asking, "Whatever happened to my retirement?"
But he doesn't seem to mind.

"The Holy Wisdom Monastery is absolutely an extraordinary place," he said.

Follow this link to read the entire article: In the news


(photo by Waunakee Tribune)
---
New on our website
Follow the links to see what's new on our website.

In the news:
Waunakee Tribune – Greg Armstrong: He helps people appreciate nature by Kari LaScala


Blogs:
Preparing for the prairie burn season

Wisdom Prairie Project declared a success!


Upcoming events:

Friends of Wisdom Prairie Outing to Abraham's Woods
April 25, 2015, 10:00 am-12:00 pm
Join the Friends of Wisdom Prairie on an outing to Abraham's Woods, in Green County, to see the spectacular show of spring ephemerals in this old growth maple forest. Outing led by naturalist Sylvia Marek.

People in Daily Life art exhibit opening reception
May 1, 2015, 5:00-8:00 pm
Holy Wisdom Monastery is excited to feature the acrylic works of Pastor David Mngodo. Bring your friends and attend the opening reception.

Wisdom Prairie Workdays
May 1, 2015 | May 2, 2015 | May 20, 2015
9:00 am-12:00 pm
Volunteer with the Friends of Wisdom Prairie to help improve the ecological health of the land, meet new people, work outside with old friends and have fun.

Friends of Wisdom Prairie Dinner Lecture
May 6, 2015
Wisconsin Wildlife
Scott Craven, emeritus professor of wildlife ecology at the University of Wisconsin-Madison is a walking encyclopedia on Wisconsin wildlife, come learn from him.

Wisdom Prairie Planting Day
May 9, 2015, 8:30 am-12:00 pm, lunch provided at noon
Help plant an additional 12 acres of the Wisdom Prairie.

Homilies:
Paul Knitter's Homily from the Easter Vigil, April 4, 2015

Libby Caes' Homily from Palm Sunday, March 29, 2015

Joseph Wiesenfarth's Homily from March 22, 2015

Library:
New books in the library, April 2015
---
Calendar
Sunday Worship, 9:00 am
Monastery Assembly Room

Daily Prayer
Monastery Oratory
Morning Prayer, Sunday-Saturday, 8:00 am
Midday Prayer, Monday-Friday, 11:45 am
Evening Prayer, Sunday-Saturday, 4:30 pm
---
Follow the links below to register for upcoming events at Holy Wisdom Monastery

April 17-19
Oblate Retreat with Father Bob Koopmann.

Registration closed.



April 22
Wisdom Prairie Workday, 9:00 am-12:00 pm
Volunteer with the Friends of Wisdom Prairie and help improve the ecological health of the land. Snacks provided.

Registration closed.



April 24
Taizé Prayer, 7:30-9:00 pm, oratory

April 24-26
Exploring Benedictine Sojourners Retreat
Single, Christian women, 50 and under, are invited to explore the rhythm of prayer and work in our ecumenical monastic community and the Benedictine Sojourner program at Holy Wisdom Monastery.

Registration closed, next retreat in June 2015.



April 25
Friends of Wisdom Prairie Outing, 10:00 am-12:00 pm
Spring at Abraham's Woods with Sylvia Marek. Join the Friends of Wisdom Prairie on an outing to Abraham's Woods to see the spectacular show of spring ephemerals in this old growth maple forest. Register by April 21, 2015.

April 26
Earth Day Sunday

April 26
Sunday Assembly Blessing of New Members

April 26
Hospitality Sunday and Carpool Sunday
Bring a food item to share, greet and meet others. Share a ride to worship.

May 1
Wisdom Prairie Workday, 9:00 am-12:00 pm
Volunteer with the Friends of Wisdom Prairie and help haul brush. Snacks provided.
Register by April 28, 2015.

May 1
People in Daily Life Art Exhibit Opening, 5:00-8:00 pm.
Holy Wisdom Monastery is excited to feature the acrylic works of Pastor David Mngodo.
Attend the opening reception and bring your friends! The exhibit will run through June 26, 2015.
No registration necessary.

May 2
Wisdom Prairie Workday, 9:00 am-12:00 pm
Volunteer with the Friends of Wisdom Prairie and help improve the ecological health of
the land. Snacks provided. Register by April 29, 2015.

May 6
Friends of Wisdom Prairie Dinner Lecture, 5:30-8:00 pm
Wisconsin Wildlife by Scott Craven. Register by April 22, 2015.

May 9
Friends of Wisdom Prairie Planting Day, 8:30 am-12:00 pm
Help plant 12 acres of the Wisdom Prairie. Lunch provided. Register by April 24, 2015.

May 17
Ascension

May 17
Sunday Assembly Spring Meeting, 10:15-11:30 am, dining room

May 17
Friends of Wisdom Prairie Tour, 10:30 am-12:00 pm
A Visit to the Flora and Fauna of Holy Wisdom Monastery
with Sylvia Marek and Greg Armstrong. No registration necessary.

May 20
Wisdom Prairie Workday, 9:00 am-12:00 pm
Volunteer with the Friends of Wisdom Prairie and help improve the ecological health of
the land. Snacks provided. Register by May 17, 2015.

May 24
Pentecost

May 31
Trinity Sunday

May 31
Hospitality Sunday and Carpool Sunday
Bring a food item to share, greet and meet others. Share a ride to worship.


Visit our calendar for upcoming events