---
Any Ring Richard Sanders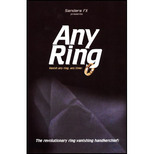 Richard Sanders is back with his new effect "Any Ring".
With
ANY RING
, you can vanish any sized ring, from a thin
Engagement Ring
to the thickest Signet Band.
The spectator's ring is placed under a handkerchief and the spectator holds his/her ring through the material. The spectator feels his/her ring until the last second; when the spectator lets go, the ring is gone!
The borrowed ring can be made to appear anywhere you want. This is the ultimate accessory item. Bonus routine included!
ANY RING | Available now
---
Rizer - Eric Ross
A perfect effect has finally found a beautiful method!
You DRAW a rough image of a deck of cards on your naked arm. Nothing else is seen on your arm, except skin and ink.
Then, from out of the center of the hand-drawn deck, the inked outline of a single card visually rises out of the deck, along your skin, and then stops. It's the spectators card!
GET RIZER TODAY
---
Tarantula By Yigal Mesika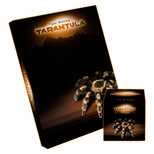 Last years Mega hit trick Tarantula now carries a New lower price. Now everyone can afford the ultimate literally hands on ring levitation.

Tarantula - On Sale
---
Bullets
after
dark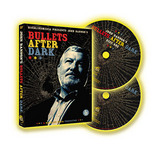 Beautifully produced with invaluable rich content.
Bullets After Dark is a treasure trove of workable, awe-inspiring magic-from self-workers (that will fool you) to deviously constructed sleight-of-hand routines.
This is a veritable master class in contemporary card magic. Three hours of stunning material across two DVDs-including in-depth interviews and commentary. Watch how Bannon thinks. How he constructs tricks. How he makes his magic special.
---
Link

Love

Mini-Banner


Support Nexus Magic
By adding our Mini banner to your blog or site.
"The online resource for all of your magical needs".