We are going to hold our 1st ever West coast meeting in San Francisco, CA September 14-15, 2012. All different speakers, but as always:
Organic food, exhibitors, networking, great speakers, giveaways, much more.
CEUs/CNEs for professional attendees
We are encouraging companies with services or products we think will be useful, to advertise in our conference journal. We accept donations to help provide scholarships for advocates or people with cancer who want to come but cannot afford a hotel room (in Florida) or need a lower entry fee (California).

If you have a product or service that you would like to advertise in the conference journal, please email us
annieappleseedpr@aol.com
for more information. Some Exhibit space still available.
From Spain

Ann Fonfa reports back:
I traveled to Madrid with the Cochrane Collaboration, established in 1993, an international network of more than 28,000 dedicated people from over 100 countries. working together to help health care providers, policy-makers, patients, their advocates and carers, make well-informed decisions about health care, based on the best available research evidence, by preparing, updating and promoting the accessibility of Cochrane Reviews – over 4,600 so far, published online in The Cochrane Library.



Evidence-based Healthcare is a combination of studies, physicians' experience and of course patient preferences, beliefs and viewpoints.

There is a CAM Field within Cochrane, based in the US at Univeristy of Maryland. For more information:
http://www.compmed.umm.edu/cochrane_about.asp


Outcomes Research Bias
That's what this slide, presented in a talk at the Cochrane meeting this year,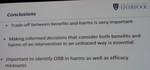 is about.






---

American Botanical Council is a group that offers information about herbs. They sent around an email offering people like me (already on their email list) 4 days to access their database of wonderful information on so many (Western) herbs.www.herbalgram.org


This excellent organization is looking for new members and offering various discounts, so check it out.

---
Next month some comments on the 11th European Nutrition Conference held in Madrid, Spain. And much more, of course.
Milk Thistle (an herb)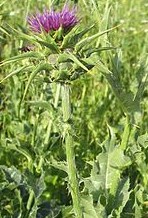 This week American Botanical Council offered a chance to use their extensive resources so I looked up Milk Thistle, an herb I knew has been useful in the liver.

This is what I saw (in part):


"Milk thistle extract has become increasingly popular in the United States as a dietary supplement for people with livers compromised by alcohol or exposure to toxic chemicals. Based on the increasing number of clinical studies indicating its safety and suggesting efficacy, consumers are also using this preparation as a means to ensure proper liver function and to assist in "detoxification" measures. Given this phytomedicine's well established safety and its reasonable documentation of efficacy, future clinical use of milk thistle extract should be explored as an adjunct therapy in chemotherapy to help offset the effects of powerful and potentially hepatotoxic conventional drugs". (Ann's emphasis)

Excerpt from Herbal Medicine: Expanded Commission E Monographs
Copyright 2000 American Botanical Council
Published by Integrative Medicine Communications

That caused me to SEARCH pubmed.gov (the Library of Medicine) and I found this study:Silymarin selectively protects human renal cells from cisplatin-induced cell death.


Pharm Biol. 2011 Oct;49(10):1082-90. Epub 2011 May 18.



There was a similar study in 2005 leading me to ask again THIS MONTH, how much evidence is needed before we are allowed to PROTECT people from toxic chemotherapies with nontoxic natural treatments? How long must we wait?
---
If you like what you see here, consider a tax deductible (to the full extent of the law) donation of any size to support our all-volunteer nonprofit.
http://annieappleseedproject.org/howtosupthis.html