Annie Appleseed Project is on You Tube. You can view some great short intro videos AND some full length talks (in 2-4 parts).
Here's one introducing IV
vitamin C
"Preview of presentation by
Dr. Jeanne Drisko
, entitled "Efficacy and Safety of Intravenous Ascorbate in Cancer".
And here is an article about
IV vit C
from the library of the Orthomolecular.org website -
READ THIS
Ralph Moss, PhD, suggests:
Do not take high dose vitamin C as a single agent while taking either methotrexate or DTIC.

Do not take high-dose vitamin C supplements if you have a hereditary tendency to accumulate iron (hemochromatosis).
Source: Antioxidants against cancer, book by Ralph Moss
From Annie Appleseed Project website section on Vit C: "J Nutritional & Environmental Medicine, November 2008:

"Thus, oral vitamin C has potential for use as a non-toxic, sustainable, therapeutic agent".
---
Clinical trials

- there has recently been ANOTHER article suggesting that running a clinical trial is NOT as expensive as we have all been led to believe.
Here's the strong statement:
"An article in the current edition of the journal BioSocieties, a publication of the London School of Economics, argues that the real cost of R&D is, in fact, a fraction of the commonly cited estimate and we are ha
ving the wool pulled over our eyes".
(Our emphasis).
READ
the article
What it means: One barrier to research on natural substances is the cost. Perhaps it will make more studies that impact treatment possible.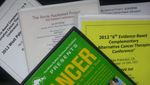 Just a thought. The other barriers are still strong - resistance from mainstream medicine, puishback from BIG PHARMA, etc.
(photo of our DVDs/CDs)