The use of Complementary therapies including dietary supplements is generally now called Integrative Oncology. Back in 2002 ASCO (Am Soc for Clinical Oncology hosted a meeting on CAM - Complementary & Alternative Medicine). Here is the summary Ralph Moss, PhD created after this event. This article is in our Archive section and was posted shortly after it was written. (
photo shows Dr. Ralph Moss meeting Kelly Turner, PhD at an Annie Appleseed Project conference)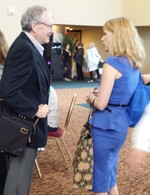 "Michael J. Hawkins, MD (who is chairman of the NIH panel on which I serve) gave a detailed presentation on antioxidants and chemotherapy. He excluded all in vitro and animal experimental data, something that is
rarely
done when considering new chemotherapeutic approaches. (our emphasis)
Instead, he focused on the clinical data for vitamins A, C, and E; glutathione; CoQ10; and the synthetic antioxidants dexrazoxane (also called ICRF-187) and amifostine.
Dr. Hawkins mainly had positive things to say about the concurrent use of antioxidants and chemotherapy, and there was no doubt from his data that most antioxidants do not interfere with the efficacy of chemotherapy. In fact, most have been shown to decrease toxicity. There is some concern about the potential decrease of effectiveness of the drug Adriamycin with the synthetic antioxidant dexrazoxane."
LINK to full article by Dr. Moss
---
The next Annie Appleseed Project conference will be held March 1-3, 2018 in West Palm Beach, FL. We hope YOU can join us. We'll post some information about our (partial) scholarships in August.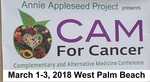 Link to conference page
When you visit this page, you can see some of the speakers. THEME:
Food First
---
If you would like to
DONATE
any amount to our All-volunteer nonprofit to help us gather and spread information, we would be delighted to accept. We don't fundraise or accept advertising on our site.