We provide information for people with cancer, our focus is Natural Strategies, Lifestyle issues, Complementary and Alternative Therapies :
We're planning the 2014 educational conference (8th) to include speakers from each and every area
We post on our Facebook page on these topics as well
We appreciate your 'LIKE' on our Facebook page and clearly you opted in for the newsletter, so share with others.
This newsletter has articles about ideas still considered 'alternative' The funny thing about alternative medicine is that when an idea reaches a certain point, it could become mainstream. This has happened, even in the cancer world. Hyperthermia is the best-known treatment. Sadly it is not widely available. Our 2013 conference featured Dr. Alexander Herzog who runs a clinic in Germany with this focus. DVDs and CDs available from most of our past meetings, see the page below.
VIEW DVDS/CDS
You can order them here. We also feature a variety of talks on our
YouTubeChannel
- Annie Appleseed Project.


Here is information on some of the speakers for our 2014 conference - and a bit about their work:
NEW SPEAKERs: Annie Appleseed Project March 6-8 2014 8th Evidence-based Complementary & Alternative Cancer Therapies conference, aka CAM for Cancer

Dominic D'Agostino, PhD, Assistant Professor, Hyperbaric Biomedical Research Laboratory, Department of Molecular Pharmacology and Physiology, Morsani College of Medicine, University of South Florida "Metabolic Therapy and Hyperbaric Oxygen Therapy as a Nontoxic Strategy for Metastatic Cancer"
We will also hear from Chris Wark who healed himself from Stage III Colon Cancer using Alternative methods. Here's a link to short video from Chris.
Madhvi Kasam, a classically-trained Homeopath will present some of her techniques. She was trained in India and Ann Fonfa (president, Annie Appleseed Project) met her there in 2006. (photo below shows her speaking at our March 23, 2013

Atlanta meeting on Natural Strategies

).
Adam J. Messenger, MD, will speak about "Inflammation: The root of all illness" . Dr. Messenger states: "he will discuss the off label use of thalidomide, ketamine and low dose naltrexone to illustrate not only that inflammation is at the heart of most conditions, but that we have gentle ways to treat it". Actually we will all be interested to hear how thalidomide qualifies here.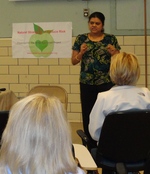 2014 Conference page
with full details as we bring in speakers. We always have ORGANIC food, exhibits and giveaway items worth about $100. Entry fee $249. Why not start fundraising now - tell your friends you are running a virtual race/swim/bike/walk so they will support your efforts. You can and should set up a
Report Back
meeting if you belong to a local cancer organization. Let everyone know you will be gathering information not found in most cancer centers, but useful for all.
Want to find a Naturopathic Physician?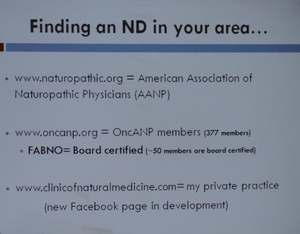 This is a definition of Naturopathic medicine from the American Association of Naturopathic Physicians
:
"
Naturopathic physicians are trained in the art and science of natural health care at accredited medical colleges. Integrative partnerships between conventional medical doctors and licensed NDs are becoming more available. This cooperation makes more effective therapies available to consumers. It increases patient satisfaction in their relationships with their care providers. More people are recovering their health by adding naturopathic medicine to their health-care options
".
Here is the definition of Naturopathic Oncology
:
"
is the application of the art and science of naturopathic medicine to the field of cancer care and treatment. Naturopathic oncologists work both in hospital oncology settings and in private practices bringing their wisdom, perspective and experience to aid oncology treatment teams that seek the best positive outcomes for their patients
.
Here is a definition for Classical Homeopathy
:
"
Classical Homeopathy is a system of healing that works on your health on the
mental, emotional and physical levels. It was developed by Samuel Hahnemann, a German physician who lived from 1755 - 1843
".
---
Have you heard about IV vit C (intravenous administration)? Lots of buzz for years about the value. Many clinics outside the USA will offer this as a treatment. Here's a link from the Riordan Clinic in Wichita, KS. Share freely with your doctor(s). Riordan Clinic vit C protocol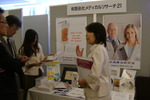 This photo shows the sales of vit C products in Japan, taken at the 11th International Conference on Integrative Medicine where Ann Fonfa, our president, had the chance to speak about her own cancer journey using alternative therapies.

---
There are so many alternative therapies - here is a direct link to just one page on our Alternative Medicine page.
---
Follow us on Facebook (LIKE our page) as we post articles daily. Our website has 8000+ pages in the 'archive', we'll try to respond to any questions. Please donate any amount to us so we can keep on gathering and sharing information. We work as volunteers attending conferences, reading articles, and much more.
DONATE
---
Next month will feature articles for the Pediatric cancer community among others.