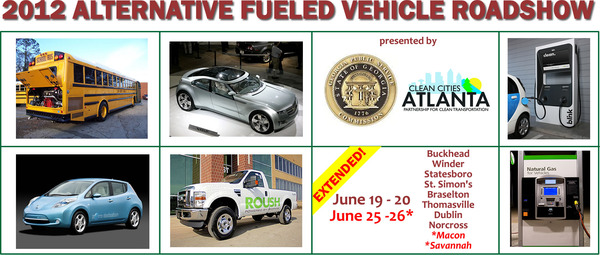 2nd Annual Alternative Fueled Vehicle Roadshow Extended through June 26th.
Public Service Commission Chairman Tim Echols has just extended the 2nd Annual AFV Georgia Roadshow Tour with an up-close look at Alternative Fueled Vehicles. Adding stops in Macon and Savannah, the tour provides an educational look at EV, Propane, CNG, LNG and bio-fuels in today's transportation.

Ever wondered what options you have for saving money on gasoline? The AFV Georgia Roadshow is a showcase and live discussion, with the experts to answer all of your questions. Vehicles powered by electricity, propane, and compressed natural gas will be on display for you to see, touch and hear, along with a series of short presentations on understanding the alternatives to traditional gasoline and how they are helpful..

The car/truck showcase has been touring the state with stops in Atlanta, Winder, Statesboro, St. Simons, Braselton, Thomasville, Dublin and Norcross. Macon City Hall and Savannah Technical College will host the events on 6/25 and 6/26 for the extended portion of the Tour sponsored by Parker's Convenience Stores, No Petro, and Macon Chamber of Commerce. *No taxpayer dollars are being spent to support this tour.

The events are FREE and open to the public, but roundtable space may be limited.
City of Macon- City Hall
Council Chambers
Monday, June 25th 9a-12n

Savannah - Savannah Technical College -
Tuesday, June 26th 9a - 12n
700 Poplar Street, Macon City Council Chambers
Technology
Lunch Provided
Register NOW!

5717 White Bluff Road, Savannah
Showcase in Parking Lot
Lunch Provided
Register NOW!
RoadAtlanta- Braselton
Tuesday, June 19th 9a-12n

Thomasville - Georgia/Florida Stateline 4p - 6P
5300 Winder Highway, Braselton 30517- Lunch Provided
Register NOW!


Showcase and Presentation in Tent on SR 319 at state line. (old JB's BBQ) - Light refreshments provided

Mage Solar Academy - Dublin
Tuesday, June 20th 9a-12n

Suniva - Norcross
Wednesday, June 20th
4:30p - 6P


STANDING ROOM ONLY!!
720 Industrial Blvd, Dublin 31021
Showcase at Mage Academy
Lunch Provided
Register NOW!

5765 Peachtree Industrial, Norcross
Showcase in Parking Lot- Presentation begins at 5PM
Light Refreshments Provided
Register NOW!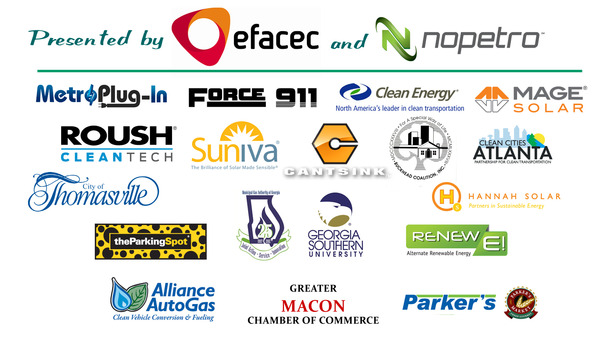 Press Inquiries:
Sponsor -Attendee Inquiries
Bill Edge, Public Information Officer Joy Kramer, Tour Director
Georgia Public Service Commission AdVentures- Events
Phone: 404-406-5120 Phone: 678-810-0929
bille@psc.state.ga.us
joy.kramer@adventuresatl.com