Past Event Updates

The Hershey Foundation Living Voices Series
From October 15 through October 26, 2012, The Diversity Center brought Lily Gladstone, an actress from Living Voices, to Northeast Ohio.
The multimedia performances, told through the eyes of a young person, included stories about the Native American boarding schools, the Japanese internment, and Mexican American migrant workers.
Over 2,500 students from 24 schools participated in the program this year.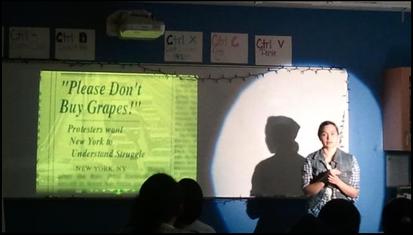 Lily Gladstone, actress from Living Voices, at New Tech West performing La Causa

---
Middle School Conference
The Diversity Center's Annual Fall Middle School Conference was held at John Carroll University on October 10, 2012. The event hosted 80 middle school students and their educators for lessons about personal storytelling. In break-out sessions facilitated by City Year Corps Members, students told stories to their peers about an event or person who has changed their future. Through creative writing and artwork, students recreated the stories they heard.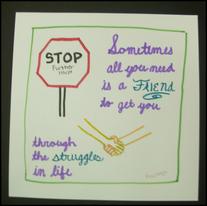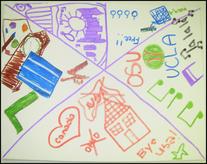 Artwork created by students at the Middle School Conference

---
Fall High School Retreat
The Diversity Center's Annual Fall High School Retreat was held at Camp Wise in Chardon, OH from October 4-6, 2012. Throughout the retreat students split up into small groups for team building activities and discussions around storytelling and diversity.
Students discussed the "American Dream" and the voices that are often left out of the narrative. Through this idea, they learned the importance of sharing and listening to each other's personal stories.
In storytelling circles, each student had the opportunity to "describe an event, person, or moment in time that you know had changed your future".
Justin Bachman, a student at Solon High School, gave a powerful presentation about bullying and acceptance.
Excerpt of Justin Bachman's Speach at the Fall HS Retreat
Justin Bachman's Facebook Page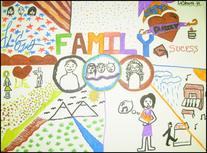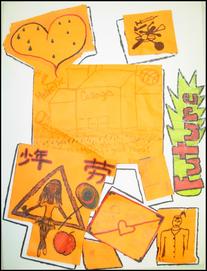 Artwork created by high school students at the Fall Retreat

---
National Federation of Just Communities (NFJC) Conference

Peggy Zone Fisher, President & CEO, and Christen DuVernay, Director of Programs, attended the the NFJC Conference in Tulsa, Oklahoma from September 21-24, 2012. Representatives from 20 affiliated organizations across the country attended.

The purpose of the annual conference is to share program ideas, best practices, and learn about what's happening within the other organizations.

Allan Goldner, partner at Benesch, Friedlander, Coplan & Aronoff and board director for The Diversity Center, has been elected president of NFJC. He will begin his two year term in July of 2013.


---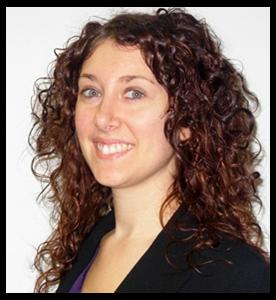 Meet Christen DuVernay, Director of Programs
The Diversity Center
Christen obtained her undergraduate degree in Psychology at Notre Dame College of Ohio, from which she graduated with honors.
In addition to her coursework, she organized several groups on campus including but not limited to the college's first Gay-Straight Alliance and Black Scholars Group.
Following graduation, Christen accepted a position at the LGBT Center of Greater Cleveland where she worked as the Youth Services Coordinator developing programs for young adults ages 14-30. She then became the Project 180 Coordinator where she designed and delivered programs for organizations, companies, hospital systems, school districts, and corporations around LGBTQ-specific diversity and inclusion initiatives.
In 2008, a program she developed for gender variant young adults and their families received the Illumination Award for Best New Program of the Year.
She completed her Masters degree in Psychology and received a Certificate in Diversity Management from Cleveland State University in 2010. The same year, the Plain Dealer named her one of Cleveland's Community Heroes for her work around LGBTQ inclusion and acceptance.
When she's not working, Christen finds time for back-packing and urban exploration.
Christen has been with The Diversity Center since 2011.
---
Working to eliminate bias, bigotry, and racism
through education and advocacy.